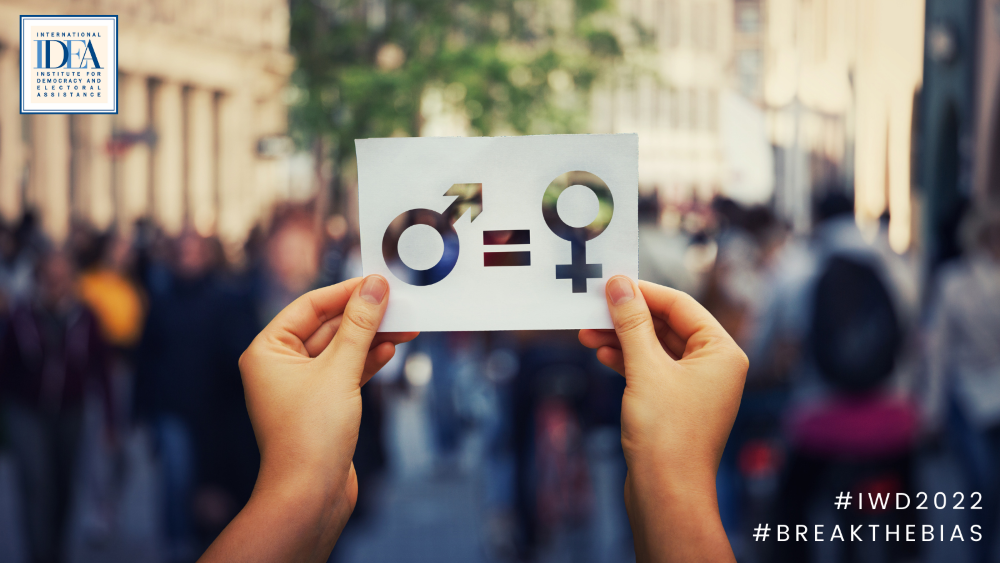 The latest round of GSoD data shows steady improvement in gender equality over time, but progress has been slow. Today, International IDEA's worldwide gender equality score is squarely in the mid-performing range, a disappointing state of affairs on International Women's Day.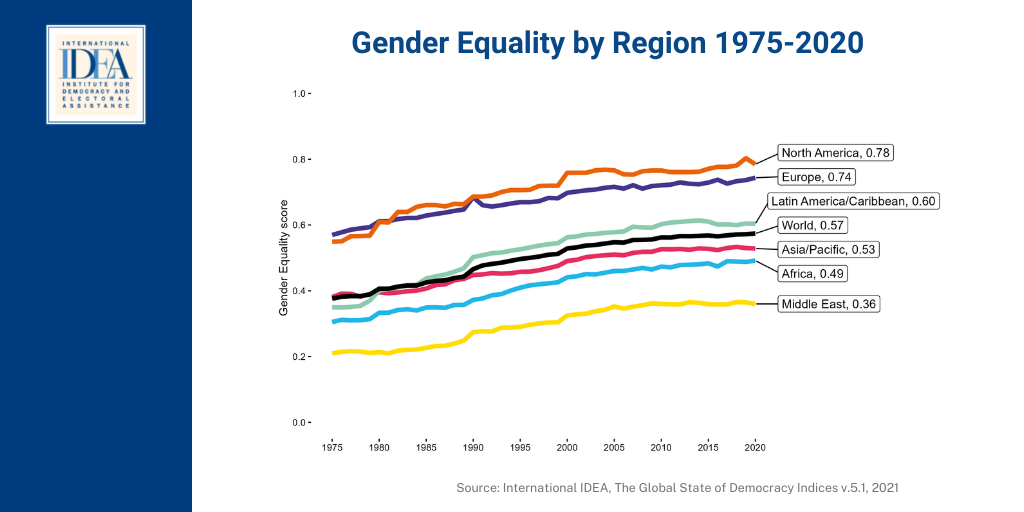 Some of this is due to the pandemic, which has had a disproportionate impact on women. Women have suffered from a Covid motherhood penalty, unequal job losses and a concomitant increase in poverty, loss of access to education, an increase in rates of domestic and gender-based violence and a greater risk of contracting the virus. At the same time, they are under-represented on taskforces that are charged with responding to the virus and developing recovery plans. 
These findings come at the same time as an alarming decline in the number and power of democracies around the world. In fact, our latest report demonstrates a decline in the number of democracies and a rise in both the prevalence and strength of authoritarian regimes. Democracies cannot thrive or reach their full potential when half the population is deprived of equality. Indeed, freedom and equality are the cornerstones of democracy. 
A Potential Game Changer 
In order to reverse the declining strength of democracies and to ensure the strongest possible pandemic recovery in those parts of the world that are embarking on such a phase, gender equality must be a central priority. Indeed, addressing gender inequality could be a game-changer. 
First, new research shows that women are less likely to be corrupt than men. In fact, some countries have hired women specifically to stem corruption. Second, studies show that societies that treat women badly are more likely to be poor and unstable. Third, the political empowerment of women is positively associated with higher human capital, especially health and education outcomes. Fourth, women govern and make decisions differently from men. They tend to be more collaborative and bipartisan, and some research shows that they sponsor not just more legislation than men but that this legislation is more likely to benefit women and children or address issues like education, health, and poverty. Overall, they build coalitions and reach consensus more quickly, and – because they are better at picking up on and listening to nonverbal cues and less likely to interrupt – they have more democratic leadership styles. 
Finally, prioritizing the fight for women's rights just makes good economic sense. According to the IMF, overall productivity will increase if women's skills and talents are used more fully, giving women greater control over household resources can enhance countries' growth prospects by changing spending in ways that benefit children, and empowering women can change policy choices. 
The Way Forward 
It seems that some of these lessons are finally being heard. Both the US state of Hawaii and the Canadian government have developed feminist pandemic recovery plans, which seek to address historic harms that are perpetuated by, male domination, gender-based violence, economic insecurity, and poor health. These are the kinds of innovations the world desperately needs for a future grounded in human rights, equity, justice, and security.