Back to overview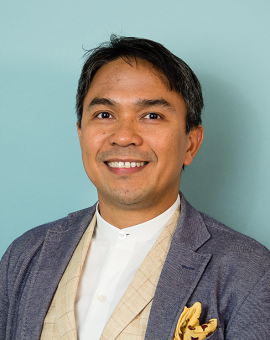 Raul Cordenillo
Head of Communications and Knowledge Management
Raul Cordenillo
Head of Communications and Knowledge Management
Raul Cordenillo's work focused on enhancing International IDEA's profile as the primary actor for effective and sustainable democracy building by maximising the potential of its knowledge resources, policy initiatives and reform assistance programmes. He represented the voice of International IDEA in local and international media and other communication networks and oversees the work of the communications team (communications, publications and the library).
Cordenillo's previous work experience includes serving as Head of Inter-Regional Dialogue, Partnerships and Advocacy in International IDEA and managing the Inter-Regional Dialogue on Democracy. He was also a Programme Officer for the EU Presidency Project at International IDEA, which focused on the democracy support dimension of the EU's development policy. Before International IDEA, he was Assistant Director at the ASEAN Secretariat, Programme Officer at the Council of Asian Liberals and Democrats and Deputy Director General of the Philippine Chamber of Commerce and Industry.
In 2013, he was awarded a short-term fellowship by the Bundesministeriums für Bildung und Forschung (BMBF) Southeast Asian Studies Programme of the Freiburg University (Germany) in recognition of his experience and contributions to policy-making in Southeast Asia and ASEAN. In 2014, he authored "Qualitative Comparative Analysis (QCA) for Southeast Asian Studies: Prospects for Policy Analysis of Southeast Asian Regionalism" (a chapter in Methodology and Research Practice in Southeast Asian Studies, published by Palgrave Macmillan). In 2017, he was selected as an Outstanding Professional Awardee in the field of Social Sciences by the University of the Phiilippines Alumni Association.
Expertise
News, media and publications
Education
MA in Economics and BA in Political Science (University of the Philippines).
Location
Stockholm, Sweden