This publication is only available in electronic format
Co-Publisher(s):
The Edinburgh Centre for Constitutional Law; The Centre for Policy Alternatives (Sri Lanka)
The Scope and the Content of the Sri Lankan Constitution: Perspectives of Opinion Leaders comprises a summary of findings that assesses the knowledge, attitudes and perceptions of leaders from the four main ethnic communities (Sinhala, Tamil, Up Country Tamil and Muslim) across the island. These leaders included religious leaders, government officials, office holders of community-based organizations, teachers and school principals.
The assessment adapted and applied International IDEA's constitutional performance assessment methodology to collect these leaders' perceptions on the constitutional text and realities on current constitution, the Presidency, human rights and the nature of political and economic order. The Constitutional Performance Assessment was undertaken through a partnership between the Centre for Policy Alternatives (CPA), the International Institute for Democracy and Electoral Assistance (International IDEA) and the Edinburgh Centre for Constitutional Law (ECCL).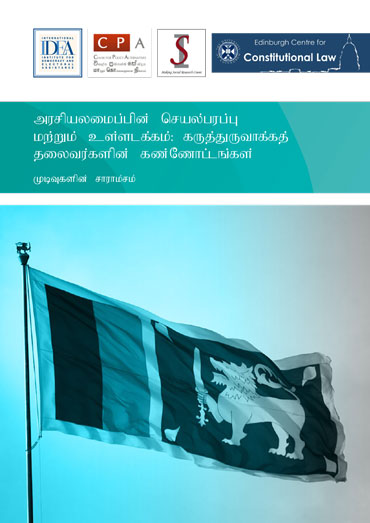 Contents
Introduction
Methodology
Executive summary
1. Current Constitution
2. Nature of the political order
3. The presidency
4. Nature of the economy
5. Human rights
6. On the judiciary
About the partners