This publication is only available in electronic format
ISBN:
978-91-7671-097-5 (Print)
The concept of open data is based on the idea that data should be freely available for anyone to access, use and share.
In recent years, the concept has taken root as an increasingly accepted practice for public and government produced data, with data seen as a public good, and data infrastructure as the key to accessing it.
Publishing election data as open data has numerous benefits: it provides civil society, citizen journalists, electoral observers and citizens access to the same detailed information that was previously only available to selected stakeholders such as large media outlets. In doing so, open data allows all interested stakeholders to follow and understand the electoral process and can enable more inclusive, transparent and trusted elections.
In spite of the potential benefits of open data, election data is often not available in government open-data platforms and election data that is published often does not comply with open-data principles.
The aim of this publication is to encourage electoral management bodies to increase the application of open-data principles. It provides guidance for improving the practice of data publication towards a more open approach.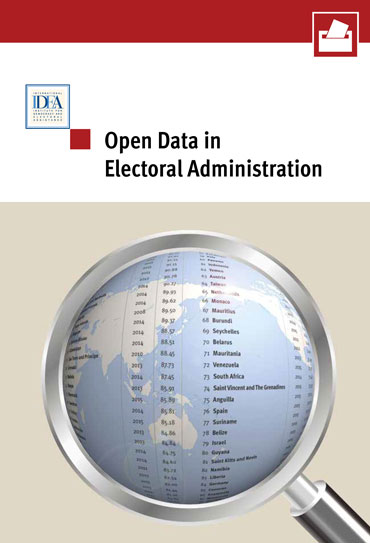 Contents
Preface
Acknowledgements
Acronyms and abbreviations
1. Introduction
2. Open data in elections
3. Current practice for the publication of election data
4. How to initiate an open-data initiative in the field of elections
5. Technical aspects of implementing an open-data initiative
6. Conclusions and recommendations
References and further reading
About the contributors
About International IDEA