National Survey on Nepal's Constitution Building Process
In 2006, leaders in Nepal came together to sign the Comprehensive Peace Accord, signalling the end of the 10-year armed conflict.
In 2008–12, the first Constitutional Assembly (CA) made remarkable progress in drafting a constitution. However, when the tenure of the first CA ended, key issues remained unresolved, and the constitution could not be finalized.
In 2013 a second CA was elected, and continued working on the new constitution. Following the earthquake in Nepal on 25 April 2015, the political parties came to an agreement on contentious issues, which moved the constitution-writing process forward. 20 September 2015 became a historic day for Nepal as the new Constitution was promulgated.
This survey provides statistically relevant evidence of the opinions and perceptions of the Nepali people on the work of the second CA during a critical moment in Nepalese history.
The survey commenced on 8 June 2015—the day that Nepal's political parties reached the 16-point agreement—and ended on 31 July, one month after the release of the preliminary draft constitution. As such, it was conducted during a time when the nation's attention was focused directly on the work of the CA.
Details
Publication date
03 November 2015
Co-Publisher(s)
Outline Media, Rooster Logic
ISBN
978-91-7671-023-4 (Print)
Contents
1. Introduction
2. Methodology
3. Characteristics of Respondents
4. Results
5. Summary and Conclusions
Give us feedback
Do you have a question or feedback about this publication? Leave us your feedback, and we'll get back to you
Send feedback
National Survey on Nepal's Constitution Building Process
1845
0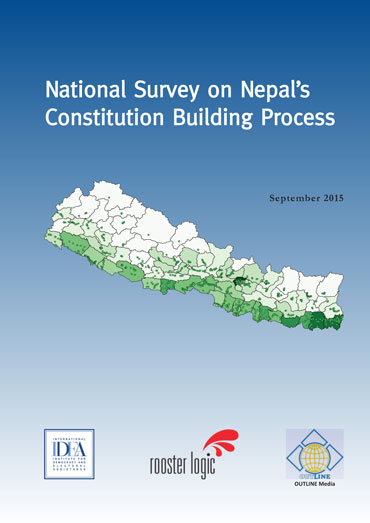 | | |
| --- | --- |
| Total views | 1845 |
| Downloads | 0 |
| Rating | |
Give us feedback
Do you have a question or feedback about this publication? Leave us your feedback, and we'll get back to you
Send feedback