This publication is only available in electronic format
Oversight by key government institutions can help to ensure that emergency spending is administered properly and efficiently.
This discussion paper is designed to help identify an optimal balance between the need for an agile emergency response and demands for the efficient and accountable use of public funds. It examines the international literature on Public Accounts Committees (PACs) and their work in times of emergency response, and presents good practices and lessons learned to improve the effectiveness of oversight.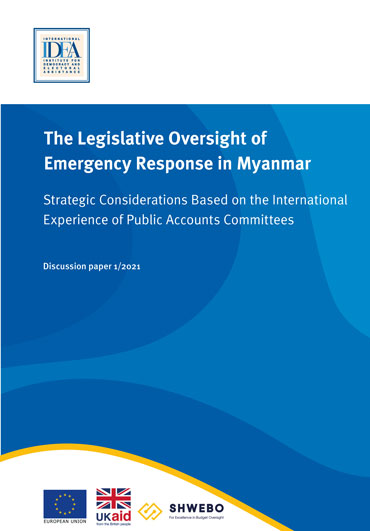 Contents
Acronyms and abbreviations
Introduction
1. JPACs and the COVID-19 response: overview of the Myanmar context
2. Public funds in emergency response: challenges and good practices
3. Myanmar JPAC oversight of emergency responses
4. Conclusions and future actions: JPAC oversight of the next emergency
References