This publication is only available in electronic format
The Women and Constitution-Building Initiative in Nepal was initiated in June 2008 in the spirit of a newly formed Constitution Assembly which saw the election of a high percentage of women.
International IDEA, together with its partners, identified a need for a greater understanding of how a constitution affects women's lives and how women can contribute to the process of making a new constitution. Strategies were needed to support the creation of an inclusive political environment in a crucial period of Nepal's history.
The initiative aims to develop knowledge resources to support a gender-inclusive process and a gender sensitive constitution; establish a connection with international experts (cross-party and across all age groups); and facilitate dialogue between key stakeholders working on constitution-building with a gender perspective.
A Gender Folder: Toolkit for Constituent Assembly Members is the key knowledge tool for International IDEA's Women and Constitution-Building Initiative in Nepal and entails dissemination of Discussion Papers throughout the constitution-making process with the aim of highlighting significant issues related to the constitution from a gender perspective.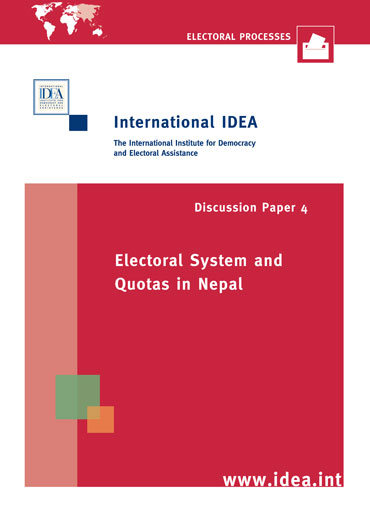 Contents
Electoral system and electoral quota provisions for the Constituent Assembly (CA) elections in Nepal
Effects of the electoral system on representation of women
Quotas and inclusiveness
Different kinds of quotas: how do they work?
Different quotas under different electoral systems: the results
Directly elected vs. indirectly elected? Reserved seats vs. quotas?
Discussion questions
Glossary
About International IDEA