This publication is only available in electronic format
International IDEA began to address the relationship between democracy and diversity management at a round-table event held in Oslo in June 2007 in tandem with the annual meeting of its Council of Member States.
By way of follow-up, it was proposed that International IDEA begin to explore further the issues in focus, and to identify what its specific contribution might be in this area. The Institute organized a round table on 26–27 November 2008 in Pretoria, South Africa, and this report summarizes the proceedings.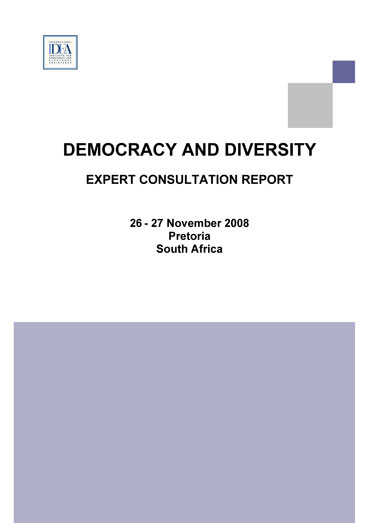 Contents
Executive Summary
Opening Remarks
Margot Gould and Mark Salter
Session 1: Setting the Scene
Managing Diversity within a Democratic Framework: Historical Overview and Introduction
John Eade
Managing Diversity within a Democratic Framework: Perspectives from Asia and the Global South
Rajeev Bhargava
Session 2: Managing Diversity within a Democratic Framework: Regional Perspectives
Southern Africa
Ozias Tungwarara
Latin America
Carlos Camacho Nassar
Session 3: Managing Diversity within a Democratic Framework: Thematic Perspectives
Governance
Afeikhena Jerome
Federalism
Amitbabha Pande
Migration
Hans-Petter Bow
Summary and Conclusions
Mark Salter
Session 4: Country Perspectives
South Africa
Somadoda Fikeni
Bolivia
Carolina Floru
Session 5: Democracy and Diversity: Defining the Programme
Working Group Reports
Final Commentaries from Participants
Concluding Remarks
Mark Salter
Annexes