Back to overview
The EU´s external democracy action in Sub-Saharan Africa - a dialogue with civil society
staff from different stakeholders sitting in a meeting room
Over the last five years, the continent has witnessed a decline in the number of democratic systems, with 45 per cent of the population now living in hybrid regimes. The quality of democracy is also impacted by increasing insecurity, attempts at reversing the presidential term limits, contested electoral outcomes and an increased role for the military in regime transitions. Despite the negative trends and the low democratic performance satisfaction, the vast majority of the African population has an aspiration for democracy.
On the 27 October 2022, the Sweden EU Presidency & the Democracy Agenda project organized a regional consultation in Addis Ababa, Ethiopia. 21 civil society representatives from 13 African countries came together to discuss democracy trends in Africa and the relevance and coherence of the EU´s external democracy policy in the continent. 
Birgitte Markussen, the European Union Head of Delegation to the African Union, and Hans Lundquist, Ambassador of Sweden to Djibouti and Ethiopia attended the conference. They discussed with participants the lessons that the EU drew from the latest democracy developments in Africa and how the EU can support democracy more effectively in the continent.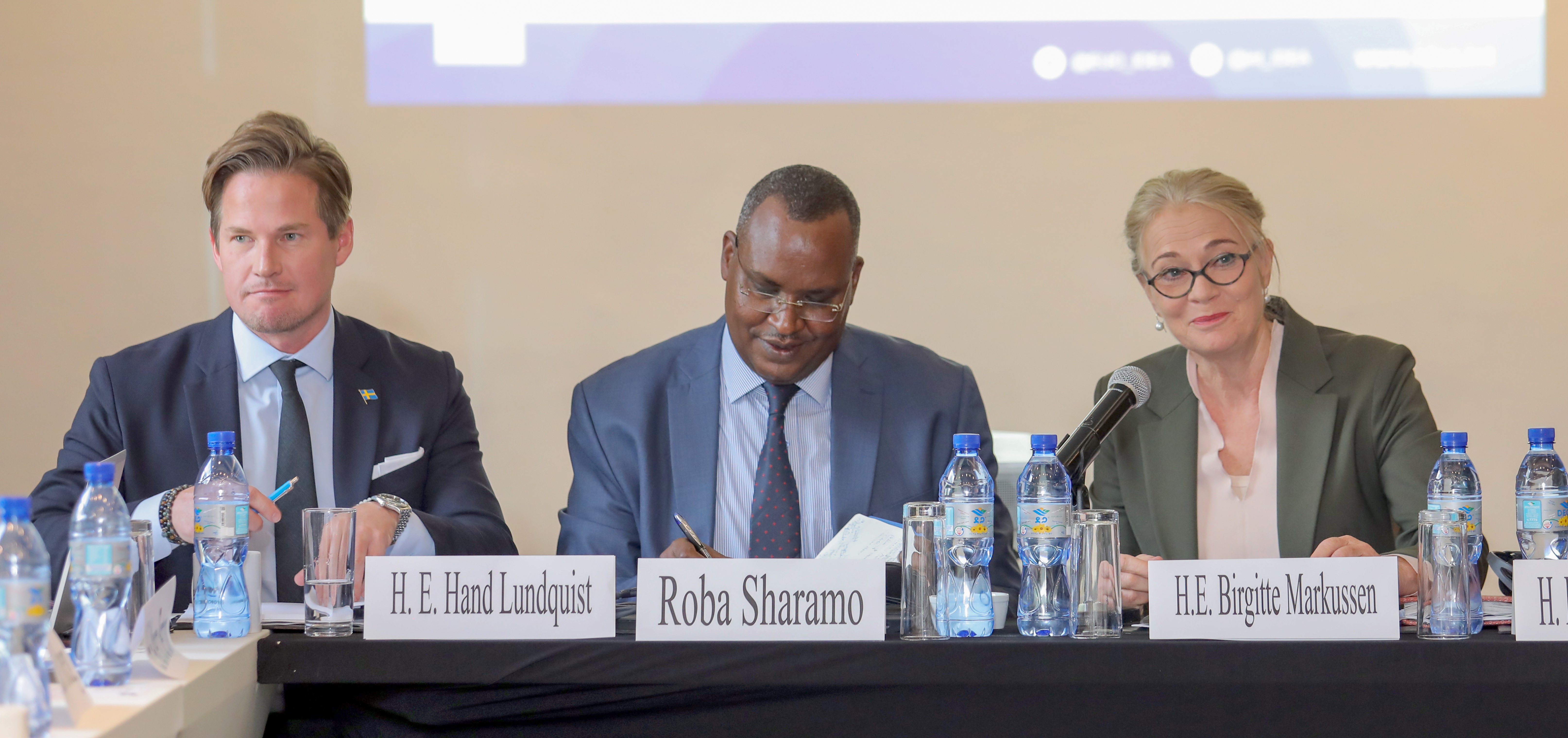 During the dialogue, democracy was praised as a model of governance with functioning institutions and processes that deliver in terms of security and social justice. While competing undemocratic models are being promoted in Africa, the EU is still perceived to be a pro-democracy ally that should stick to its values when engaging with partner governments. However, this requires unifying the democracy and economic development agendas, showing that investing in key infrastructures and services can be done without compromising democratic values, contrary to what supporters of strong authoritarian leadership argue.
The EU should also put the digital and green topics higher up its democracy cooperation agenda with Africa. Climate change is still not seen as a grassroots issue, even though it creates or worsens conflicts, primarily affects the most vulnerable segments of the population and can weaken democratic institutions. Participatory mechanisms that involve citizens and local authorities could be instruments to address climate-related issues peacefully and sustainably. Digital tools could also be used to enhance citizens' participation in decision making. Achieving gender equality is essential for a truly democratic society, and a broader mobilization on this topic is key to bring change in society (e.g. to tackle gender-based violence). This also requires institutions, processes and laws to ensure that gender equality is designed in a strategic, trans-partisan, inclusive way. Africa registered positive examples of legislative provisions to promote women's participation and representation in politics but more could be done to implement these rights. The large segment of African country populations that are young is seen as a key driver for democracy in the continent. However, if unemployment and social inequalities are not properly addressed, this could easily lead to growing disenchantment, apathy or even resentment against young people's democratic aspirations and make youth more easily exploited by violent groups.
In the margins of the regional consultation, a delegation of International IDEA representatives (Europe and Africa & West Asia progammes) was invited to take part in a working lunch with EU Heads of Mission. The lunch took place at the EU residence in Addis Ababa and allowed for a strategic discussion among EU Ambassadors and International IDEA representatives on the state and trends of democracy in Africa in a rapidly changing geopolitical landscape.
For more information about the EU´s external democracy action in a new geopolitical reality - recommendations report, please consult our webpage.