This publication is only available in electronic format
Co-Publisher(s):
University of the Philippines, Center for Integrative and Development Studies
The Constitutional Performance Assessment of the 1987 Philippine Constitution concluded that most of the technical requirements of the 1987 Constitution have been met but there has not been substantial compliance in the Philippines in terms of meeting the broader external and internal goals of the Constitution, including democratization; decentralization; social justice, human rights, and gender equality; peace and conflict resolution; and economic development.
In this Discussion Paper, International IDEA and the University of the Philippines partnered once again to look back on the Performance Assessment findings and assess how the COVID-19 pandemic has affected the performance of the 1987 Constitution. The Discussion Paper identifies specific trends within constitutional design areas to keep a watch on as the Philippine Government continues to respond to COVID-19.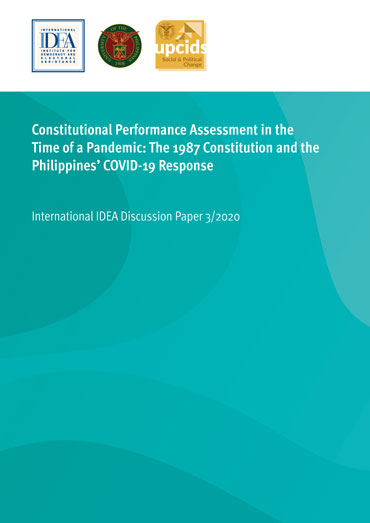 Contents
Introduction
The Philippine Government's Response to the Pandemic
Constitutional Design Areas: Trends and Warning Signs for the Pandemic Response
Conclusions
References