This publication is only available in electronic format
ISBN:
978-91-7671-028-9 (Print)
When introducing or using information and communications technologies (ICTs) in elections, electoral management bodies (EMBs) usually need to assure themselves and other stakeholders that a given technical solution is going to work—that is, that it fulfils legislated requirements, is secure and trustworthy, is of high quality, and will perform as expected.
Certification of ICTs for use in elections is often seen as an option for EMBs seeking to provide this kind of assurance. However, certification practice varies greatly between countries and EMBs. Some do not conduct any kind of certification, while others use very distinct processes with vast differences in scope. Further complicating matters is the fact that certification terminology is badly defined and applied inconsistently. Moreover, as there is currently no global technical standard for the various ICTs used in electoral processes it is usually up to the individual EMB to develop requirements for the certification process and assure compliance.
This publication provides guidance on what the certification of ICTs for elections can and cannot achieve, outlines the relationship between the legal and technical requirements for certification, and presents a quality-assurance framework that summarizes best practices for planning and implementing certification.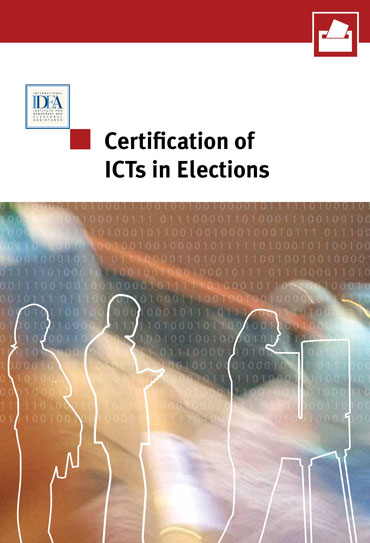 Contents
Preface
Acknowledgements
Acronyms and abbreviations
1. Introduction
2. Why Certify (or Not)?
3. What Can Be Certified
4. Quality Assurance Framework
5. Deriving Requirements
6. Planning
Conclusions
Annex A. Case Studies
Annex B
Glossary
References and Further Reading
About the Contributors
About International IDEA