ASEAN Workshop on Election Observation: Incremental Steps Towards the Establishment of an ASEAN Election Observation Mechanism
Elections can either further democracy, development, human rights and security, or undermine them.
For this reason, promoting and protecting the integrity of elections is important. Election observation is recognized as an effective instrument to achieve these goals, especially in terms of following up demands and recommendations for democratic reform in the post electoral period. Regional organizations are uniquely placed to perform efficient, and cost effective election observation.
As ASEAN continue to consider the feasibility of the conduct of election observation in the region, an ASEAN workshop that introduced the basics of election observation, its various forms, methodological issues, as well as the experiences of other regional organizations that are peers of ASEAN, was organized in June 2015.
This report captures the presentations and discussions about the scope and rationale of election observation, the various methodologies and their challenges, the experiences of regional organizations in the field of election observation as well as conclusions on the discussion about the relationship between electoral management bodies and election observers.
Details
Publication date
19 October 2015
Author(s)
Sanjay Gathia, Andrew Ellis, Adhy Aman
Co-Publisher(s)
ASEAN, Philippine Department of Foreign Affairs, Philippine Commission on Elections
Contents
Foreword
Preface - Department of Foreign Affairs of the Philippines
Preface – Commission on Elections of the Philippines
Preface - International IDEA
List of Figures
List of Pictures
Acknowledgments
Acronyms and Abbreviations
Executive Summary
Introduction and Background
1. Why Observe Elections?
2. The Relationship Between Election Management Bodies and Election Observers
3. Election Observation Reports and Recommendations
4. Regional Experiences
5. Thematic Experiences
6. Post-Workshop Evaluations
7. Post-Workshop Recommendations and Actions: Setting up an ASEAN Election Observation Mechanism
8. Annexes
Give us feedback
Do you have a question or feedback about this publication? Leave us your feedback, and we'll get back to you
Send feedback
ASEAN Workshop on Election Observation: Incremental Steps Towards the Establishment of an ASEAN Election Observation Mechanism
1533
0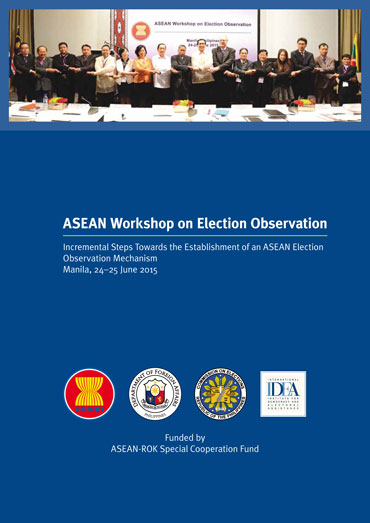 | | |
| --- | --- |
| Total views | 1533 |
| Downloads | 0 |
| Rating | |
Give us feedback
Do you have a question or feedback about this publication? Leave us your feedback, and we'll get back to you
Send feedback