Back to overview
Workshop on Timing and Sequencing of Elections: Overcoming Authoritarianism and Deep Political Crises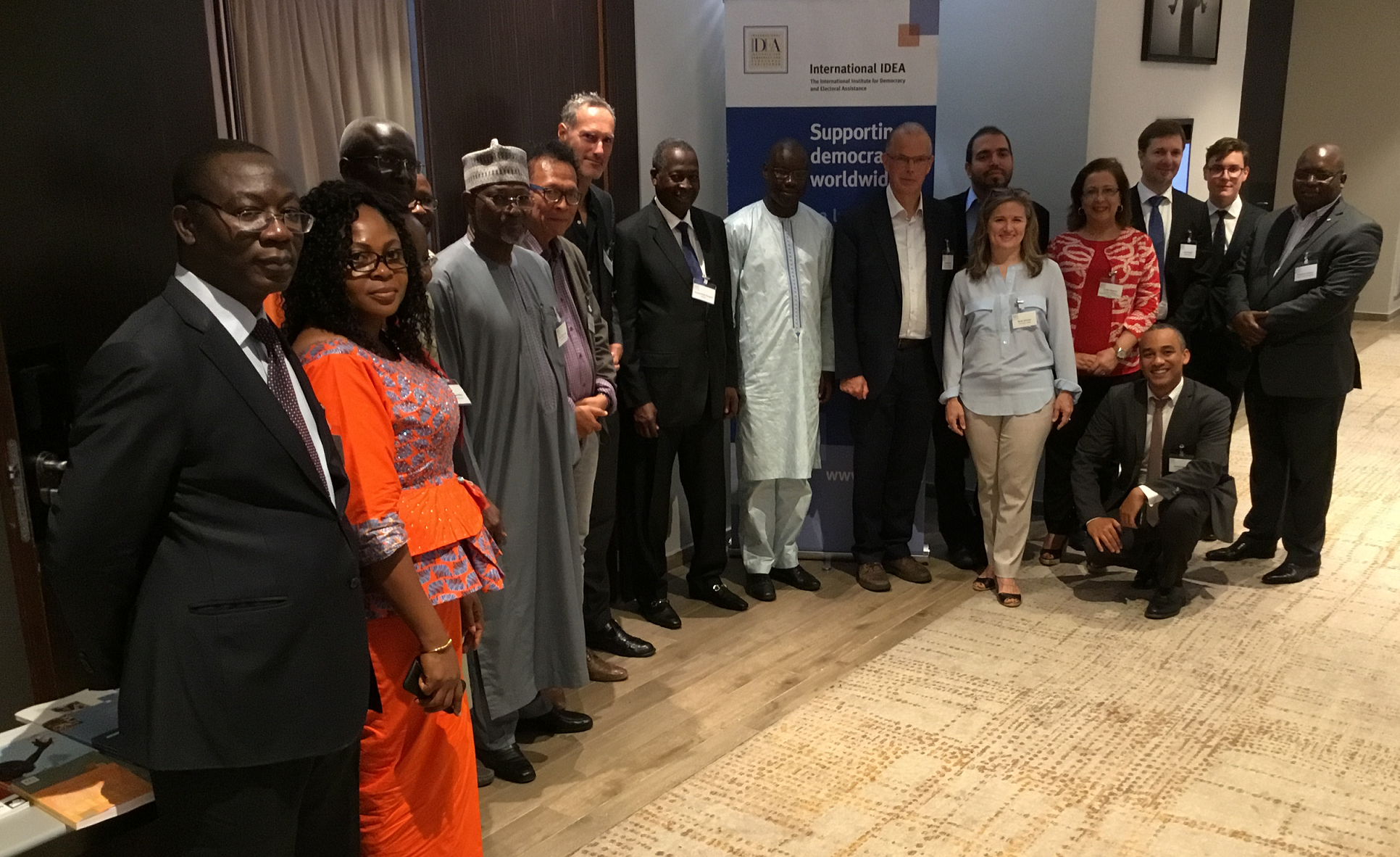 Group picture of the participants to the 'Timing and Sequencing of Elections: Overcoming Authoritarianism and Deep Political Crises',13-14 September 2017, Dakar, Senegal. Photo credit: International IDEA
International IDEA's Electoral Processes Programme held the first workshop of its 'Timing and Sequencing of Transitional Elections Workshop' in Dakar, Senegal on 13 and 14 September 2017.
Elections are central pillars of contemporary strategies to build and restore democratic governments after armed conflicts, authoritarian rule, and deep political crises. In such instances, elections serve to cement peace, mark a shift to a democratic era and provide the government with the legitimacy both domestically and internationally.
The environment in which transitional elections are held may, however, be extremely challenging, due to a state's institutional weakness, a fragile security situation, lack of political party pluralism, or weak civil society organizations, media organizations and tribunals. In this context, poorly-managed, hastily held, or postponed elections carry higher risks of triggering electoral violence, renewed conflict, or leading to the consolidation of "semi-democratic" regimes.
Designing an optimal roadmap to elections in transitional contexts is key to alleviate these risks and ensure a smooth transition towards peace and democracy. Acknowledging this issue, International IDEA's Electoral Processes Progamme launched the 'Timing and Sequencing of Transitional Elections' project in 2016 to assist key national and international stakeholders engaged in related decision-making processes.
The first workshop—focusing on elections in contexts of transition from authoritarianism and deep political crisis—was held in Dakar on 13 and 14 September 2017. It brought together a core group of 18 high-level experts, including representatives from regional organizations (the African Union, ECOWAS), key international organizations (including UNDP, RECEF and the Carter Center) and national EMBs, as well as renowned scholars and former mediators. The workshop served as a forum for participants to exchange experiences and provide insights into possible policy recommendations for the benefit of future stakeholders involved in such processes. Building on eight empirical cases—Burkina Faso, Haiti, Lesotho, Macedonia, Madagascar, Myanmar, Tunisia and Venezuela—the experts' discussions centered around three groups of recurrent decision-making dilemmas for transitional elections.
Dilemmas of Sequencing the Roadmap to Elections discussed the trade-offs between the necessity of having a fast but also legitimate transition; the optimal prioritization between constitution-building and electoral processes; and the optimal sequencing of elections at different levels of government (national, regional, local).
Dilemmas of Legal and Institutional Framework discussed the trade-offs related to the choice of electoral system and electoral administration and the use of accommodative measures in transitional settings.
The Dilemmas of International involvement discussed the trade-offs between an emphasis on local or international ownership; between short- or long-term international involvement in the process; and between peacekeeping and security sector reform as ways to restore security.
Next, the project will hold a second workshop in The Hague on 30 November and 1 December 2017. This will focus on post-war elections, with case studies from Bosnia Herzegovina, Liberia, Nepal and Northern Ireland. Based on the experiences and knowledge generated over the course of the two workshops, International IDEA will present policy recommendations aimed at policy- and decision-makers typically involved in political negotiations and/or peace settlements.