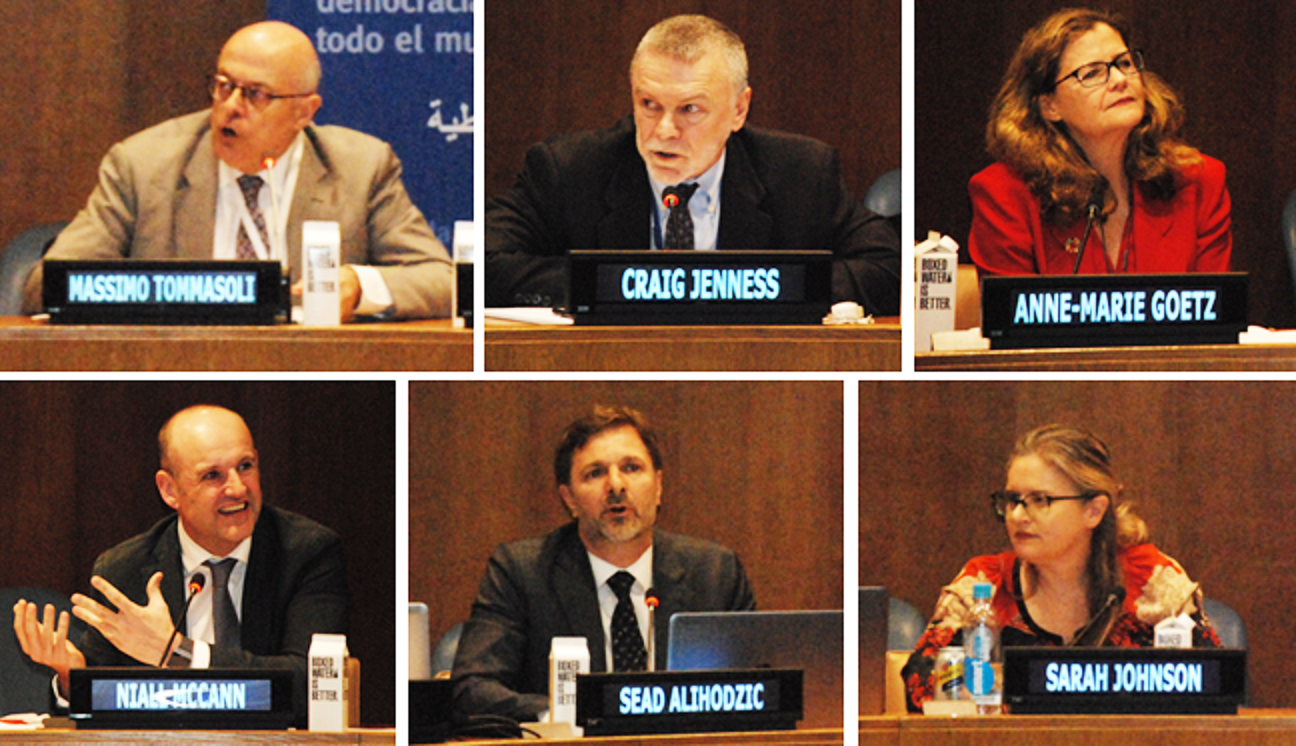 Dr Massimo Tommasoli (International IDEA) speaking at the event "Timing and Sequencing of Transitional Elections", alongside Mr Craig Jenness (UN DPPA/Electoral Assistance Division), Dr Anne-Marie Goetz (New York University), Mr Niall McCann (UNDP), Mr Sead Alihodzic (International IDEA),  and Ms Sarah Johnson (The Carter Center). Image credit: Kumiko Shibata
Coinciding with the release of the 15 case studies that accompany it, International IDEA presented the material from a new policy paper entitled "Timing and Sequencing of Transitional Elections" on 8 May 2019 at the UN Headquarters.  The event was attended by colleagues from UN Bodies, Member State missions, and academia alike, to hear the panelists discuss how elections are affected by different types of transitions.
Massimo Tommasoli, the Permanent Observer for International IDEA to the UN, moderated the discussion, emphasizing the need to address the term "Transition" in all its political complexities.  The international community recognizes that transitional elections are never perfect linear processes, and International IDEA's new policy paper and case studies underline the necessity of taking this into account.  International IDEA's analysis is relevant to different types of complex political change that the UN addresses in its daily work: transitions from war to peace; transitions from authoritarian to democratic regimes; and transitions from deep political crises to stability.
Two authors and researchers provided an overview of the results of the policy paper: Sead Alihodzic from the Electoral Processes team at International IDEA, and Sarah Johnson from the Carter Center.  They were then followed by a panel of UN and former UN peers to discuss how different the international body can best use such report findings. The panel included Craig Jenness, the Director of the Electoral Assistance Programme in the Department of Political and Peacebuilding Affairs; Anne-Marie Goetz, formerly of UN Women and now a Clinical Professor at New York University; and Niall McCann, who is the Lead Electoral Advisor in the Bureau of Policy and Programme Support in UNDP.
While all transitions are unique and no one factor determines a successful electoral process, this does not mean that lessons cannot be learned from past transitions, especially when looking at trends among 15 different case studies that are broken down into three different types of transition. In fact, there are two poles in the thinking about elections in transitions: to either use elections as exit strategies, building on the momentum of the transition to deliver a democratically elected government quickly; or to delay the elections, which allows time for peace and state-building as well as time to technically prepare for the management of the election.
While there are numerous factors that those carrying out transitional elections must take into account, they can be broadly placed into three categories: context-related, electoral-process related and international involvement-related. While electoral process-related considerations have a limited influence on decisions on timing and sequencing of transitional elections, international involvement, and contextual considerations are key for those carrying out such elections.
The paper's recommendations do not propose to tell experts fool-proof ways to carry out transitional elections. Instead, the recommendations are lessons learned that could inform more robust transitional processes in the future—ranging from the creation of a decision-making environment conducive to inclusion and knowledge of local contexts to not allowing transitional or power-sharing arrangement to hinder democratic processes in the long run to the key position of the international community in transitional elections.
The discussants maintained that elections should not be viewed or utilized as end-all, be-all instruments in creating and sustaining peace. Elections usually are not the cause of a conflict but are usually the sparks to underlying problems, so too transitional elections can help facilitate democratic processes or can hinder them in the long run. Elections for interim bodies can be expedited in ways that fully-competitive elections should not be, and if they do not occur, who then rules.  Accommodative measures for those who were not prior represented or local elections for excluded communities should be viewed with the same timing and sequencing analysis as other parts of transitions discussed in the paper: sometimes limits to mechanisms like quotas can best ease transitional processes and ensure against pernicious majoritarianism.
While timing and sequencing in transitional elections play a key role in outcomes, they are by no means the only factors in successful post-authoritarian or post-conflict settings. In fact, the detrimental role of money in politics, manipulation of voters through social media, or the questioning of the legitimacy of elections when those in power do not win are challenges gaining in momentum in recent years. Such challenges cannot be tackled with timing considerations alone.
The Panel Discussion was followed by lively questions and comments from the floor, including from the Permanent Missions of Tunisia, Belgium, and the International Parliamentary Union and academics such as Roland Rich. These questions emphasized the need to study benchmarks and how they are assessed in transitional settings as well as the complexities of accommodative measures in fragile situations.
A link to the full meeting can be found on the UN WEB TV Webcast page.