Back to overview
Secretary-General addresses corruption at the Annual Democracy Forum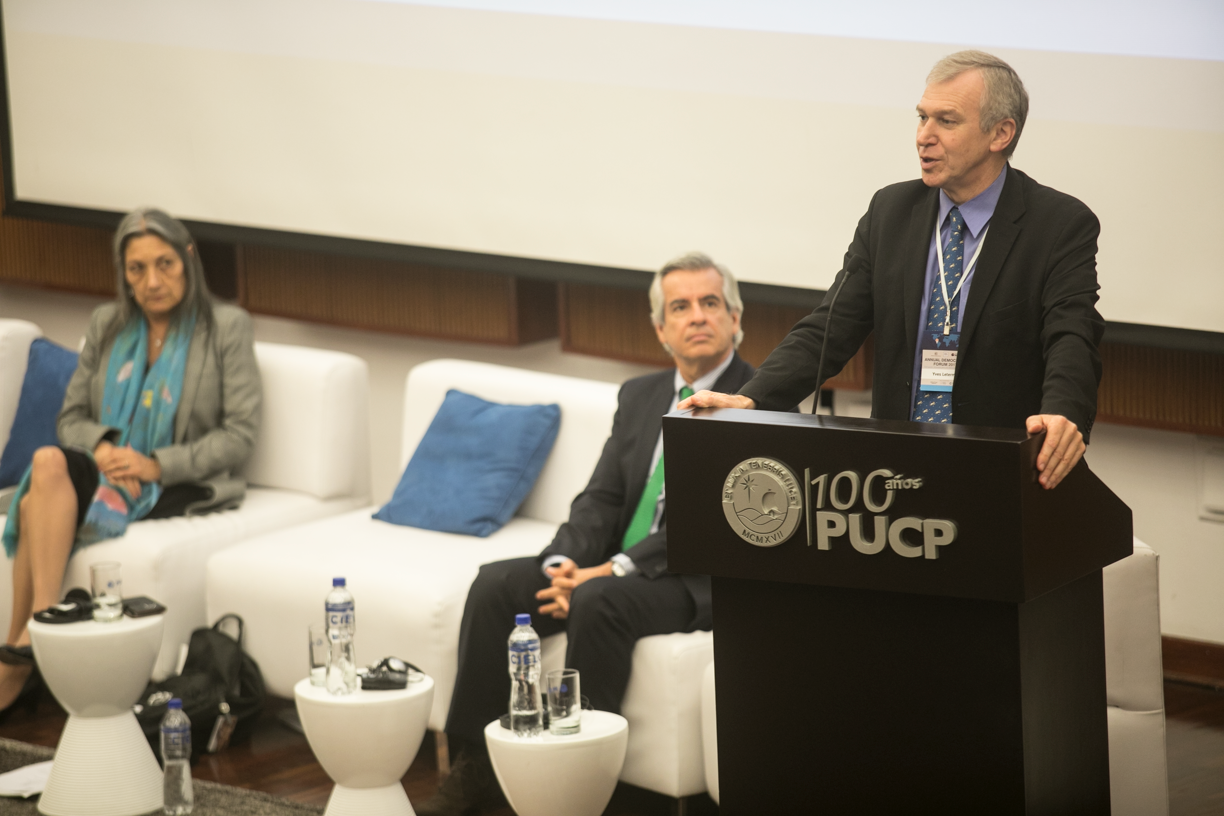 International IDEA Secretary-General Yves Leterme presenting at the Annual Democracy Forum in Lima, Peru, 21 November 2017. Photo credit: Yael Rojas.
On 21 November, International IDEA Secretary-General Yves Leterme travelled to Lima, Peru, to attend the Annual Democracy Forum 2017 (ADF).
The ADF is a global event, bringing together Member States and partners of International IDEA, politicians, policymakers, civil society and representatives of academia from around the world to discuss a specific theme and formulate recommendations and policy proposals. Organized by the Government of Peru, the 2017 Chair of International IDEA, the theme of this year's event was Corruption: A threat towards a democracy of quality.
In his keynote speech, Leterme spoke about corruption and the threats it poses to democracy, both worldwide and in Latin America in particular. Corruption, and more specifically the role that money plays in the political process, lies at the heart of International IDEA's work, since it threatens the very foundations and principles of democracies, said Leterme. It undermines citizens' trust in democracies and the integrity of the political system by making the policy process vulnerable to capture.
Leterme also noted that spiraling election costs create an uneven playing field for women candidates and candidates representing poor and marginalized groups. "If those candidates cannot compete on an equal footing in elections, they will be underrepresented in democratic political structures, resulting in the under-representation of those interests, and less likelihood of the development of policies to address their particular needs", he stated.
Based on the findings of International IDEA's new The Global State of Democracy publication, the Secretary-General called for a more holistic approach to resist the negative influence of money in politics and reduce corruption, in which government, civil society, media and citizens each have a role to play. Conflicts of interest and bank and tax secrecy rules must be addressed, he stressed, while protections for whistle-blowers and freedom of the press have to be respected.
"We all have a responsibility to combat corruption," Leterme concluded. "The fight against corruption is of course dependent on the enforcement of robust legislative and policy frameworks. But the fight has to start at the individual level" he added.
Following this, Pepi Patron, Vice-rector of the Pontifical Catholic University of Peru and Ambassador Antonio García Revilla also addressed the audience. The remainder of the day saw the organization of several high-level roundtables discussing the impact of corruption on democracy; corruption in relations between the public and private sectors; and specific measures for promoting integrity, transparency and accountability.
This year's Forum took place at the Pontifical Catholic University of Peru and was organized as part of the Peruvian Chairmanship of International IDEA. 
View the live stream of the event.