Back to overview
Research report preview: How are Fiji's women politicians treated on social media?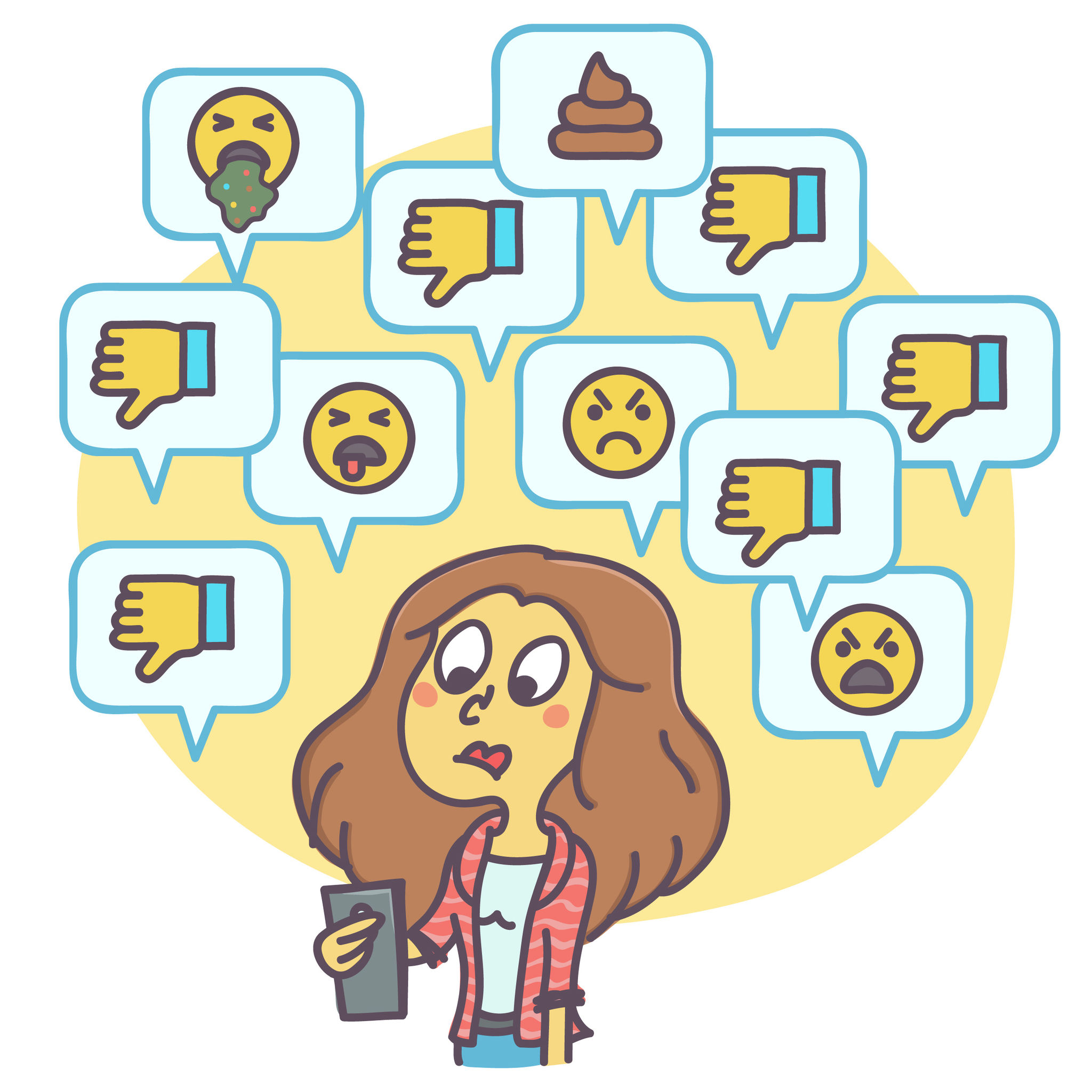 It struck us to find out how (badly) women are treated on social media. As a pilot effort, International IDEA is working together with MEMO 98, a Slovak-based non-profit media-monitoring organisation, to analyze how women politicians are treated on social media in Fiji.
In late 2020, a high-profile woman politician there was subjected to a much-discussed defamation on social media. This led to broad public discussion and the arrest of the perpetrator, hence our interest in conducting the pilot research there. The full report of our research will be released soon. 
The research was conducted by analysing posts and comments made on Facebook, which is by far the largest social media platform in Fiji (See Figure 1.)  in terms of use.  Male politicians are also included in the monitoring so that comparisons can be made with how 'netizens' are treating them. 

The monitoring was conducted retroactively and focused on three different time periods: (1) 15 September to 14 November 2018 (the two-month period prior to election day); (2) 15 November to 13 January 2019 (the two-month period after election day); and (3) 15 October to 13 December 2020 (the two-month period closest to the conduct of the monitoring). For the total period of 6 months, 17 public pages of 12 most prominent women politicians, 28 public pages of 24 men politicians (sitting members of parliament), 2 public pages of social media influencers, 1 public page of media and 6 public groups were monitored and analysed. The research was done using public data provided by Facebook through the CrowdTangle tool, which provides access to public groups and public pages. 
A total of 2,603 posts and around 99,000 comments were analysed for problematic contents in the posts themselves and their related comments. As Figure 2 shows, almost 11 per cent of the posts were found problematic, i.e. sexist, racist, threatening, political victimisation and personal abuse. Most of the problematic content (69.5%) was identified within comments by the general public, rather than by politicians, the media or influencers themselves. Of all problematic contents (both posts and comments), the highest (47.2%) were in the form of political victimisation where abusive or threatening comments targeting political beliefs, ideology or affiliation were directed to the politicians. While at least 35 cases with problematic content were identified directly in the post of male politicians, none such content was posted by women politicians (all cases of problematic content were found within the comments).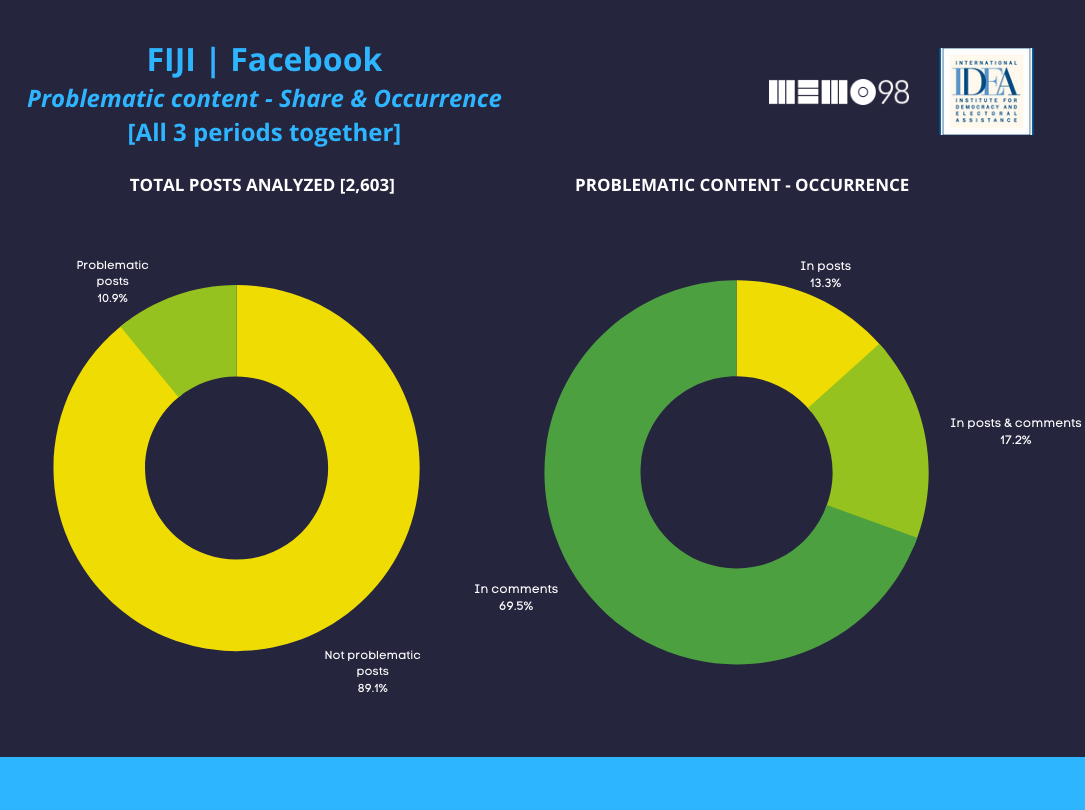 Overall, there were 4 times more problematic content related to Facebook pages of male politicians (133 cases) in comparison with their female counterparts (32 cases). As such, problematic content was found at an average rate of 1.33 case per women politician compared to their male counterparts that averaged 5.54 of problematic cases per politician. Therefore, interestingly, the men were more subjected to online violence than the women, However, it is important to note that a great majority of the problematic comments towards women politicians are in the sexist category as Figure 3 shows.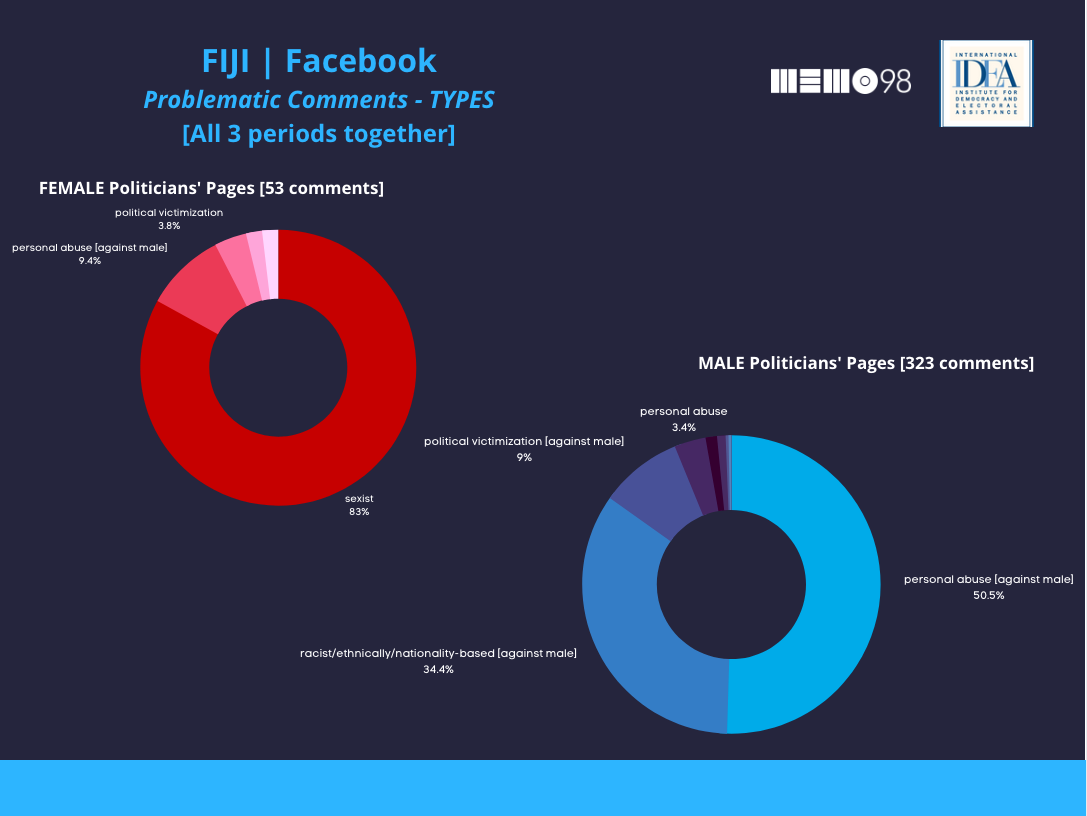 Moreover, our research found no problematic posts on women politicians' pages compared to the 35 found on their male counterparts' pages (see Figure 4). This shows that none of the women politicians monitored are perpetrators of problematic posts.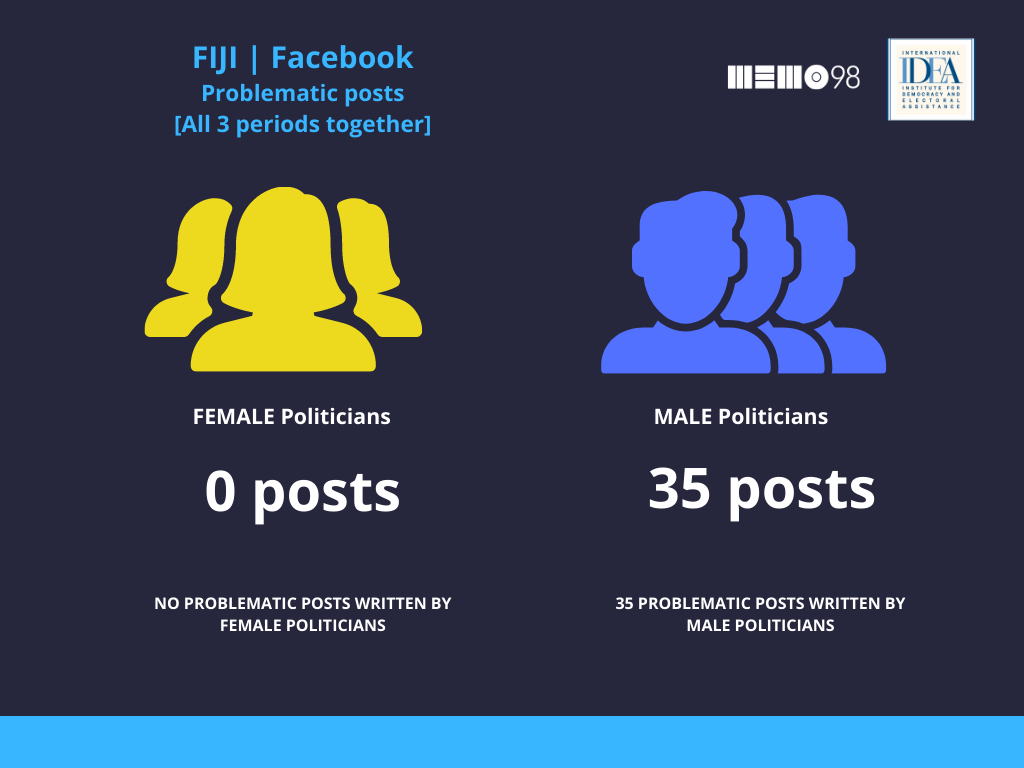 For more details, check our website in the coming weeks for the full report.