Back to overview
Panel discussion: Confronting election-related crises through political dialogue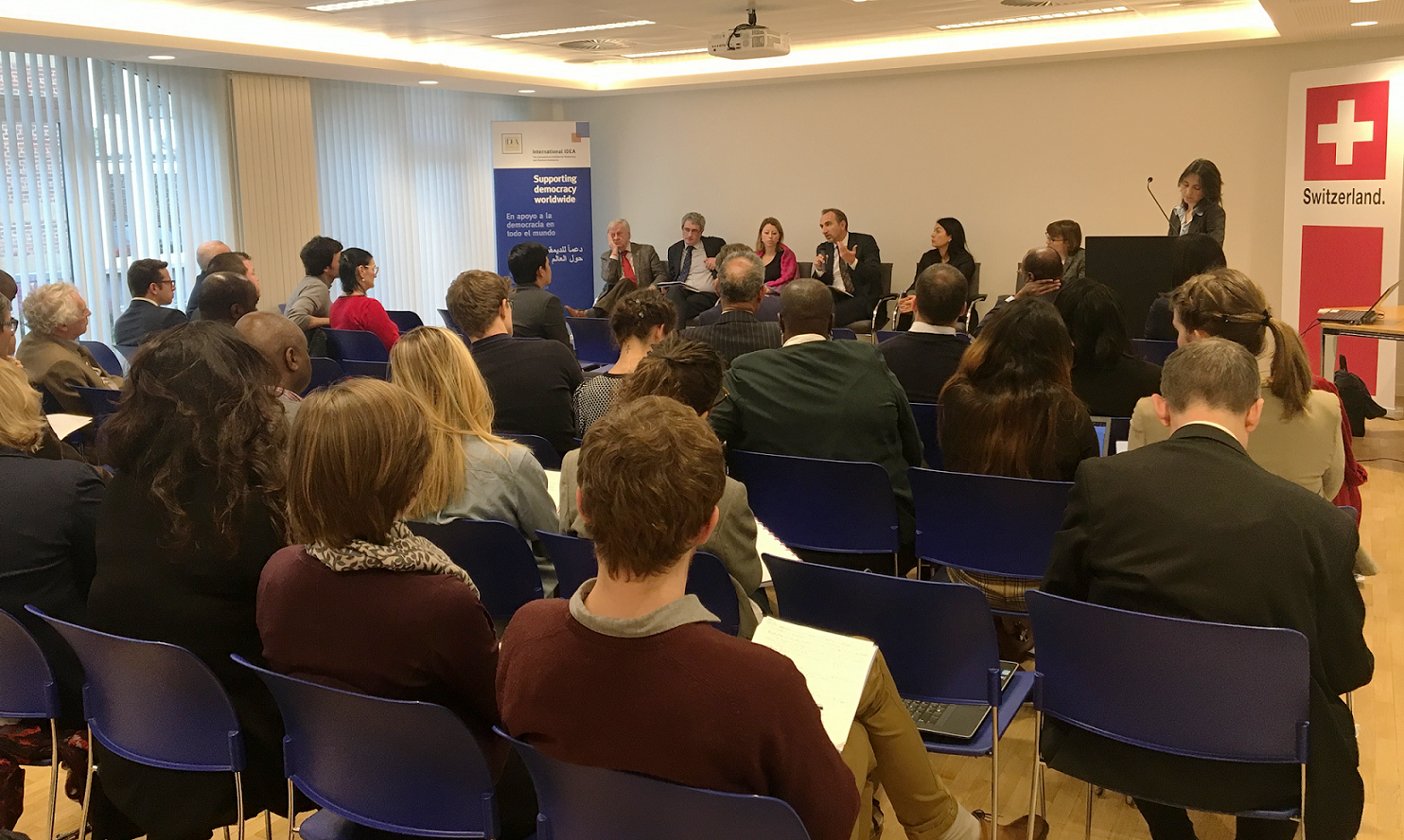 Panelists: Mr Marc Otte, Mr Patrick Costello, Ms Sonya Reines-Djivanides, Mr Dan Malinovich, Ms Cristina Castagnoli and Moderator Ms Fernanda Faria. Photo credit: Marilyn Neven, International IDEA.
REPORT
Panel discussion: Confronting election-related crises through political dialogue
Presentation of a Facilitator's Guide for Dialogues on Voluntary Codes of Conduct for Political Parties in Elections, 7 March 2018, Brussels.
A culture of political dialogue and negotiated agreements among political parties on fair play, can effectively prevent crises during hotly contested elections. Drawing lessons from successful examples of the utilization of voluntary codes of conduct for political parties, as a tool to prevent political tensions from escalating during electoral processes, International IDEA and the Swiss Federal Department of Foreign Affairs co-published a Facilitator's Guide on "Dialogues on Voluntary Codes of Conduct for Political Parties in Elections". The publication includes country-case studies from various parts of the world.
On the occasion of the presentation of the Facilitator's Guide in Brussels, the Office of International IDEA to the European Union, with the support of the Mission of Switzerland to the EU, organized a Panel discussion on, "Confronting election-related crises through political dialogue", which took place at the Mission of Switzerland on 07 March 2018 in Brussles. Keynote speakers and panelists shared experiences on the role of mediators in guiding the electoral process and implementation of an agreement, the potential and value of political dialogue, importance of inclusion of citizens in the process, and the promotion of peaceful elections and democratic dialogue.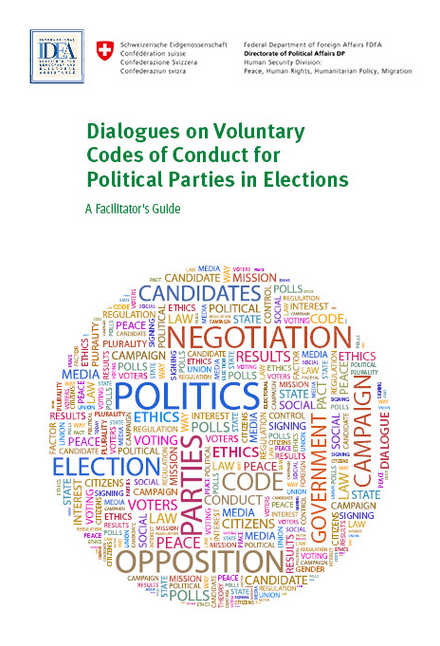 Ms Caroline Bichet-Anthamatten, Minister at the Mission of Switzerland to the EU, and Prof. Dr Kaire Munionganda Mbuende, Ambassador of the Republic of Namibia to the EU and Local Chair of the Council of International IDEA Member States, made welcoming and opening remarks respectively. Keynote Speakers and Members of the European Parliament, Mr Michael Gahler and Ms Ana Gomes, both having served as Chief EU Election Observers, set the scene for the ensuing discussions and highlighted the following key factors: The existence of political will to organize credible elections is central to the finding of common grounds to manage crises. In a highly confrontational situation, regular meetings and contacts can facilitate the respect of procedures and promote constructive interaction between competing parties. Building trust in institutions, media and judiciary takes time and effort, as societies are not always equipped to organize credible elections after being ruled by an authoritarian regime. Creating a fair and level playing field involves support to political parties and an independent election administration. Foreign support, with the consent of domestic role-players and the understanding of the principle of local ownership, could contribute to this process. There is a risk that local authorities might use Codes of Conduct or Observation Mission reports to project a more favorable situation in a given country. Their misuse should be avoided and human rights contexts should be carefully evaluated. Improved coordination and cooperation, as well as the division and sharing of roles and labour among Observation Missions, could positively contribute to credible elections with integrity.
Ms Tatiana Monney, Elections and Democracy Adviser at the Swiss Federal Department of Foreign Affairs and one of the co-editors of the "Facilitator's Guide", provided an overview of the Guide, and highlighted some of its objectives.
During the ensuing panel discussion, which included Mr Marc Otte (Belgian Special Envoy for Syria, Senior Associate Fellow of Egmont Royal Institute for International Relations, Vice-President of the Board of Governors of the European Institute of Peace, and former EU Special Representative for the Middle East Peace Process (2003-2011)), Mr Patrick Costello (Head of Division, Democracy and Electoral Observation, European External Action Service), Ms Sonya Reines-Djivanides (Executive Director, European Peace Liaison Office), Mr Dan Malinovich (Electoral Assistance Specialist, Joint EC-UNDP Task Force on Electoral Assistance), and Ms Cristina Castagnoli (Head of Unit, Democracy and Elections, Directorate Democracy Support, European Parliament), and moderated by Ms Fernanda Faria (European Centre for Development Policy Management), it was stated that whenever elections are a used as an instrument to stabilize a country, Codes of Conduct are rather crucial. The process leading to, and of drafting Codes of Conduct often helps, in itself, to reconcile differences and promote a conducive environment for dialogue among parties.
A multiplicity of interventions, marked by conflict-sensitive modalities and inclusion, can promote a comprehensive approach, combining state building, conflict prevention and electoral assistance. The EU has included  a peace-building and conflict prevention approach to its electoral work, including active roles for local and international civil society organizations (CSOs), human rights defenders and reconciliation facilitators, and developed operational tools for election observers to contribute to the prevention of conflict and violence. A joint UN-EU initiative on the prevention of electoral conflict and violence is being finalized. In countries where violence and a state of emergency prevail, electoral assistance should be well planned, and a conflict prevention approach integrated in the assistance programme.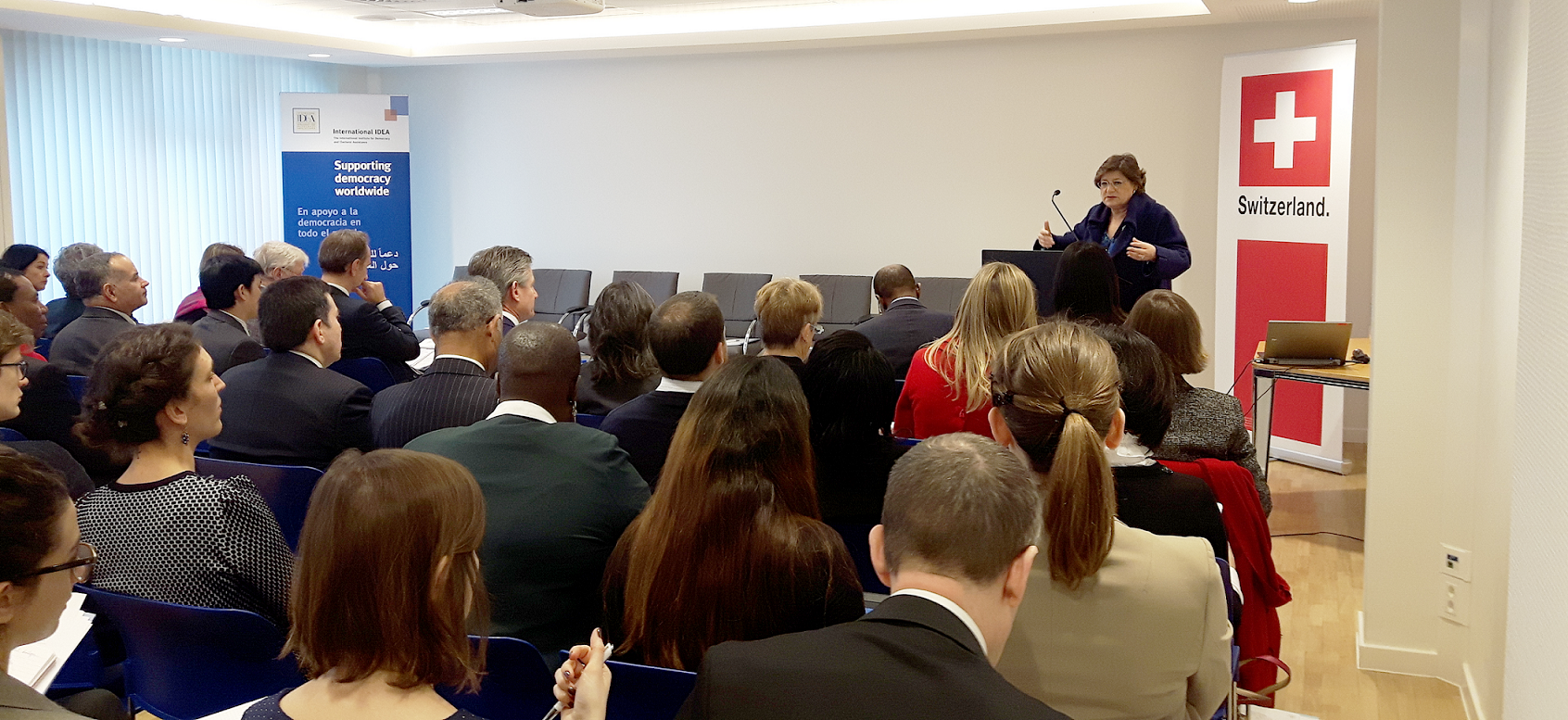 Electoral systems that facilitate a centralization of power, or an "all or nothing" battle, tend to generate more conflict and violence. This can be mitigated through accepted Codes of Conduct guidelines. In this regard, participants welcomed the "Facilitator's Guide", and recommended the publication of a succinct "checklist" and an online tool derived from the Guide, to make it more useful for practitioners and election observers.
The following main conclusions and recommendations emanated from the panel discussion, which brought together the multi-disciplinary communities of democracy support actors, electoral assistance providers and conflict prevention and peace-building practitioners. Together they indicated the most important elements that lead to fair elections marked by integrity:
1.  Required presence of sufficient political will among all role-players and stakeholders;
2.  Need for a good understanding of the country context (culture, history, identity, etc.) and local dynamics. To this end, it is useful to share good practices and experiences among democracy support actors, and adapt those to suit the local circumstances;
3.  Importance of conducting of an early, good, and pro-active conflict risk analysis, allowing for the promotion of a secure and safe environment for elections;
4.  Necessity of establishing a continued inclusive dialogue and the commitment to the observance of human rights;
5.  Value of the existence of independent and credible institutions such as electoral management bodies, and sustainable capacity-building. The existence of Codes of Conduct contributes to an increased confidence of citizens;
6.  Importance of d enhancing local ownership of the electoral process and awareness of the limitations of foreign assistance by external partners;
7.  Need to adopting multi-stakeholder, integrated and inclusive approaches, including CSOs and the media;
8.  Importance of strengthening and building the capacities of political parties, in a non-partisan manner. Where necessary, capacities and means should be provided;
9.  Ensure the existence of long-term commitments to democracy building. It is a home-grown and incremental process which needs practice;
10.  Support the inclusion of women and young people in election observation, mediation and in political parties;
11.  Endorse the constructive follow-up of the recommendations in election observation reports. It should cover the full electoral cycle; and
12.  The Facilitators Guide is a valuable, complementary tool. In order to make it more useful for practitioners, the development of a summary of guidelines, a short checklist/toolkit, and an e-learning format should be considered.