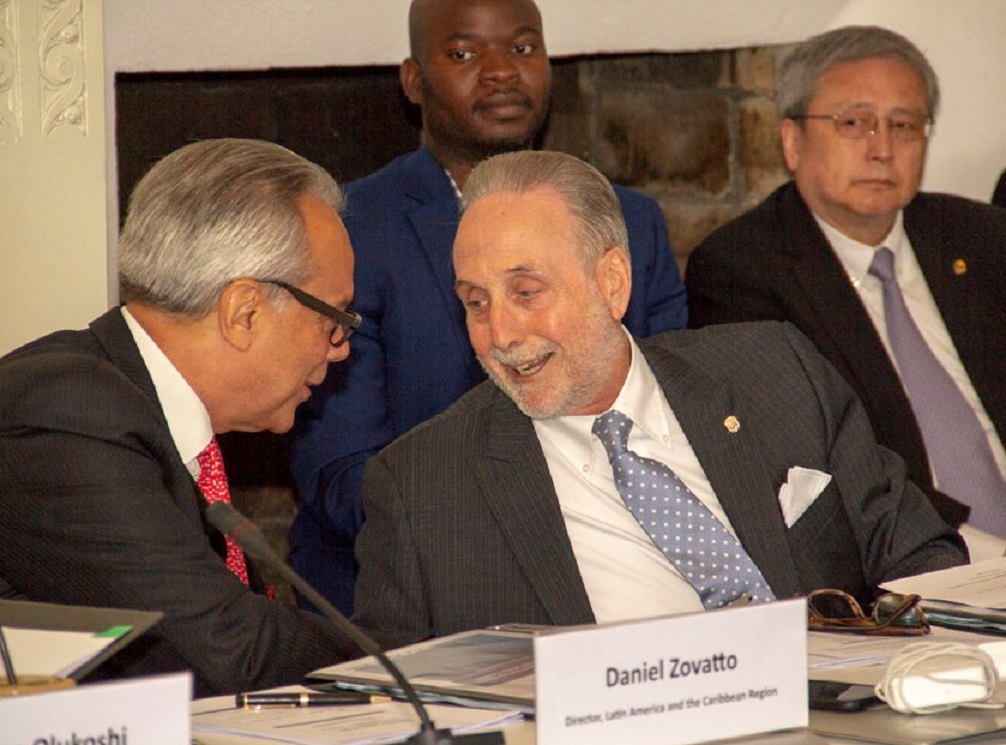 Jaime Ortega Cucalòn (at right, foreground), Ambassador of Panama to Sweden, Norway and Finland (right); and Daniel Zovatto (at left), Director for Latin America and the Caribbean region for International IDEA.
Panama joined the International Institute for Democracy and Electoral Assistance (International IDEA) on 13 June 2018, bringing the total number of Member States in the intergovernmental organization to 31. The Council of Member States, chaired by Namibia, warmly welcomed the membership of Panama at the council meeting held at International IDEA headquarters in Stockholm.
Panama is the 9th Member State in the Latin America and the Caribbean region, and joins Barbados, Brazil, Chile, Costa Rica, Dominican Republic, Mexico, Peru and Uruguay.
"We are delighted to welcome Panama's membership to International IDEA. The accession of Panama is an important milestone for International IDEA that will strengthen International IDEA's presence in a strategic region, which was recently reinforced by the opening of the Sub-Regional Office in Mexico City," said Yves Leterme, Secretary-General of International IDEA. "We are grateful to Panama for the confidence shown in International IDEA and look forward to continuing to strengthen our partnership with Panama in all fields of our work under the new 2018-2022 Strategy. International IDEA acknowledges the democratic gains made by Panama in the last decades," added Secretary-General Leterme.
"The Government of Panama is fully committed to democracy and transparency and has a track record of sustainable, democratic and transparent elections. International IDEA has valuable work to do to enhance and protect democracy in a world where it faces many challenges," said Jaime Ortega Cucalòn, Ambassador of Panama to Sweden, Norway and Finland.
Panama has cooperated closely with International IDEA in the past, not least through the collaboration between the Electoral Tribunal of Panama and International IDEA's Regional Office for Latin America and the Caribbean, led by Dr Daniel Zovatto.