Back to overview
New Global Monitor tracks impact of COVID-19 on democracy and human rights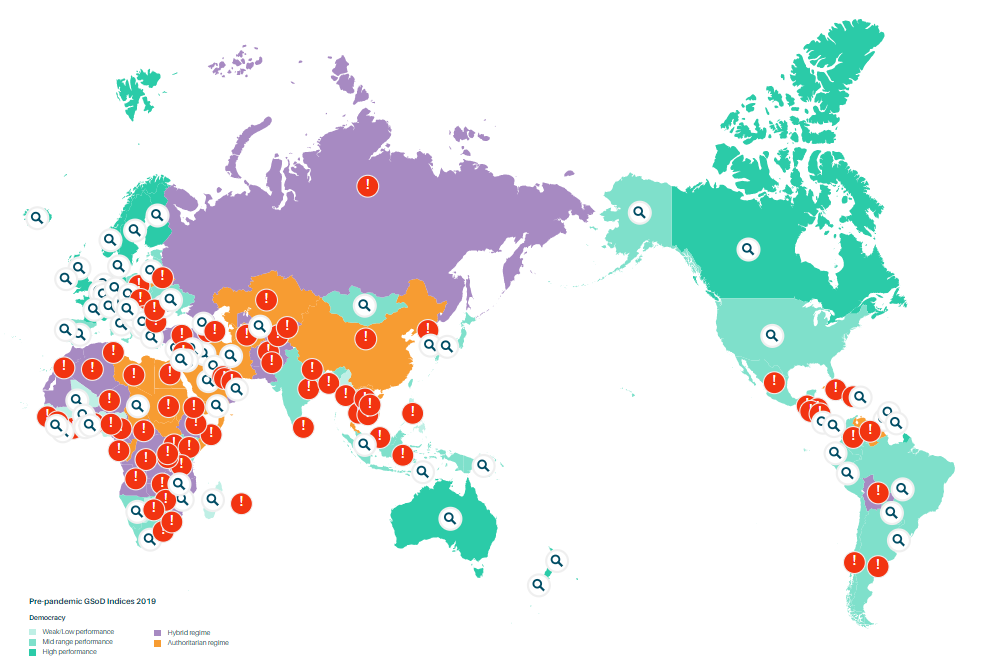 The new online platform, developed by International IDEA and supported by the EU, will track the impact of the pandemic on democracy and human rights around the world.
View this press release in Spanish - Está disponible en español. 
View this press release in Bahasa Indonesia - ini tersedia dalam Bahasa Indonesia.
STOCKHOLM - Governments around the world have assembled emergency powers to respond to the COVID-19 pandemic, at times undermining human rights and democratic processes. A new online platform launched today will allow policymakers, analysts, journalists and the public to now hold these governments to account.
The Global Monitor of COVID-19's Impact on Democracy and Human Rights, launched by the European Union and International IDEA, gathers updated information on 162 countries and will harness the global expertise of think-tanks and other organizations to offer "a one-stop shop" with measures taken globally and analysis on how they affect democracy and human rights, from media freedoms to constitutional checks and balances.
"The COVID-19 pandemic threatens not just our public health but the state of our democracies around the world. The Global Monitor gives journalists, policymakers and civil society activists the ability to hold governments to account by tracking their policy responses and identifying where our basic rights are backsliding, whether because regular elections, civic action or independent media are being trampled upon," said International IDEA Secretary-General Kevin Casas-Zamora.
"Trustworthy, accurate and clearly presented information is more important than ever in this crisis. This tracker provides the tool," added Casas-Zamora.
The Global Monitor platform is produced in the form of an online world map with links to country and regional profiles containing detailed data, analysis and an assessment of which measures and actions should be watched or represent a concern from a democracy and human rights perspective.
This map shows the pre-pandemic regime types in the world in 2019 based on the Global State of Democracy Indices. It does not yet show the impacts of COVID-19 measures on democracy and human rights. That information will become publicly available at 10:00 CET on 7 July.
Commissioner for International Partnerships Jutta Urpilainen said: "We can't let the response to this crisis stand in the way of pluralism, political participation, dissent and transparency. That is why having this global monitoring platform is so fundamental: information is the first step to understanding any negative impact of the COVID-19 crisis on democracy and human rights."
Many governments are restricting human rights and fundamental freedoms, such as the freedoms of assembly and of movement. While certain restrictions can be justified under international law, notably if they are lawful, necessary, proportionate, subject to review and of limited duration, it is paramount that they are lifted once the COVID-19 outbreak is over.
Background
The International Institute for Democracy and Electoral Assistance (International IDEA) is an intergovernmental organization with the mandate to support and advance democracy worldwide. International IDEA contributes to the public debate on democracy and assists in strengthening processes, reforms, institutions and actors that build, advance and safeguard democracy, with a focus on electoral processes; constitution-building processes; and political participation and representation. Mainstreamed across all of our work is gender and inclusion, conflict sensitivity and sustainable development.
International IDEA is one of the most trusted global sources of data on the impact of the COVID-19 crisis and democracy. Our research on COVID-19 and Democracy has been quoted in international media from CNN to The New York Times, The Washington Post and Le Figaro. For more information, visit www.idea.int
The European Union is founded on the values of democracy, the rule of law and respect for human rights. These principles also guide the EU's action in the world. As part of its Development Cooperation policies, and in line with the Agenda 2030 and the Sustainable Development Goals (SDGs), the EU funds numerous programmes supporting democracy and human rights, from elections and strengthening independent institutions, to supporting a free media and assisting Human Rights Defenders most at risk.
In April 2020, the EU launched the "Team Europe" package to support EU partner countries in the fight against the COVID-19 pandemic and its consequences. The Global Monitor of COVID-19's Impact on Democracy and Human Rights is an important part of this package.
Media queries:
Kevin Casas-Zamora, Secretary-General of the Stockholm-based International IDEA, is available for interviews in English and Spanish.
Around the world, our experts are available for interviews.
Media contacts:
Alistair Scrutton, Head of Communications, A.Scrutton@idea.int, +46 707 211098
Lynn Simmonds, Communications Manager, L.Simmonds@idea.int
Engage with us!
Facebook: https://www.facebook.com/InternationalIDEA
Twitter: https://twitter.com/Int_IDEA
Hashtags: #IDEA25years #globalmonitor
LinkedIn: https://www.linkedin.com/company/international-idea