Back to overview
Nepal's move to federal system puts delimitation of electoral constituencies on a fast track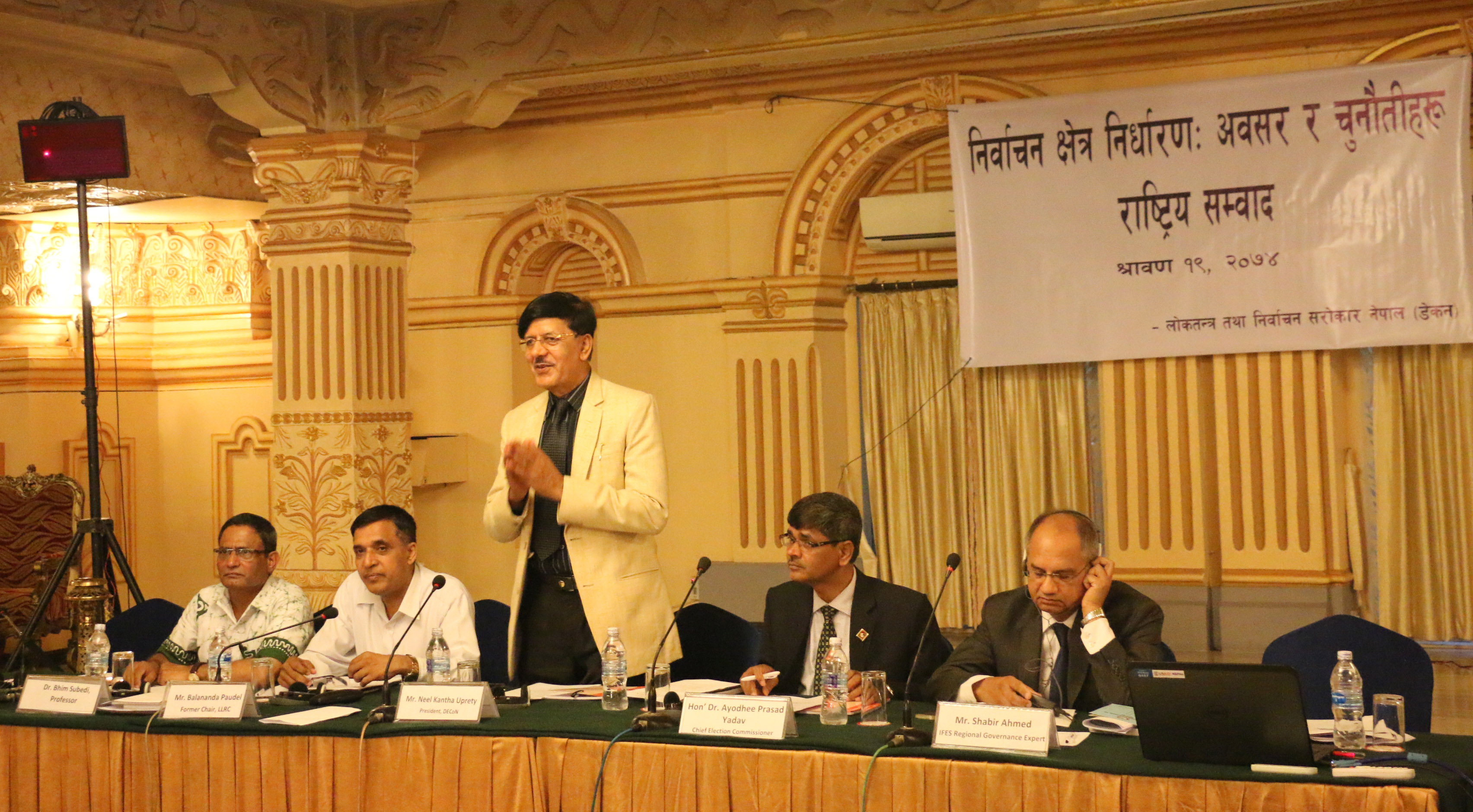 Democracy and Election Concern Nepal (DECoN) in collaboration with IFES and International IDEA organized a half-day round table interaction which aimed to explore and generate the key ideas, opinions and insights on delimitation of electoral constituencies in Nepal.  From left to right:  Bhim Subedee; Balananda Paudel, former chair of Local Level Restructuring Commission; Neel Kantha Uprety, fomer Chief Election Commissioner Neel Kantha Uprety; Ayodhee Prasad Yadav, Chief Election Commissioner; and Sabhir A
Nepal is in the process of implementing constitutional provisions to transition from an unitary to federal system.
In anticipation of provincial and federal elections set for 26 November, the Election Commission, Nepal (ECN) has accelerated the process of voter registration, and the Government of Nepal (GoN) on July 20 endorsed the formation of a federal Election Constituency Delimitation Commission (ECDC) which has been provided a 21-day mandate to submit its final report. As provided for in the constitution, the ECDC must delimit 165 (instead of the existing 240) single member constituencies to elect the House of Representatives, and 330 constituencies across the seven provinces to elect the seven Provincial Assemblies. The constitution also provides that the delimitation must be based on population as the main basis in addition to geography as another important basis (along with other criteria) resulting in at least one constituency in each of the 75 districts; that the decision of the ECDC may not be challenged in court, and that the constituencies are to be reviewed once every 20 years.
In this context, Democracy and Election Concern Nepal (DECoN) in collaboration with International Foundation for Electoral Systems (IFES) and International IDEA organized a half-day round table interaction which aimed to explore and generate the key ideas, opinions and insights on delimitation of electoral constituencies in Nepal. In the round table, distinguished citizens representing different walks of the Nepalese civil society—proposes to engage to bring together national and international experts and opinion leaders to discuss international standards, best practices and local requirements, and provide viable recommendations to promote impartial and fairly representative delimitation of electoral constituencies in Nepal. The round table aimed to facilitate discussion and sharing best practices, harvesting collective experiences, promoting innovations and idenfity alternatives and recommendations to ECDC. As many as 60 participants from political parties, parliament, ECN, ECDC, government ex-senior officials, development partners, CSOs, observers group, academia and media participated in the round table.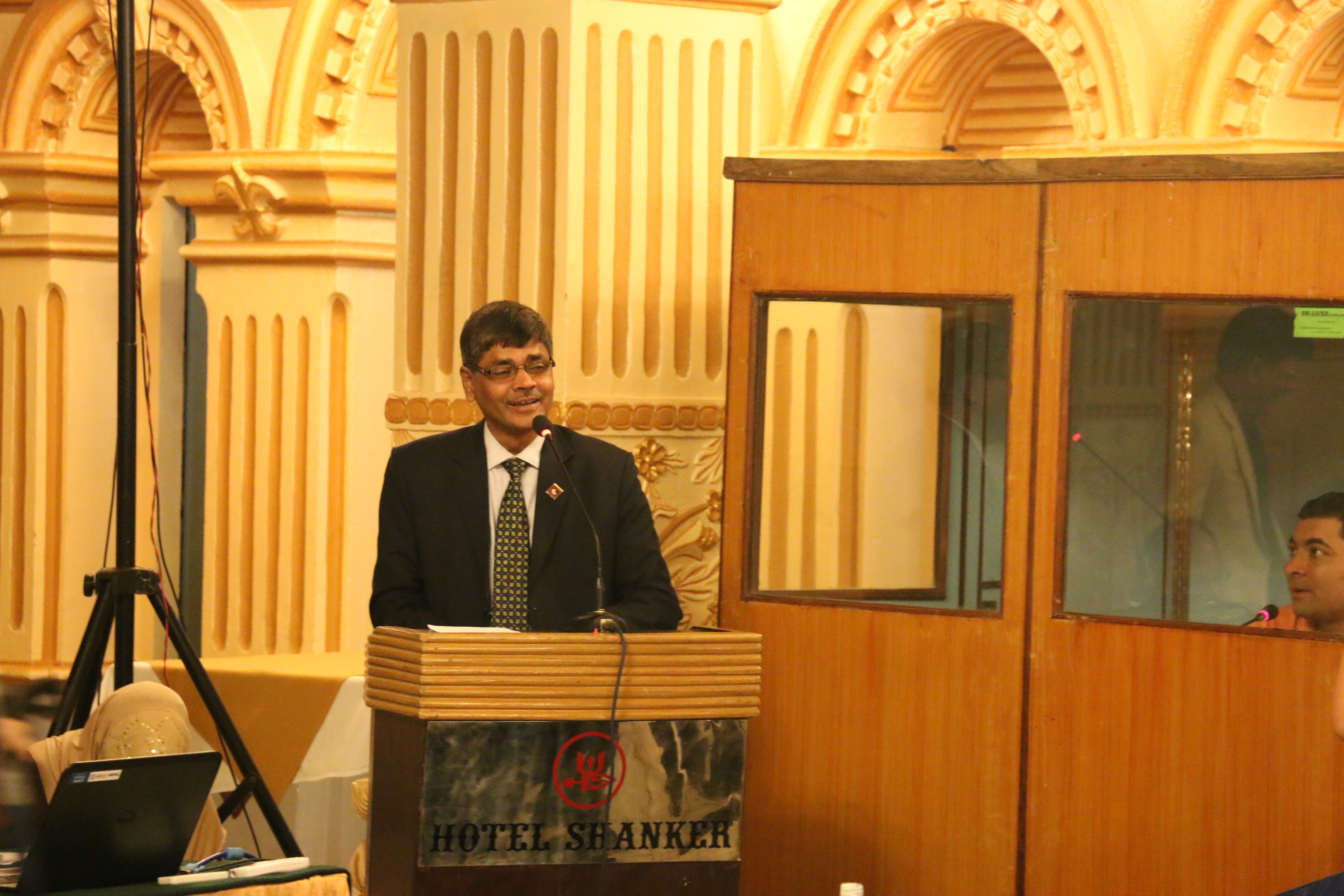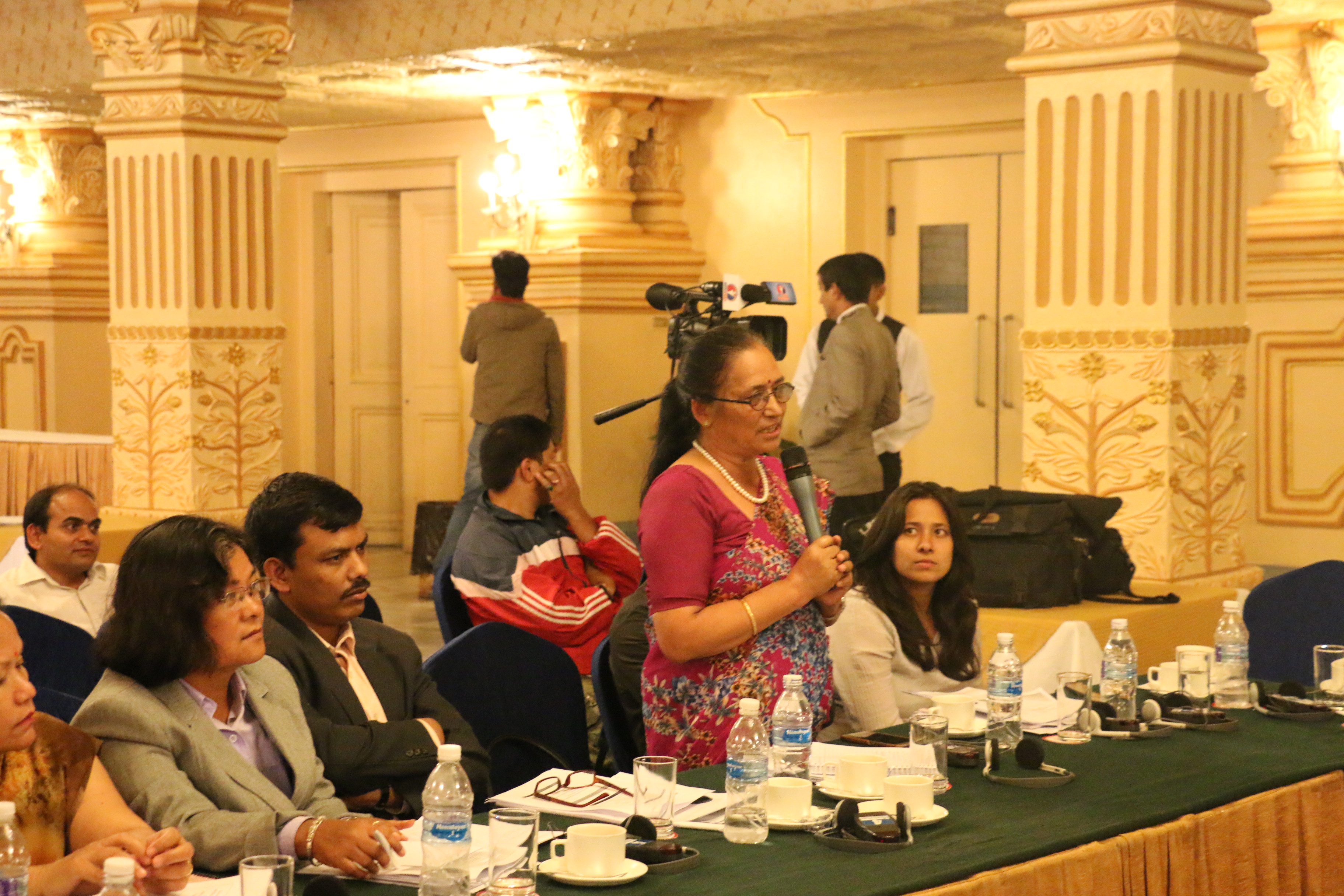 Chief Election Commissioner Ayodhee Prasad Yadav inaugurated the dialogue amidst a function participated in by a critical mass of chosen stakeholders and discussant. In his opening remarks Yadav highlighted, among others, the importance of and also the sensitivities and challenges involved in the task of constituency delineation. Two discussion papers were presented by two distinguished professionals Balananda Paudel, former chair of Local Level Restructuring Commission (LLRC) and Sabhir Ahmed, Regional Governance Expert, IFES. He also shared the presentation on "Reflection on International Principles and Practices of Electoral Constituencies Delineation", which was prepared and contributed by Hon' Luie Tito F. Guia, Member, Election Commission of Philippines.
The key outcomes and suggestions of the round table were:
ECDC should uphold and adhere to principles of impartiality, transparency, representativeness, non-discrimination and equality while executing the process of electoral constituency delineation. It is also important that the working rules and procedures of the ECDC should be clearly established and publicized.
For the sake of ensuring transparency, responsiveness and openness, ECDC is advised to make the draft report of the constituency delineation public to allow space and opportunity for stakeholders to scrutinize, and provide feedback and suggestions on the document.
ECDC should define a clear cut system to register complaints in regard to delineation and disseminate information related to this system through media especially to ease the stakeholders to register their concerns and complaints. The CDC should chalk out a process and mechanism for handling such complaints and share about it with political parties, civil society organizations, media and other relevant stakeholders.
Interests of minorities and marginalized groups of the people living across the country need to be safeguarded while delineating the election constituencies giving due regard to their concentration in certain areas for enhancing their political weightage.
ECDC should work in pursuance with mandate and provisions of the constitution and make its working open to the stakeholders so that unsubstantiated speculations and concerns are scotched and tackled.
While executing the process of delineation, regard should be had to population and transportation convenience, geographical specificity and communities of interests as outlined in clause 286(6) of the constitution.
ECDC should follow largely accepted formula while deciding elements of equality and representation. It should set threshold, which can be deviated (+ -).
Re-course to electoral constituency gerrymandering should be guarded against under all circumstances and not budging under any political or other pressures ensuring complete fairness of the process and its outcome as umpire in line with accepted principles of delineation.