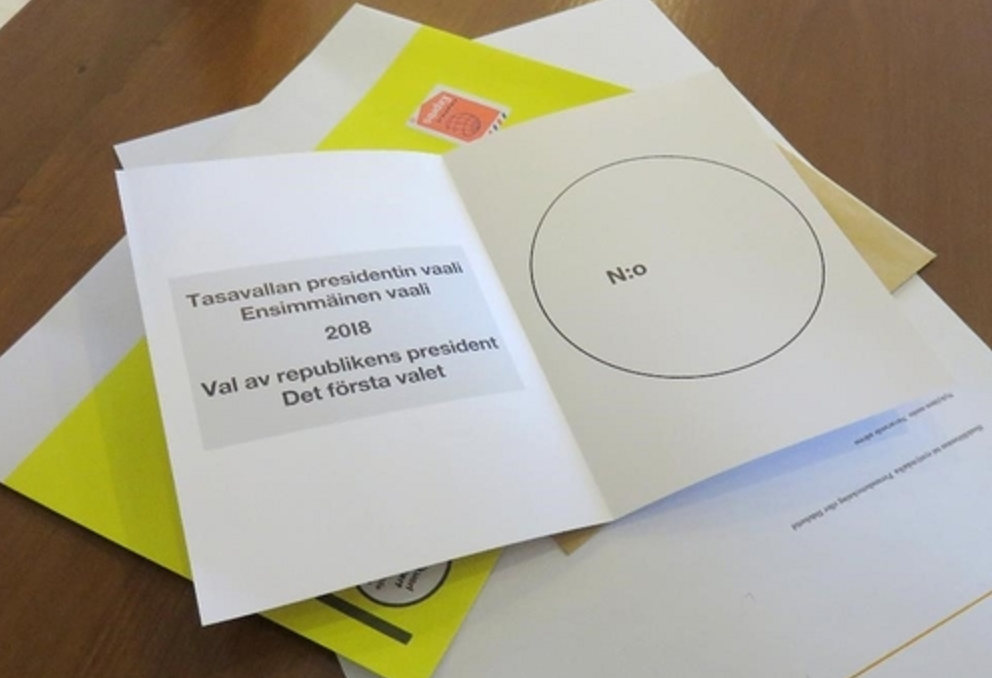 Ballot paper used in Finland's voting process. (Image: Hsu Mon Aung)
Voting is the right of all adult citizens in Finland, regardless of where they might find themselves at the time of the election. On 17 January , the Embassy of Finland in Yangon organized an advanced voting day for Finns residing or traveling in Myanmar, ahead of the national presidential elections in Finland on 28 January. International IDEA's Myanmar office arranged for the Union Election Commission (UEC) Chairperson and officials to observe the day.
The observation was a useful comparative learning opportunity for the UEC delegation, who discussed Finland's advanced voting procedures in detail with the Ambassador of Finland. The UEC team asked questions related to voter eligibility, the process of voting from abroad, electronic voting, the placement of polling stations and their staff, the process for tabulating votes sent in from abroad, and of particular interest, the prevention of double voting by overseas voters.
The Ambassador also explained how Finns write down the candidate's number on the ballot paper, rather than stamping the ballot paper as they do in Myanmar. 'Learning like this makes us understand the difference between the electoral system in Finland and in our country. Both are convenient for each country and their system is really worth learning from. I assume that it might be quite far to operate this system in our country, but I expect we can apply this in future', reflected UEC Chairperson, U Hla Thein.
Those voting at the Embassy commented that the Finnish voting process is very systematic and smooth. All voters need to send their ballot papers home for counting is their compulsory identification card and information about their respective polling station. However, the main challenge for voters abroad is reaching the polling station.
'In Finland, we can easily get to the polling station because they are everywhere. But here, we can vote at the embassy only. Apart from that, there is no difference between voting in Finland and voting from abroad. Everything is fine with the process', explained Ville Hellstörm, a student visiting Myanmar.
For more comparative learning between Myanmar and Finland, read about the UEC's trip to Finland last year, organized by International IDEA as part of the European Union funded STEP Democracy Programme. You can also learn more about global voting from abroad practices in 'Voting from Abroad: The International IDEA Handbook' and the Voting from Abroad database.