Back to overview
Launch of Global Passport for Modern Direct Democracy reinforces power of the active citizen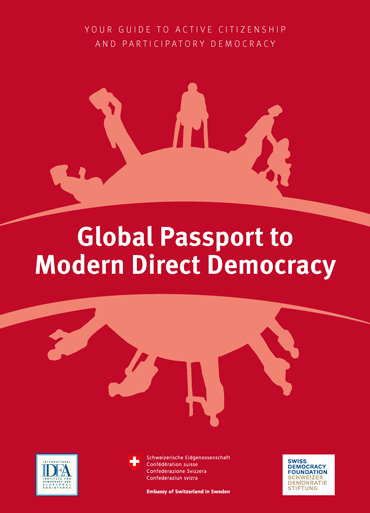 14 September 2017 | STOCKHOLM – Understanding the meaning of active citizenship and participatory democracy they relate to daily life is important for shaping a more educated and more active citizen. International IDEA, the Embassy of Switzerland in Sweden and the Swiss Democracy Foundation will present the latest International IDEA publication on direct democracy at the launch of the Global Passport to Modern Direct Democracy, on the International Day of Democracy on 15 September in Falun, Sweden.
The free, compact book describes the tools of modern direct democracy, providing key definitions and giving a global overview of available direct democracy mechanisms. This book is also a way—a passport—that offers a starting point to those who are seeking answers to the question, 'What can I do?' when it comes to active citizenship. It also includes recommendations on how to use initiatives and referendums, understand plebiscites and navigate the limits of a wide variety of direct democracy options. 
"Participatory democracy depends on an engaged citizenry and assumes access to information and education that lead to sound decisions," said International IDEA Secretary-General Yves Leterme. "This publication provides this basic information so anyone can take a first step using the latest modes of participatory democracy to match the reality of today's challenges." Leterme will discuss modern direct democracy on the International Day of Democracy in Falun as part of a panel discussion, 'Global Voices and Perspectives'.
"There are many lessons to be learnt from recent direct democracy practices around the world", states Bruno Kaufmann, the author of the Global Passport to Modern Direct Democracy and global democracy correspondent at the Swiss Broadcasting Company: "With this passport we offer guidelines for more citizen-friendly and efficient forms of direct participation in government". Kaufmann, who also serves as chairman of the Election and Democracy Commission in the Falun City Government, will chair the Democracy Day session at the Dalarna University Library on Friday.
Copies of the Global Passport to Modern Direct Democracy will be provided to attendees at the Falun Democracy Day event following the panel presentation of the book by Frank McLoughlin (International IDEA), Christian Schönenberger (Swiss Ambassador to Sweden) and Bruno Kaufmann (Global Democracy Passport author).
The Democracy Day session and Passport launch will be broadcasted online at http://www.falun.se/democracyday
The International Institute for Democracy and Electoral Assistance (International IDEA) is an intergovernmental organization that supports sustainable democracy worldwide. International IDEA's mission is to support sustainable democratic change by providing comparative knowledge, and assisting in democratic reform, and influencing policies and politics.