Back to overview
Inclusive politics for sustainable democracy: The Nepalese experience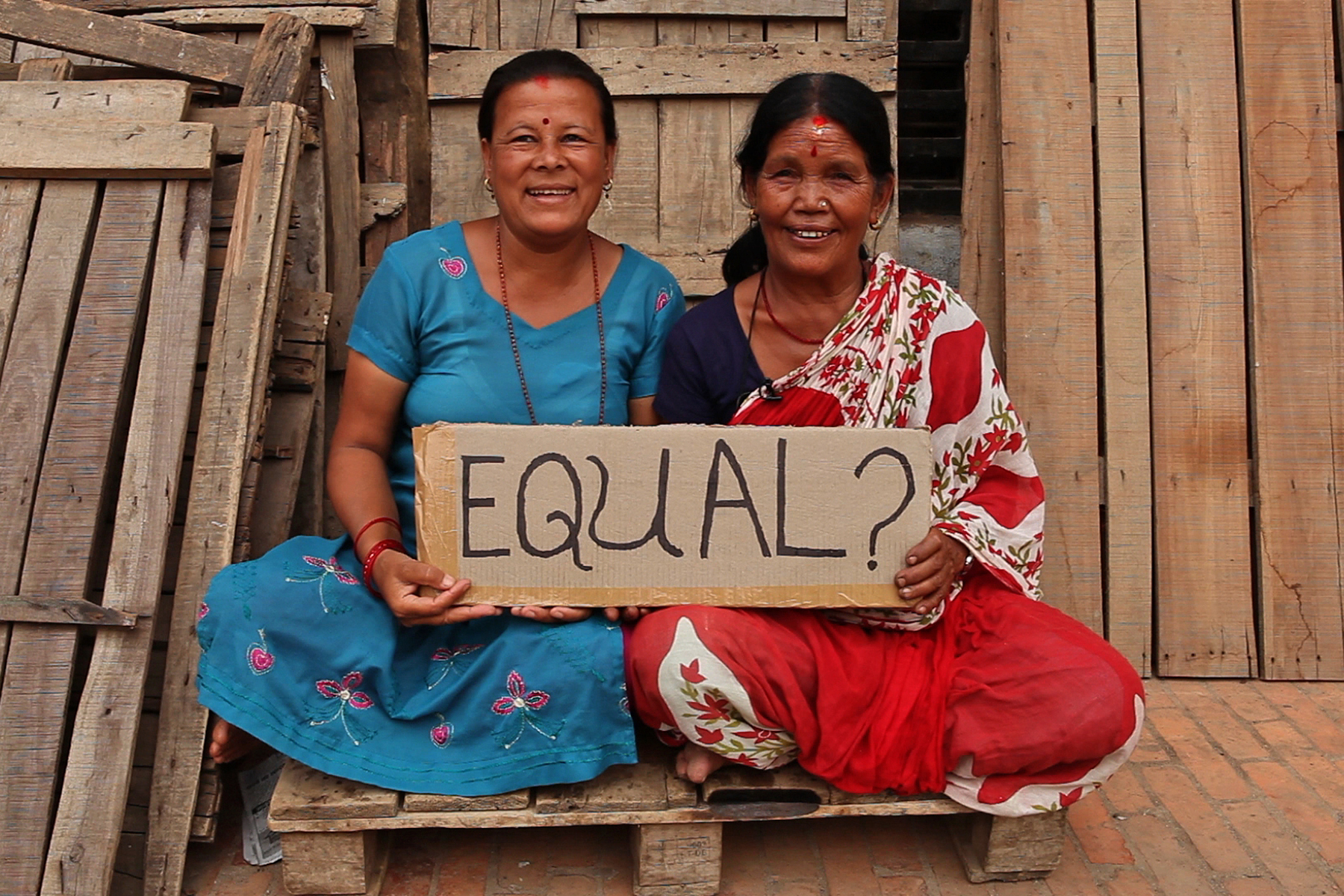 Two women in Nepal hold a sign reading, "Equal?" Video still by Stephan Bachenheimer/World Bank.
The historic practice of exclusionary politics in Nepal gave birth to a strong demand for a new constitution to embrace inclusive politics. The recent political transition from a unitary centralized governing system, to a federal democratic republican system of governance, is a major paradigm shift that comes with enhanced hopes for equal opportunities in state institutions and the democratic process.  
This is particularly true for those marginalized groups who were excluded from state affairs and have been the victims of historical injustice. The domination of certain castes in power have denied marginalized communities their right to exercise political power equally. Now, after the creation of the new constitution (2015) and the restructuring of the state, voices for proportional inclusion are being heard as the new constitution embraces the concepts of multi-caste, multilingualism and multi-culturalism. In addition to this, the Preamble of the constitution establishes the determination to create an egalitarian society on the basis of the principles of proportional inclusion and participation, to ensure equitable economy, prosperity and social justice. Article 18 (3) enshrines special provisions for the protection, empowerment or advancement of Women, Dalits, Indigenous Peoples, Madheshi,  marginalized groups etc. Evidently, this shows that "inclusive politics" is one of the foundations of the new constitution.
The constitutionally guaranteed proportional representation for women, Dalit and minority communities could be instrumental in enhancing democracy, however such provisions are yet to be fully translated into reality. However, the recent outcome of the first phase of local level elections where 251 women were elected as deputy mayors out of a possible 282 seats, could be taken as a significant political development in the history of Nepal. 
International IDEA has been providing support to Nepal since 2006 and throughout the constitution building and implementation processes. In order to implement the new constitution effectively, almost 300 (new or revised) laws need to be formulated. Taking the opportunity to support inclusive and effective laws, International IDEA has been playing a crucial role in supporting the review of these laws and new bills. Under the Legislative Review Program, run in partnership with the Nepal Law Society (NLS), 50 key Bills have been identified for review. Prior to this, International IDEA and the Nepal Law Society also reviewed the local level election act, where it was recommended to ensure women's and marginalized group's meaningful participation. Now, the act mandates 2 seats for woman, of which one has to be Dalit. In addition, a number of programs in districts through Civic Initiative Center (CIC) made people aware about the act, with particular emphasis on imparting such knowledge to women, Dalit and the marginalized community. This has helped elect a significant number of women who have participated in the programs.