Back to overview
Implementing Nepal's constitution: International IDEA organizes Review of draft Bill on Rights of Victims of Crime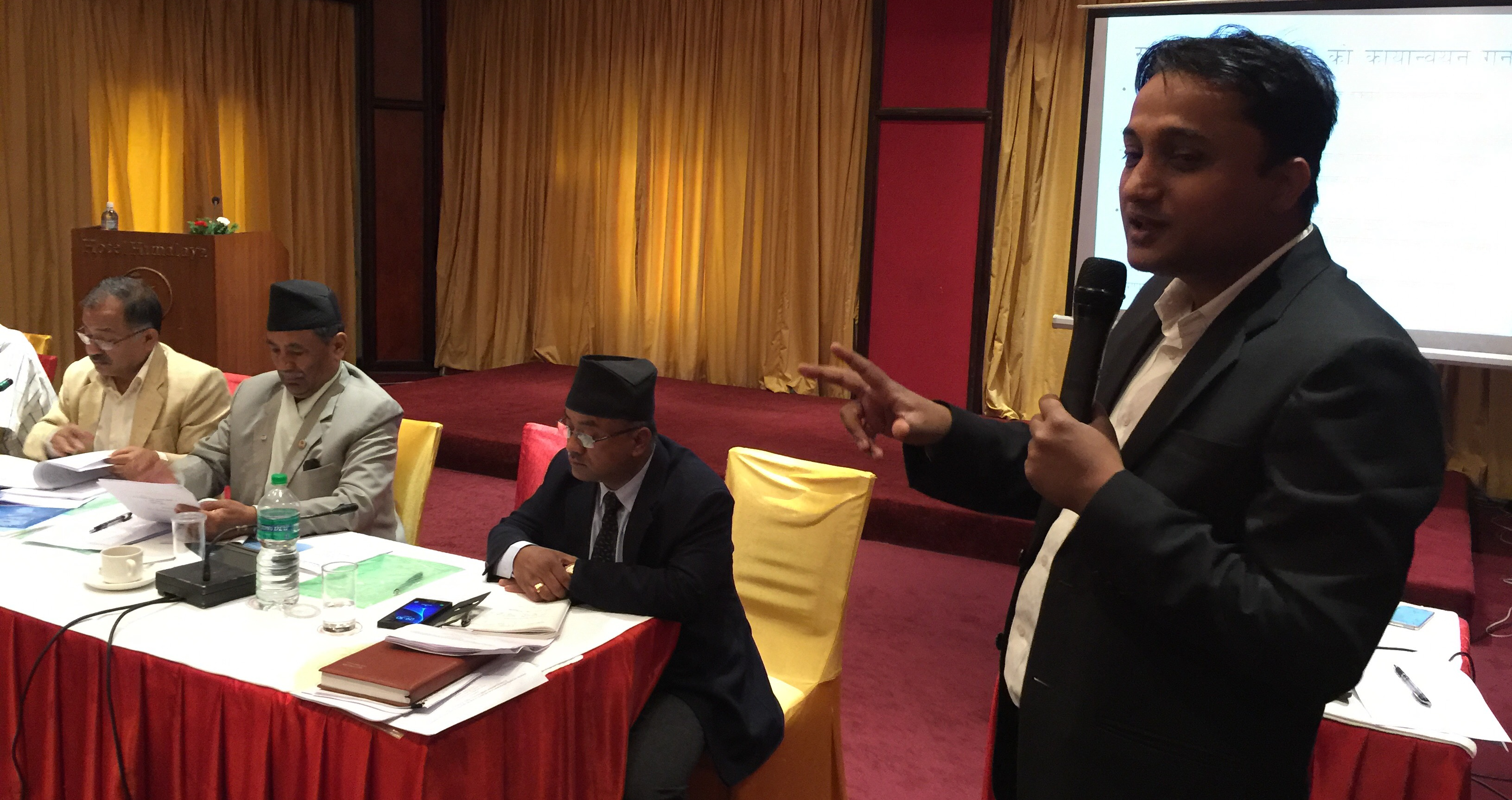 Dipendra Jha introducing draft bill to the members of parliament and civil society actors
As part of the ongoing Legal Review Programme, International IDEA and Nepal Law Society convened a national-level interaction and sharing programme on Bill related to the Rights of Victims of Crime in Kathmandu on 14 July 2017. More than 30 participants representing Members of Parliament and representatives of civil society gathered to discuss provisions of the Bill, the key concerns related rights of victims of crime as well as the actions to be undertaken by the parliamentarians to strengthen the Bill to be in line with the constitution and international conventions.
The draft Bill was introduced by a senior lawyer, Dipendra Jha, who mentioned that the Bill is drafted to implement article 21 of the new constitution; right of victims of crime to information Article 21(1) and right to Rehabilitation and compensation under Article 21(2). As per Jha, Nepal is the first country to incorporate rights of victims of crime as a fundamental right in the constitution.
Jha highlighted many good provisions of the Bill such as victim's right to dignity and privacy, right to be notified and participate into court processes, right to confer with attorney, right to restitution, right to information and protection from offender. His recommendations for improvement were related to time limitation to appeal, for example to extend 60 days limitation to claim for compensation in case of trafficking, rape and domestic violence, and to increase some of the compensations.
As per advocate Jha, the Bill has incorporated many provisions which are in line with international standards, and ensures treatment of crime victims with dignity and compensation.
Commentators appreciated the Bill but expressed their doubts over its sincere implementation. "Nepal is party to many international conventions but has failed so many times to submit parallel reports to the concerned committees", said Udaya Nepali, member of Parliament (UML party).
The members of Parliament of recalled the discussions that took place in drafting committee. "There was a major discussion about providing compensation to victims, whether it should be provided by the government or by the perpetrator? Compensation is mentioned in the constitution. What if the perpetrator is poor and can't afford to provide compensation whereas in the Bill it is said the perpetrator should provide? If the perpetrator is poor then in that case the government should provide the compensation"said Ram Bidari, Member of Parliament (Maoist party). Others called for definitions of "cybercrime", as that has become fast growing crime in Nepal, and for ensuring that the law takes gender issues well into account.
The interaction programme was part of International IDEA and Nepal Law Society convened Legal Review Programme, aiming to review draft Bills required to implement Nepal's new constitution (2015) make sure that laws are in line with the new constitution and international standards and conventions. The legal review programme is implemented in partnership with the Governance Facility.