Back to overview
Imagining Paro 2028 through new ways of community engagement in Bhutan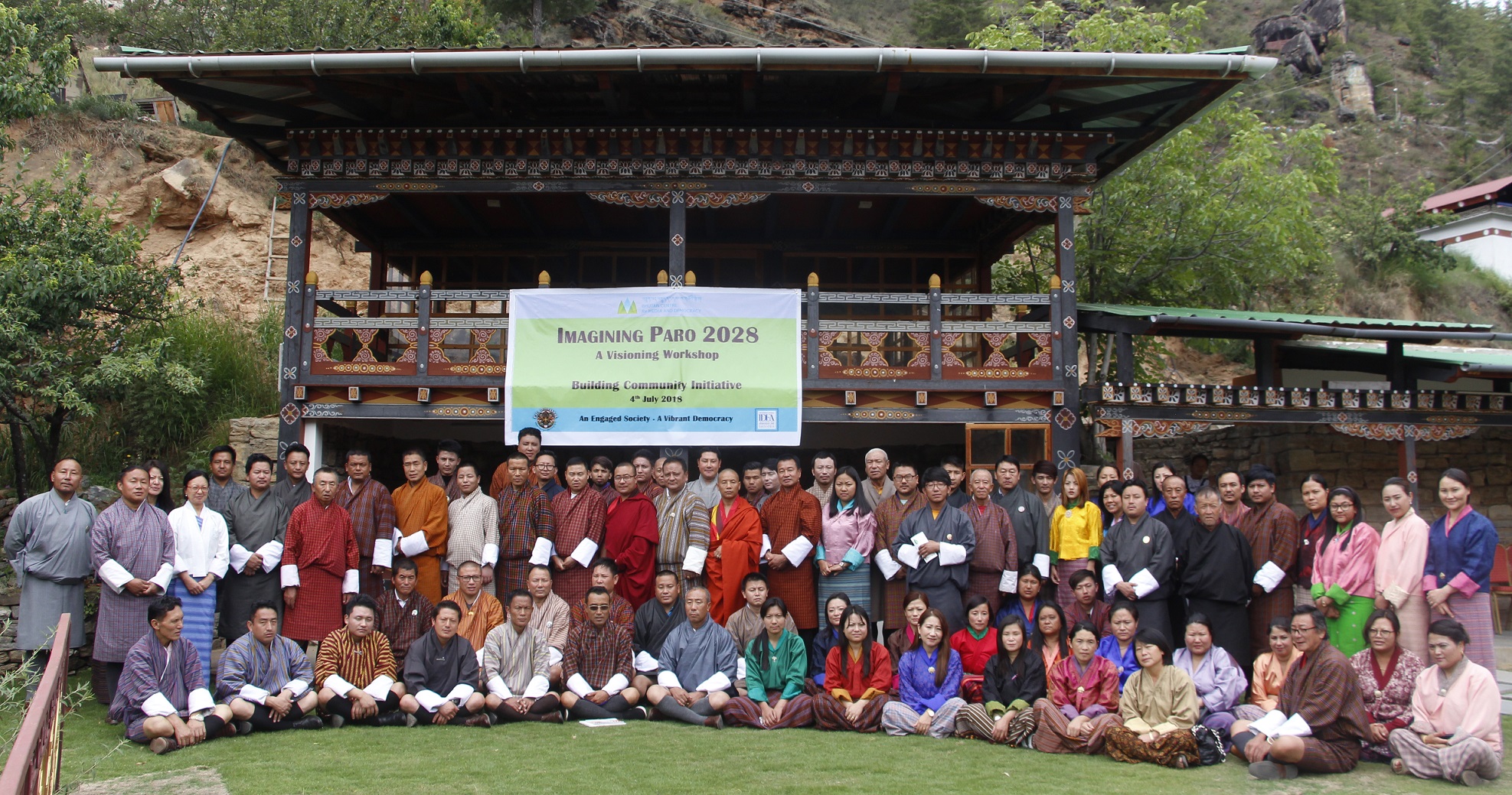 Visioning Excercise at Paro. Photo Credit: BCMD
International IDEA has been supporting a democratic approach to consultative, collaborative and inclusive community building in Bhutan through funding of various activities of its partner civil society organizations. On 4 July 2018, International IDEA's support saw over 90 town committee members come together in the collaborative visioning of the future of Paro town, which is home to the country's only international airport.
The town has seen rapid urban infrastructure development and resident population. As one of the fastest growing town in the country, the rapid development has brought its own problems like youth unemployment, over-stretched infrastructure, pollution, and loss of the town's innate character. One of the primary obstacles in effectively solving these problems have been identified as backward planning approaches, which has yet to be synced with the increasing democratization in other spheres of Bhutanese polity and society.
Thus, through International IDEA's support, the Bhutan Centre for Media and Democracy (BCMD) successfully held this unprecedented visioning activity, which enabled development planners, town administrators and community members to come together and plan for the town of which they are all a part. The 90 participants included the Dzongdag (district governor), members of the clergy, town officials, elected representatives, business people and town residents.    
The building community initiative aims to model a democratic approach to community development and to enhance civic consciousness in citizens and youth. The one-day workshop, which was entitled Imagining Paro 2028, was facilitated by staff of BCMD and was led by Dr Sonam Chuki who is an experienced Bhutanese scholar and practitioner of participatory approach to development planning. The participants worked on producing a vision plan of the town through town halls. It created a platform for planners, administrators and the citizens to discuss and deliberate on issues in the community.
The workshop is a part of the continuing community mapping workshops and local action projects carried out by BCMD through International IDEA's support. The projects have helped citizens and youth train to study their community issues, propose project ideas and implement those ideas that are endorsed by the town committee. Through this approach, both bureaucrats and local community members and residents are prepared to engage in dialogues facilitated by BCMD modeling on inclusive and democratic approach to discussion, consultation and decision-making.
The first town hall ended successfully with endorsement of the town committee list and the terms of reference. Speaking at the workshop, the Governor of Paro stressed on the significance of the role of citizenry participation in building community. Communities in Bhutan expected the government to do everything for them until very recently, the Governor said. This created dependency on the parts of the citizens and complacency on the part of the bureaucrats, who were not taken to task for lapses in effective planning and implementation of development projects. He said that now is the time that people take responsibility and come up with solutions to solve their problems and are effectively empowered to do so.
The workshop leader focused on why civic engagement matters in a democracy. Her message to the participants was that decision making in a democracy is and should be a collaborative effort between the citizens and the authorities. Therefore, from 18 to 21 July 2018, a group of civil society members, educators and members from the youth centres will be trained on community mapping who will then carry out local action projects in the community.
International IDEA's support of this initiative is part of its ongoing commitment to strengthen the democratic institutions and processes in Bhutan. The country adopted its first written constitution in 2008, and since 2013, International IDEA has supported both governmental and civil society organizations towards this end. Its collaboration with and support of BCMD has seen various programmes successfully implemented in areas of civic education, policy advocacy and generally building a democratic culture.