Back to overview
Global Report Reveals democracy's expansion in Africa since 1975 is second only to Latin America and the Caribbean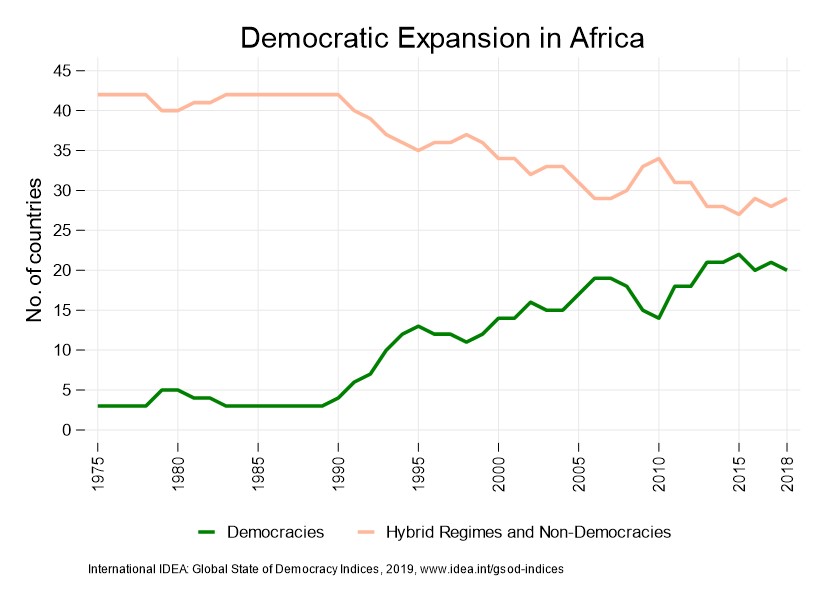 ADDIS ABABA - The Global State of Democracy 2019: Addressing the Ills, Reviving the Promise  - the second edition of the flagship report of the International Institute for Democracy and Electoral Assistance (International IDEA) - will be launched in Addis Ababa, Ethiopia, on 18 February 2020.
The event will be attended by H.E. Ms Minata Cessouma Samate, Commissioner for Political Affairs, African Union Commission; Dr. Kevin Casas Zamora, Secretary-General of International IDEA; H.E Mr Torbjörn Pettersson, Ambassador of Sweden to Ethiopia, the African Union, and the UN Economic Commission for Africa; ​​​Prof Cheryl Hendricks, Executive Director, Africa Institute of South Africa, Pretoria; Prof Annie Chikwhana, University of Johannesburg and Former Member of the Board of Advisers of International IDEA; Prof Karuti Kanyinga, Director, Institute for Development Studies, University of Nairobi, among many other academics, policymakers from the African bilateral donor community, youth representatives, civil society organizations and opinion-makers.
As Kevin Casas-Zamora, the Secretary-General of International IDEA states: "Let us not give up on democracy, but instead revive and recapture democracy´s promise! Despite the ills, democracy remains the best option to advance human dignity. This should spur all of us to take action—however small—to reinvigorate representative institutions, build vibrant civil societies, protect a free media, and fight corruption, all of which are key pillars for healthy democracies".
The Global State of Democracy (GSoD) 2019 Report provides a health check of the state of democracy worldwide, analyzing democratic trends, opportunities and challenges that are seen across various regions and within regions. The analysis is based on the Global State of Democracy (GSoD) Indices, an index produced by International IDEA that measures democratic performance across 158 countries from 1975 to today.
The Indices are also of high relevance to the 2030 Agenda for Sustainable Development as they contribute to tracking progress on several Sustainable Development Goals (SDGs). The GSoD Report 2019 closely connects with the 2030 Agenda by providing global and regional outlooks on democracy and the implementation of SDG 16 (Peace, justice and accountable institutions) and SDG 5 (Gender equality), in particular, as measured by the GSoD Indices.
The Report aims to inform the global democracy debate with evidence and data. It provides a nuanced analysis of how opportunities and challenges to democracy play out in different ways around the world, shaped by different regional and country contexts. Beyond the diagnostic and in order to help rebalance the current democracy debate, the Report also seeks to provide policy recommendations, building on the good practices and cases which have shown resilience in the face of challenges. These have been collected through International IDEA's 24 years of regional and country-level technical assistance in democratic reforms throughout the world.
The Report is meant for policymakers and civil society organizations working at the national, regional or international levels, either implementing, supporting or advocating for democratic reforms. The Report is also relevant to those policymakers who, although they may not be directly working on democratic reforms, are involved in transformative change processes more broadly in the economic, social or digital domains.
The launch of the GSoD 2019 Report in Addis Ababa seeks to highlight its key findings and discuss its relevance to identify common approaches in order to address the global challenges to democracy, and to discuss effective ways to support country efforts at building democracy in the region and worldwide.
A highlight of some of the key findings of the report for Africa region are:
The expansion of democracy in Africa since 1975 is second only to Latin America and the Caribbean.
Representative Government has been strengthened in Africa.
Civil Liberties are one of the best-performing aspects of democracy in Africa.
Despite gains in the past decades, the conduct of elections in a number of African countries remains flawed
Another set of challenges to democratic consolidation seen in many parts of Africa today relates to conflict and civil war.
Despite the expansion of democracy in the region, several countries have experienced significant declines in recent years.
Africa is the region with the highest levels of corruption as well as the highest share of democracies with high levels of corruption.
Globally the report finds four areas in which democratic progress has been insufficient:
Only 24 per cent of parliamentarians are women and at the current pace, it will take another 46 years to reach gender parity in parliaments.
Global levels of corruption remain the same now as forty years ago. Almost half (43%) the countries in the world have high levels of corruption and this represents a serious impediment for sustainable and human development.
Social group equality in access to political power remains highly skewed and the share of countries with high levels of political inequality has increased in the past decade.
Over a third of countries still have low levels of judicial independence and since 2013, the number of countries that have seen significant declines in judicial independence outnumber those with advances.
The report discusses six key global challenges to democracy:
the crisis of representation of political parties and the rise of populism;
patterns and conditions of democratic backsliding;
the empowerment of civil society in a shrinking civic space;
managing electoral processes in challenging environments;
corruption and money in politics and
the impact of information and communications technologies on democracy.
The report also provides in-depth analysis of the state of democracy in the different regions of the world: Africa and the Middle East, the Americas, Asia and the Pacific and Europe.
Expectations of democracy to deliver, particularly in reducing corruption and inequalities, and generating employment and economic growth, have left many disappointed, luring voters towards populist alternatives. However, the report shows that most hybrid forms of democracy that flirt with authoritarianism, and non-democracies, have generally not managed to provide better policy outcomes than democracies, with some exceptions.
This report shows that democracy matters. To deal with the current global social, political, economic and environmental challenges that the world is facing, the world needs more and better democracy, not less.
The International Institute for Democracy and Electoral Assistance
The International Institute for Democracy and Electoral Assistance (International IDEA) is an intergovernmental organization with the mandate to support and advance democracy worldwide. International IDEA contributes to the public debate on democracy and assists in strengthening process, reforms, institutions and actors that build, advance and safeguard democracy, with a focus on electoral processes; constitution-building processes; and political participation and representation. Mainstreamed across all of our work is gender and inclusion, conflict sensitivity and sustainable development.
For more information, visit www.idea.int
Facebook: https://www.facebook.com/InternationalIDEA
Twitter: https://twitter.com/Int_IDEA
LinkedIn: https://www.linkedin.com/company/international-idea
Programme Contact:
Adebayo Olukoshi, Regional Director for Africa and West Asia, A.Olukoshi@idea.int
Armend Bekaj, Senior Programme Officer, Democracy Assessment & Political Analysis, A.Bekaj@idea.int