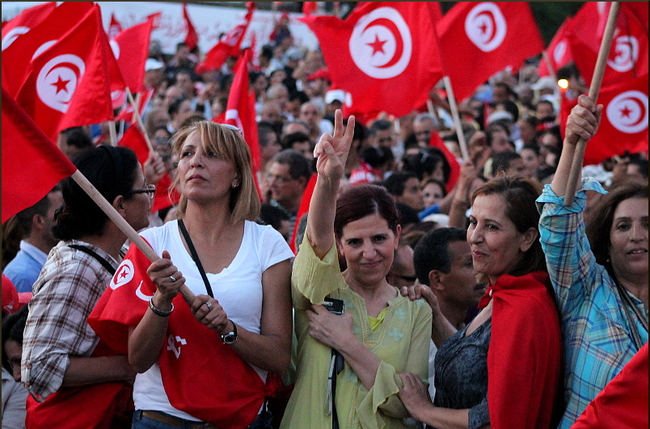 Tunisian women participate in a manifestation
The members of the new Tunisian government of national unity were sworn in on 27 August, one day after winning the parliamentary vote of confidence. The new government has 40 members (26 ministers and 14 secretaries of state), and 20 per cent of them are women (up from 10 per cent in the previous government).
Alongside this increase in women in government is a great achievement, International IDEA is proud to highlight that Neziha Labidi, a participant in the trainers of trainers (ToT) programme for women in Tunisian political parties, was appointed new Minister of Women, Children and Family Affairs.
The ToT programme was hosted under the four-year International IDEA/NIMD project, 'Respect for Women's Political Rights' which was launched in January 2014. The ToT was hosted over nine months and brought together 22 women from 8 Tunisian political parties and 9 governorates across the country.  The modules of the training included public speaking and media relations, negotiation and mediation skills, strategic planning, and electoral campaign management.  The final module presented skills on the organization and techniques of training so that the participants could return to their governorates and train their fellow party members.
Just after her nomination as minister, Labidi was present at the last workshop in order to receive her certificate of completion. Labidi thanked international IDEA for the ToT programme, and affirmed that she had duplicated each of its modules within her political party. She stated that having many participants from different political parties for several days each time contributed to more collegial relationships between the women in various political parties and helped them build a plural society transcending political struggles.
Since the completion of the trainings, International IDEA has supported 19 women in eight parties to replicate the trainings in their home constituencies.  As result more than 133 women have been trained across the country.
As a result of the success of this first ToT, the Tunisia programme is implementing a second series of trainings geared towards political party members in the south of the country, where women leaders are frequently less targeted for such trainings.