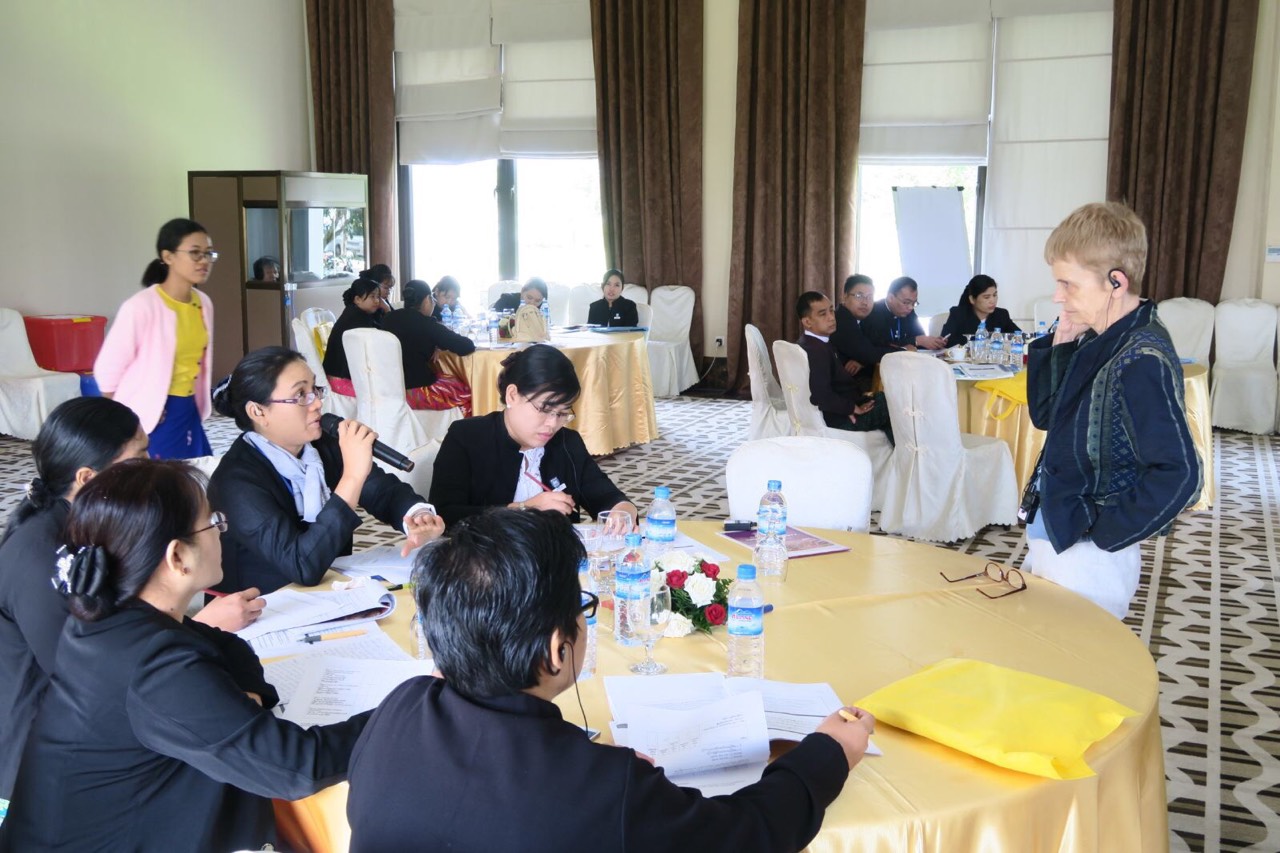 Cheryl Saunders responds to questions from staff from the Union Attorney General's Office. Photo credit: Annamari Salonen.
As ongoing peace talks between the government, the armed forces and ethnic armed groups continue in Myanmar, there is an increased desire for more comparative expertise on constitutional principles and how they relate to implementing federalism. In response, International IDEA Myanmar held a series of seminars in Nay Pyi Taw and Yangon on federalism and key constitutional issues.
"If we are able to conclude the discussion on fundamental principles during the upcoming sessions of the Peace Conference, we would have a strong foundation for the Federal Union", said State Counsellor Aung San Suu Kyi at the second anniversary of the signing of the 2015 Nationwide Ceasefire Agreement (NCA)on 15 October.
The NCA aims to consolidate existing bilateral ceasefire agreements between the Tatmadaw (Myanmar armed forces) and multiple ethnic armed groups into a single comprehensive settlement in order to create a new political dialogue process for all ethnic groups. The NCA also includes an explicit commitment to 'establish a union based on the principles of democracy and federalism'.
Despite Myanmar's democratic transition from military dictatorship to civilian rule and ongoing political dialogue within the framework of the 2015 Nationwide Ceasefire Agreement (NCA), protracted civil conflict continues in many parts of the country. Questions of peace, federalism and democracy are inexorably linked in Myanmar. Many ethnic grievances strongly relate to a number of constitutional and federal commitments. Additionally, the institutions who will be involved in drafting, reviewing and advising on the new federal governance system need to be prepared for the possible implications of the transition.
International IDEA has been drawing on its comparative experience of constitutional development and challenges to offer advice and support to various government offices, political parties, and civil society organizations in Myanmar.
International IDEA Myanmar's MyConstitution team recently held a series of seminars in Nay Pyi Taw and Yangon on federalism and key constitutional issues. Participants asked questions and discussed issues related to union and state constitutions, how to manage ethnic and minority rights, and how to assure these rights in a constitution.
The series began with a five-day session with staff from the Union Attorney General's Office. The session introduced participants to key federal principles, distribution of powers and responsibilities, the features of union and state constitutions and their effects on federalism, judicial review in federalism and future federal constitutional challenges. Attendees also had the opportunity to learn from and hold detailed discussions with Cheryl Saunders, International IDEA's Senior Technical Adviser and leading expert in the field of comparative constitutional law at the University of Melbourne.
With the Constitutional Tribunal, International IDEA conducted a seminar entitled "Interpretation of a Constitution and Statues: Judicial Review in Federal Systems". This session explored key elements of federal constitutions and common issues relating to the process of judicial review.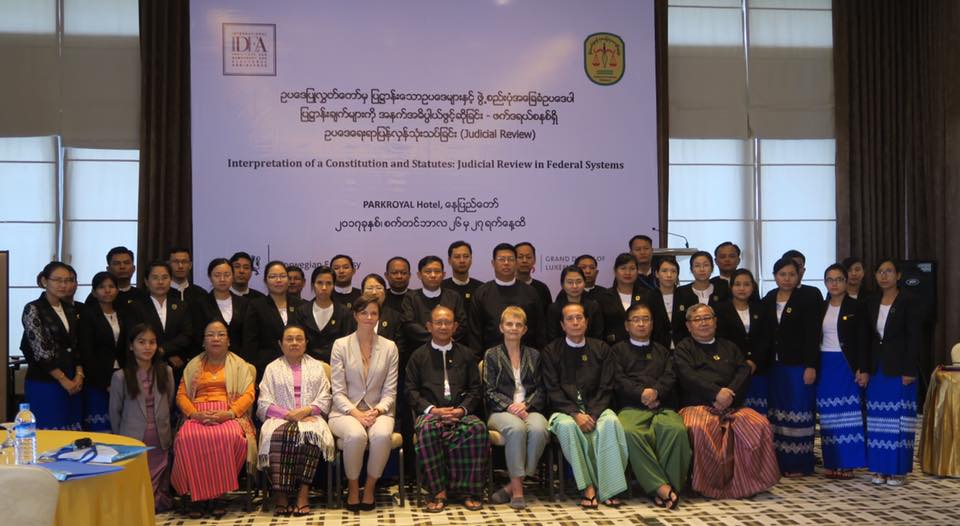 Saunders remarked that "it was both a pleasure and a privilege to be involved in discussions in Nay Pyi Taw and Yangon about what these changes might involve and the options that can be drawn from comparative experience. As always, the process of learning was a two-way street."
Recognising the important role of civil society in Myanmar's transition to federalism, the MyConstitution team conducted a series of "Constitutional Conversations" with civil society organizations. At the first session, the discussion was devoted to sharing recent constitution-building experiences from multi-national societies, such as Kenya and Sri Lanka. Ethnic and linguistic divisions in a unitary state, problems with specific terminology and a winner takes all electoral system in these states were all issues highlighted that are relevant to Myanmar's context.
International IDEA's engagement with civil society groups, as well as government institutions, comes as many organizations in Myanmar build a greater knowledge of constitutional principles. "This is an extraordinarily important time for Constitution building in Myanmar. The process is still in its very early stages, as negotiations in relation to a peace settlement continue and as it becomes clear that constitutional change and a greater awareness of constitutional issues in Myanmar will be necessary to implement at least some of the commitments under an eventual peace agreement" noted Saunders.
International IDEA Myanmar's MyConstitution programme is supported by the Norwegian Ministry of Foreign Affairs and the Grand Duchy of Luxembourg.