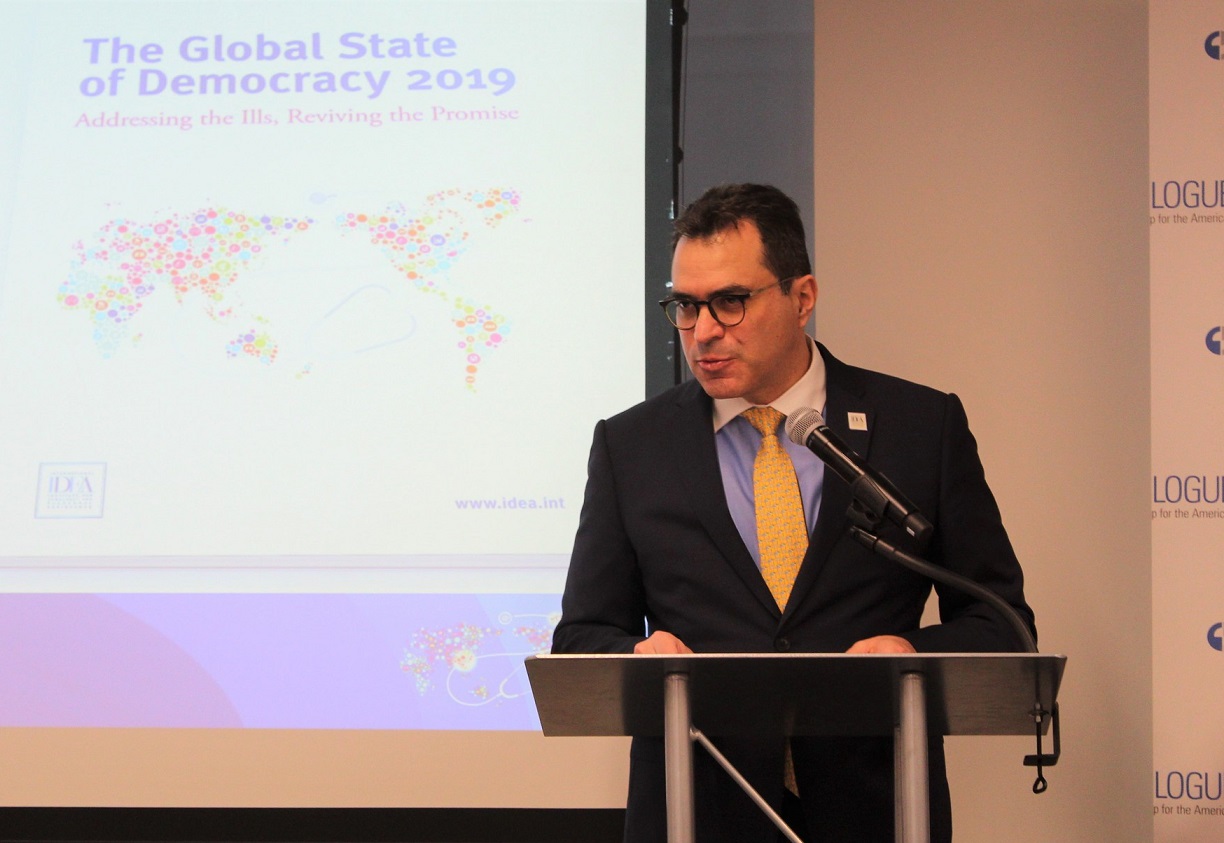 Dr Kevin Casas-Zamora, Secretary-General of International IDEA during the launch of the Global State of democracy Report in Washington, DC. on 13 December 2019. Image credit: Inter-American Dialogue@Flickr.
The map of the institutional chaos of Venezuela shows two presidents of the government and two of Parliament, with two legislative bodies of a unicameral system, two general prosecutors—one in exile— and two supreme courts of justice— one in the United States—with their respective hierarchs.
Venezuela is the nation on the planet that suffered the most serious setback in its political institutions between 1996 and 2018, said the Global State of Democracy, a report issued in 2019 by the International Institute for Democracy and Electoral Assistance (International IDEA), an Intergovernmental organization that promotes democracy and it is based in Sweden.
The former Costa Rican Vice President Kevin Casas-Zamora, Secretary-General of International IDEA, described what happened last Sunday in the National Assembly of Venezuela as "shame", like a violent official maneuver to strip the opposition of the legislative command and appoint Deputy Luis Parra, defector of the ranks of Juan Guaidó, as parliamentary president.
"It's just the continuation of a 20-year tragedy," Casas-Zamora said. Venezuela "is the only country that in two decades went from having high levels of representative government to being a dictatorship," he said, quoted by EL UNIVERSAL.
The study showed that, from 1996 to 2018 and on a scale of 0 to 1, Venezuela fell from 0.70 to 0.29 in representative government, from 0.62 to 0.39 in fundamental rights, from...
This is a partial in-house translation. To read the full article in Spanish, please visit EL UNIVERSAL.