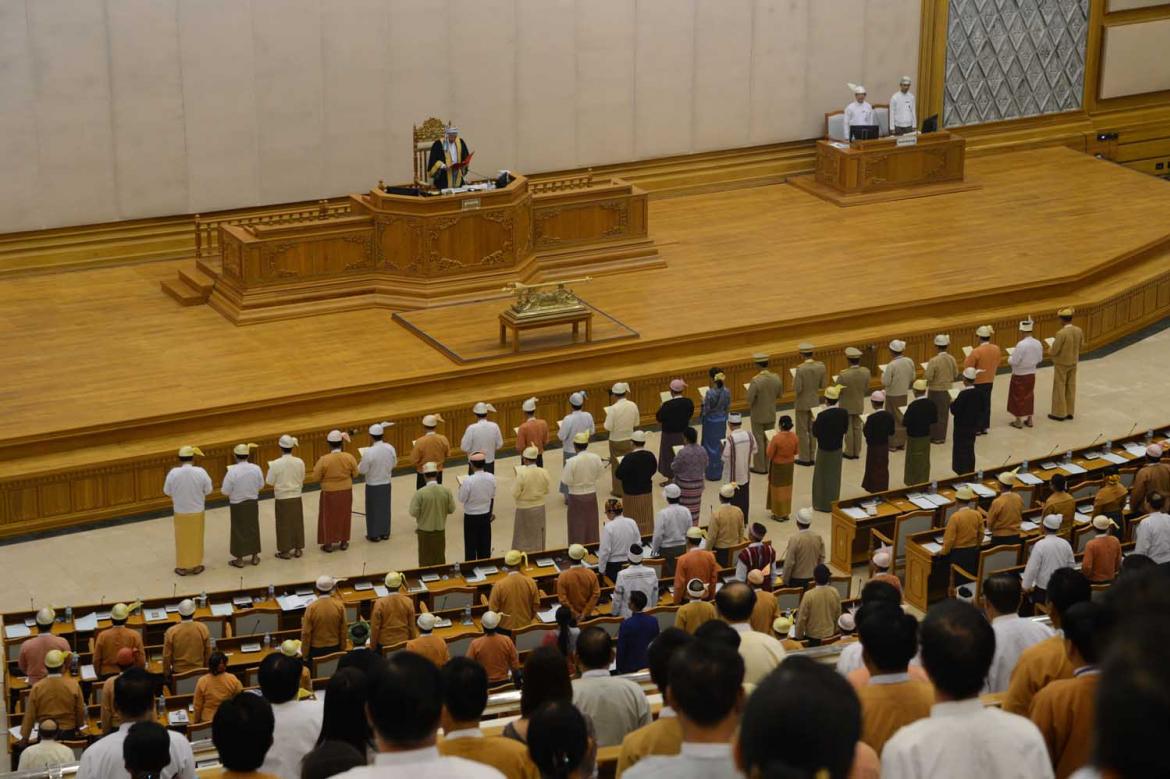 Myanmar's Pyithu Hluttaw (Upper House of Parliament). Source: Wikipedia
Since 2015, Myanmar has witnessed three elections - general elections in 2015 and by-elections in 2017 and 2018. Although the political will towards reform measures for better elections has increased dramatically since 2015, where people born after 1962 had a chance to experience genuine elections for the first time, for some areas within the democratic reform process, including campaign finance, there is still room for improvement.
It is fair to say that attention on Myanmar's campaign finance regulatory framework has not yet reached its peak. As Myanmar is just three years into its post-2015 democratic transition, the scope for electoral reforms remains wide. While some voices have been advocating for reforms in the field of campaign finance for some time, they have largely been overwhelmed by other urgent issues within the electoral process, such as voter registration and advance voting. Despite these competing urgencies, however, it is crucial that the reform of campaign finance regulatory frameworks takes place soon, as inaction on this front may endanger core principles of a credible election; transparency, fairness and a level playing field.
As Myanmar moves towards its second democratic general elections in 2020, their credibility will certainly be measured as one of the cornerstones of a successful democracy. The major areas of concern relating to the current campaign finance regulatory framework include, but are not limited to, the following:
Financial disclosure
Under the current setup, candidates are required to update Form 20, which details their income and expenditure, throughout the campaign period. Form 20 must then be submitted to the respective Union Election Commission (UEC) sub-commissions 30 days after the announcement of results after which time they are publicly displayed at the sub-commission.
Despite these regulations for individual candidates, however, political parties are not bound to any such regulations. Political parties are only required to archive their annual account books and are not required to submit them to UEC on a regular basis unless they are officially asked to.
This directly affects the transparency of the elections since electoral stakeholders, including voters, cannot monitor and scrutinize the account books of political parties.
Inequity in candidates' spending limits
Myanmar's legislature is made up of three bodies: Pyithu Hluttaw (Lower House), Amyotha Hluttaw (Upper House) and State/Region Hluttaw (regional parliaments). All candidates who run for elections, regardless of the type of Hluttaw they are competing for, cannot spend more than 10 million kyats (approximately 5,500 Euro) for their campaign activities.
These spending limits exist despite stark differences in the size of the constituency that makes up these different parliamentary bodies. For instance, the constituency of a member in the regional parliament is half a township, whereas, for the lower house, a constituency is made up of an entire township. This essentially doubles the amount of campaigning resources needed despite the need to comply to same expenditure threshold for any seat.
Setting clear lines between party and candidate campaign activities
In Myanmar, campaign finance regulations can be applied quite differently for parties and candidates, including the limits on campaign expenditure. While candidates have a spending limit of 10 million kyats, parties have no spending limit for their campaign activities. In practice, this could generate unfairness towards independent candidates and candidates from parties with small financial resources.
For instance, during the campaign period, a party can conduct a rally where candidates are present using party campaign funds and are not subject to a spending limit. The party candidates present at the rally indirectly benefit from this unlimited funding, something candidates in smaller parties or who are running as independents might not have access to.
Monitoring and oversight
Monitoring and oversight are the main areas of concern for campaign finance in Myanmar as there are few monitoring mechanisms currently in place. Although there are banned incomes for both political parties and candidates (for instance foreign entities, religious groups, terrorists, insurgents, unlawful associations and state resources) and spending limits for candidates, oversight mechanisms remain weak.
According to the election laws, a voter or a rival candidate can make official complaints against a candidate to the UEC which then forms an electoral tribunal to handle the case. The current framework may therefore be seen to give the oversight mandate to voters and competing candidates as opposed to the authorities or independent bodies.
In order to begin to address the areas of concern highlighted above, International IDEA, through the European Union funded STEP Democracy programme, has been working with the UEC to support their reform measures in this realm.
In order to support the UEC's electoral finance reform efforts undertaken throughout 2016 and 2017, International IDEA developed a series of reports on campaign finance reporting, comparative good practices and recommendations for reform.
Based on these inputs, the UEC formed a 14-member working group at the beginning of 2018. The group consisted of officers from UEC and representatives from International IDEA and was created in order to develop concrete recommendations to reform the campaign finance framework. The working group met twice a week over the course of two months in order to present recommendations - with means and methods to tackle the areas of concern and to promote a level playing field and enhance transparency and fairness – to the UEC leadership, which is currently taking the recommendations under consideration.
International IDEA has been supporting the elections in Myanmar since 2013 by providing direct technical assistance to UEC and will continue to support the reform of the campaign finance framework in Myanmar ahead of the 2020 general elections.