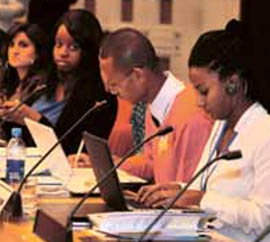 The two day regional conference on "The use of money in politics and its effects on people's representation" jointly held with the Election Commission of India, International IDEA & India International Institute of Democracy and Election Management (IIIDEM) on 15-16 December 2015 in New Delhi concluded today. The conference had been jointly inaugurated yesterday by Dr Nasim Zaidi, Chief Election Commissioner of India and Yves Leterme, Secretary-General of International IDEA. The Conference was also attended by A.K. Joti and O.P. Rawat, Election Commissoners of India.
The Secretary-General of International IDEA Yves Leterme, former Prime Minister of Belgium, opened the doors for discussion in his welcome speech by laying serious concerns.
"The question of money's negative influence over politics is as pressing as ever. Why? Because it threatens the very foundations of democracies. Money seeps into the political process on many levels, tainting everything from party financing to campaign donations and candidate expenses. Problems include, amongst others, incumbents abusing state funds; criminal money influencing decision-makers; and small groups of oligarchs, wealthy individuals or large corporations hijacking politics via donations. This dialogue and the draft declaration will help to create a concrete framework for all the participating nations to consider."
The Regional Conference on the Use of Money in Politics and Its Effects on People's Representation was the first time for stakeholders to discuss issues and solutions on a regional level. The International participants included Ahmad Sulaiman Chairman, Maldives Election Commission, Dr Ayodhi Prasad Yadav, Chief Election Commissioner of Nepal, Dasho Kunzang Wangdi former Chief Election Commissioner of Bhutan, Ahmad Bilal Mehboob President Pakistan Institute of Legislative Development and Transparency (PILDAT), Ibrahim Ghafoori Director, Democracy & Human Rights, SAARC Secratariat and Dr Samuel Ratnajeevan Herbert Hoole, Sri Lanka Election Commission. Other participants included various stakeholders like representatives of National political parties of India, Civil Society Organizations, representatives of election management bodies of South Asia, former Chief Election Commissioners of India Navin Chawla, Dr S.Y. Quraishi, V.S Sampath, H.S.Brahma.
The conference participants came forward together and laid out a draft declaration towards the end of the session. The draft included recommendations on political finance regulations, how to close loopholes in the regulatory framework and coordinating efforts with all stakeholders. The declaration also provides guidance on how to ensure equal participation and recognizes that women face particular obstacles created by money and access to funds.
Zaidi chaired the plenary session of the conference and presented the final conclusion drawn in the two day conference. The presentations made by experts and active deliberations by the participants resulted in finalization of a declaration for political finance regulation in South Asia.
The declaration, New Delhi Declaration on Political Finance, 2015, identifies over-arching principles which are to be followed while making political finance regulations and major guidelines for implementation.
"[Money] limits their participation as candidates and active party members. Regulations should facilitate the participation of women in political life," said Leena Rikkila Tamang, Regional Director of International IDEA while she was addressing issues on gender biasness in democracy.
While presenting the draft declaration, in his concluding speech Zaidi expressed that the guidelines prescribed in the "New Delhi Declaration 2015" will go a long way in further evolving the political finance practice in South Asia, reducing the cost of electoral politics and its dependence on limited number of corporates and individuals, by making the funding and expenditure by parties and candidates more transparent.