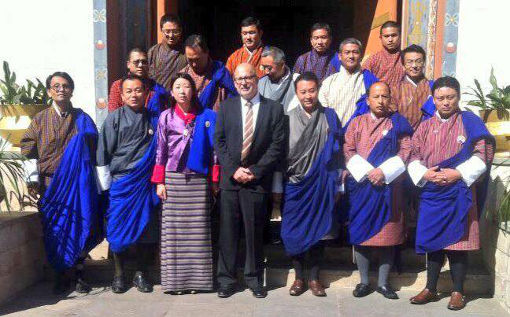 Communications training has become firmly established as a necessity in many democracies. As a young democracy and with relatively inexperienced law makers who have little knowledge of communication strategies there is a strong need for media training and capacity building in Bhutan.
As a first step to fill this need International IDEA, with funding from Norway and partnering with Parliamentary Centre, Canada, has organized media training sessions for members of the Parliament of Bhutan. The two-day trainings were held in Thimphu, Bhutan, and included sessions on communication strategies, planning and preparation for interviews and media encounters. The participants were also able to practice interview techniques in front of a camera crew.
The participating MPs were extremely engaged and found value in all aspects of the training, from the theoretical background and technical instruction on planning and preparation for interviews and media encounters, to the video-recorded practice interviews. In particular, they expressed appreciation for the opportunity to have the experience of having to stand in front of a camera and face questions that vary in tone and direction, while focusing on delivering key messages.
According to Chekey Gyeltshen, Director of National Assembly of Bhutan, the trainings were much appreciated.
"The media training imparted to Honourable MPs was first of its kind, giving exposure on how to deliver key messages, display body postures and more importantly how to deal not only with media and but also with others important official dealings as well," he said.
"The general feeling expressed by the participants (MPs) was that they found the training valuable and practical application in their daily business. Some of them even suggested that such training should be imparted to all the aspiring politicians in future."
The training was delivered by a global communication expert, David Gollob currently the Director of Canadian Human Rights Commission.