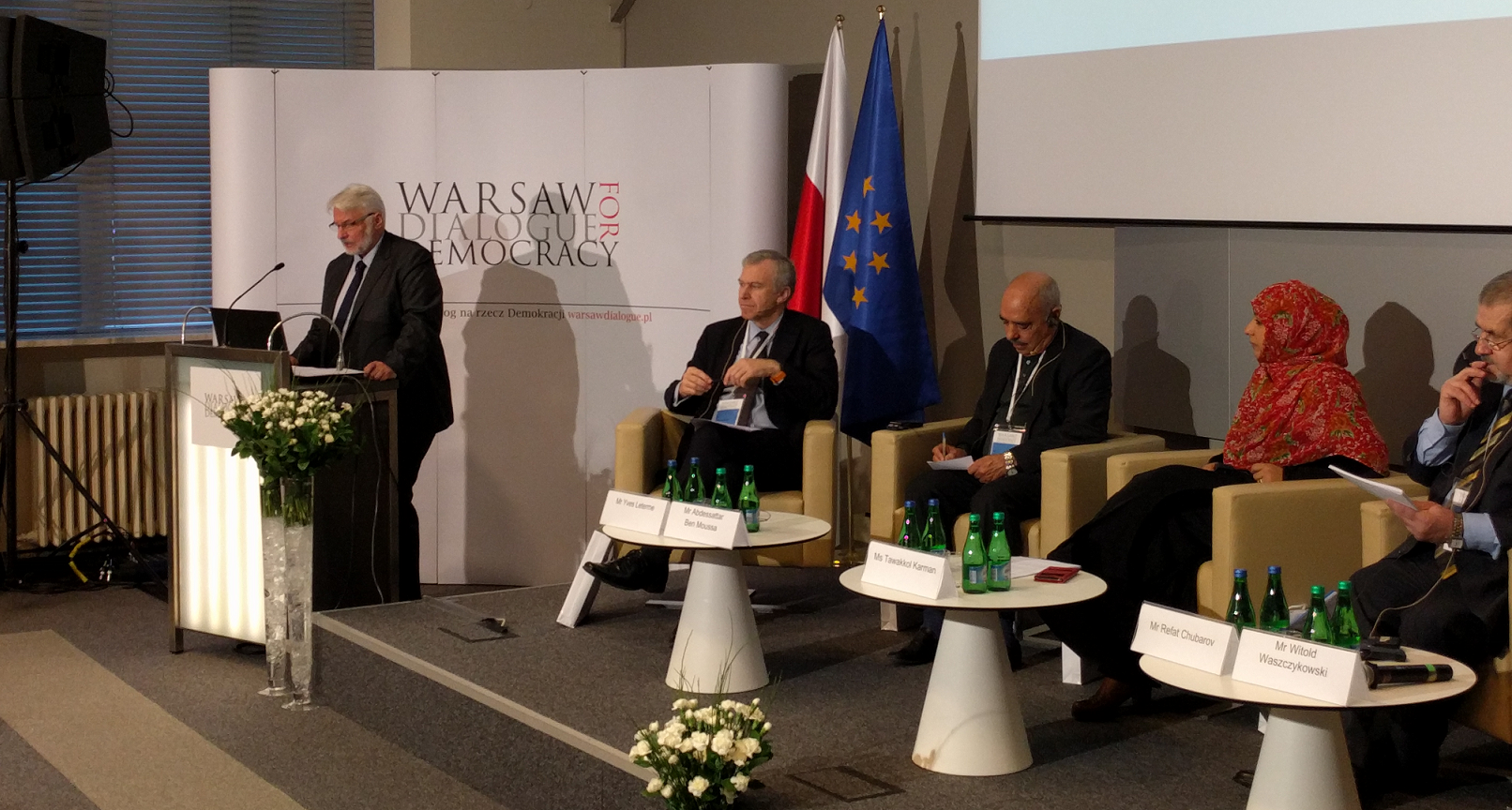 On the 15-16th December, 2016, International IDEA's Secretary-General Yves Leterme took part in the high-level opening session of the "Warsaw Dialogue for Democracy 2016: From past to future: strengthening democratic values" in which he stressed the importance of fighting corruption and increasing democratic accountability to address the root causes of the current crisis of representation. He also emphasized the importance of protecting and promoting democracy, which has proven to be resilient in the face of the numerous threats and challenges to it.
This high-level opening session also included the participation of leading figures in the field of Democracy and Human Rights such as Tawakkol Karman, Nobel Peace Prize Laureate 2011; Abdessattar Ben Moussa, Nobel Peace Prize Laureate 2015 as a member of Tunisian Quartet; and Refat Czubarov, President of the World Congress of Crimean Tatars.
During the conference, Secretary-General Leterme, highlighted how institutions like International IDEA can contribute to addressing the numerous challenges in the democracy landscape today. In particular, International IDEA develops, shares and enables the use of comparative knowledge in its key areas of expertise of electoral processes, constitution building, political participation and representation; and democracy and development. International IDEA also mainstreams a gender, diversity, and conflict-sensitive perspective throughout all its programmes. Mr. Leterme finished his intervention by highlighting two International IDEA initiatives that tackle some of the key challenges to democracy discussed in the Warsaw Dialogue.
The first one is International IDEA's Money in Politics Initiative that examines the negative role money can play in political processes. This institution-wide initiative conducts research and develops knowledge resources, organizes international, regional and national debates to identify challenges and stimulate legal reform, and assists countries in institutional capacity building.
The second International IDEA initiative that Leterme spoke about is the Digital Parties Portal, which offers an internet-based repository of good practice digital tools used by political parties. This resource will assist those involved in running a political party to find out which ICT-related tools are available to them to better reach and communicate with their constituencies and thereby help close the gap between citizens and political parties.
The Secretary-General was accompanied by Sam Van Der Staak, International IDEA´s Senior Programme Manager of the Office in Wider Europe, who moderated the panel on "Citizens' oversight and fight against corruption".