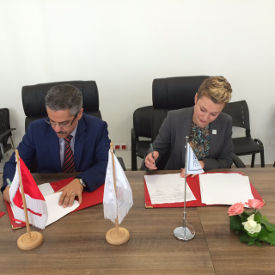 International IDEA has been working closely with the Independent High Authority for Elections of Tunisia (ISIE) since it was established in 2014, providing trainings and technical support both ahead of and following the 2014 parliamentary and presidential elections.
To further deepen cooperation between the institutions, International IDEA and the election management body today signed a Memorandum of Understanding (MoU) affirming the importance of coordinating the efforts of both organizations to attain their common objectives and the desire to mutually benefit from and develop their cooperation in areas of common concern.
These areas include electoral risk management, development of a resource centre, building the capacity of electoral management bodies through trainings, workshops and peer-to-peer support as well as supporting organizational development.
"We have made official our collaboration with IDEA today," said President of ISIE Chafik Sarsar, at the signing ceremony.
"Even though IDEA and the ISIE have been partners for several months we have now both signed a memorandum which fixes the dimensions of our collaboration for the coming years. We wish both parties great success and a fruitful collaboration."
International IDEA has been working to support the democratic transition in Tunisia since 2011.