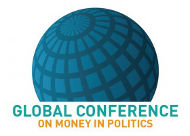 Wrapping up the three-day Global Conference on Money in Politics, International IDEA Secretary-General Yves Leterme highlighted the need to look ahead and take the experiences shared and gained in Mexico to continue the work on the issues involved in money in politics.
"This is not the end point, it is a landmark," Leterme said. "The problem exists, and is a very important problem, but on the other hand, after these three days the feeling many of us have is that there is a solution."
Issues discussed during the more than 15 work sessions and panel discussions included anonymous donors, concentration of wealth, the influx of dirty money into politics and the gender funding gap. Potential tools to tackle these problems include spending limits and sanctions.
Sharing experiences, knowledge and information are important to tackling money in politics at the regional, national and local level. Looking ahead to the next conference on money in politics in New Delhi, India to be held this December, Mr Leterme added that it is important to broaden the scope and invite more stakeholders.
"We need to invite not just politicians and academics but representatives of the consumers and users of our knowledge: the corporate sector. Even the private sector should be concerned with this issue; to them it is not always beneficial to pay politicians in order to reach their goals."Mr. Leterme said.
Obiageli Ezekwesili, Senior Economic Advisor with Africa Economic Development Policy Initiative, at the closing ceremony said political and economic reform needs to go "hand in hand" to tackle the problems of money in politics. These problems, she said, are caused by accumulation of wealth and inequalities in many countries.
"I believe we also need to see a global study on the effect on the money in politics effect on the global financial inequality."
Videos from all the work sessions and panel discussions will be available soon at www.moneyinpolitics.info. Also visit our Political Finance database for the relevant data.