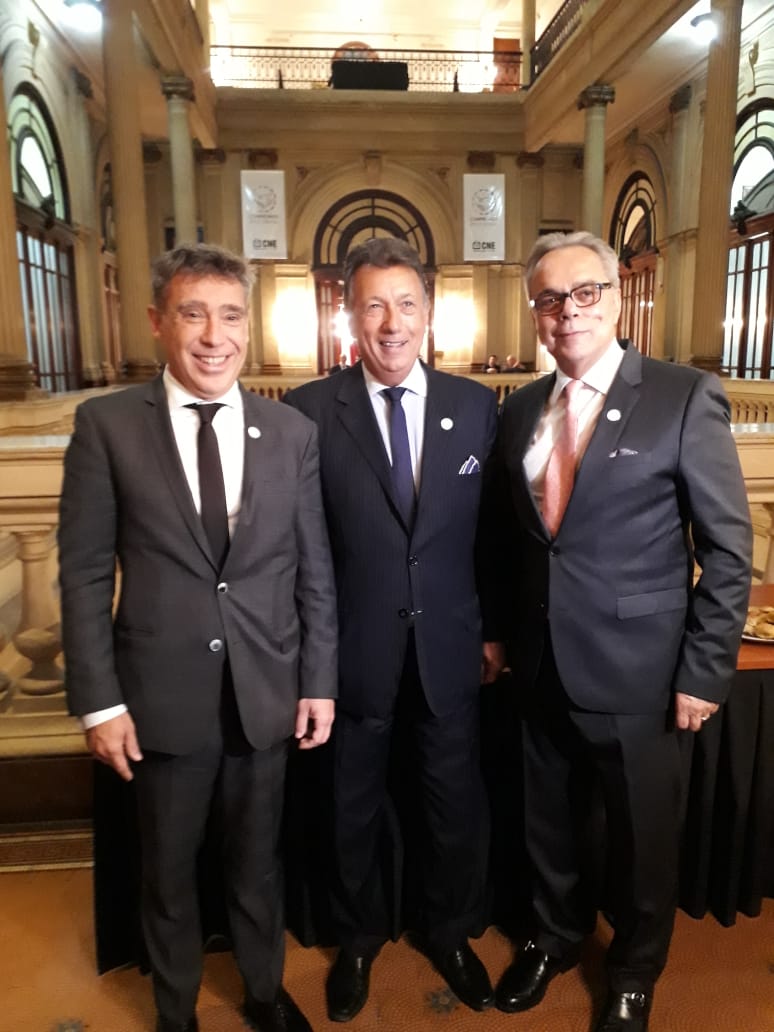 Chair of the CNE, Santiago Corcuera (left); Vice-Chair of the CNE, Alberto Dalla Vía (center); Director for Latin America and the Caribbean Region of International IDEA, Dr Daniel Zovatto (right)
The Seminar on the 2019 Argentine Elections was held in Buenos Aires on 11 March 2019, at the headquarters of the Argentina Council on Foreign Relations (CARI: Consejo Argentino para las Relaciones Internacionales).
Este artículo está disponible en Español.
The event, organized by the National Electoral Council (CNE: Cámara Nacional Electoral), the Woodrow Wilson International Center for Scholars, the Annenberg Foundation, CARI and International IDEA, included discussions on the responsible use of social networks during election campaigns, the orderly transition of power, and political financing.
The event led the CNE to carry out an initiative to commit the political parties and technology and social network companies to sign an Ethical Digital Commitment with the aim of avoiding the dissemination of fake news and other mechanisms of disinformation that may negatively affect the elections to be held on 27 October of this year.
Convened by the CNE, persons from various political parties; representatives of Google, Facebook, Twitter, and WhatsApp; directors of the Asociación de Entidades Periodísticas (ADEPA: Association of Journalistic Entities); the Asociación Latinoamericana de Internet (ALAI: Latin American Internet Association); and the Asociación de Periodismo Digital (APD: Association of Digital Journalism) met on May 30, at the offices or the CNE, to sign the Ethical Digital Commitment, at a ceremony that was presided over by Supreme Court President Carlos Rosenkrantz; the Chair of the CNE, Santiago Corcuera; his vice-chair, Alberto Dalla Vía; and the provisional president of the Senate, Federico Pinedo. The ceremony included the participation of Dr Daniel Zovatto, in representation of International IDEA, who, taking advantage of being on mission in Buenos Aires, reached an agreement with the members of the CNE for a technical cooperation programme between the Electoral Tribunal of Panama (which already implemented a similar initiative in Panama) and the CNE on social networks, so as to help implement the Ethical Digital Commitment that was recently signed.
This work is in the context of the strong commitment assumed by International IDEA's Regional Office for Latin America and the Caribbean to fight the improper use of social networks with the objective of avoiding the serious harm that this bad practice is inflicting on democracy, while at the same time strengthening International IDEA's cooperation with the Argentine electoral authorities.