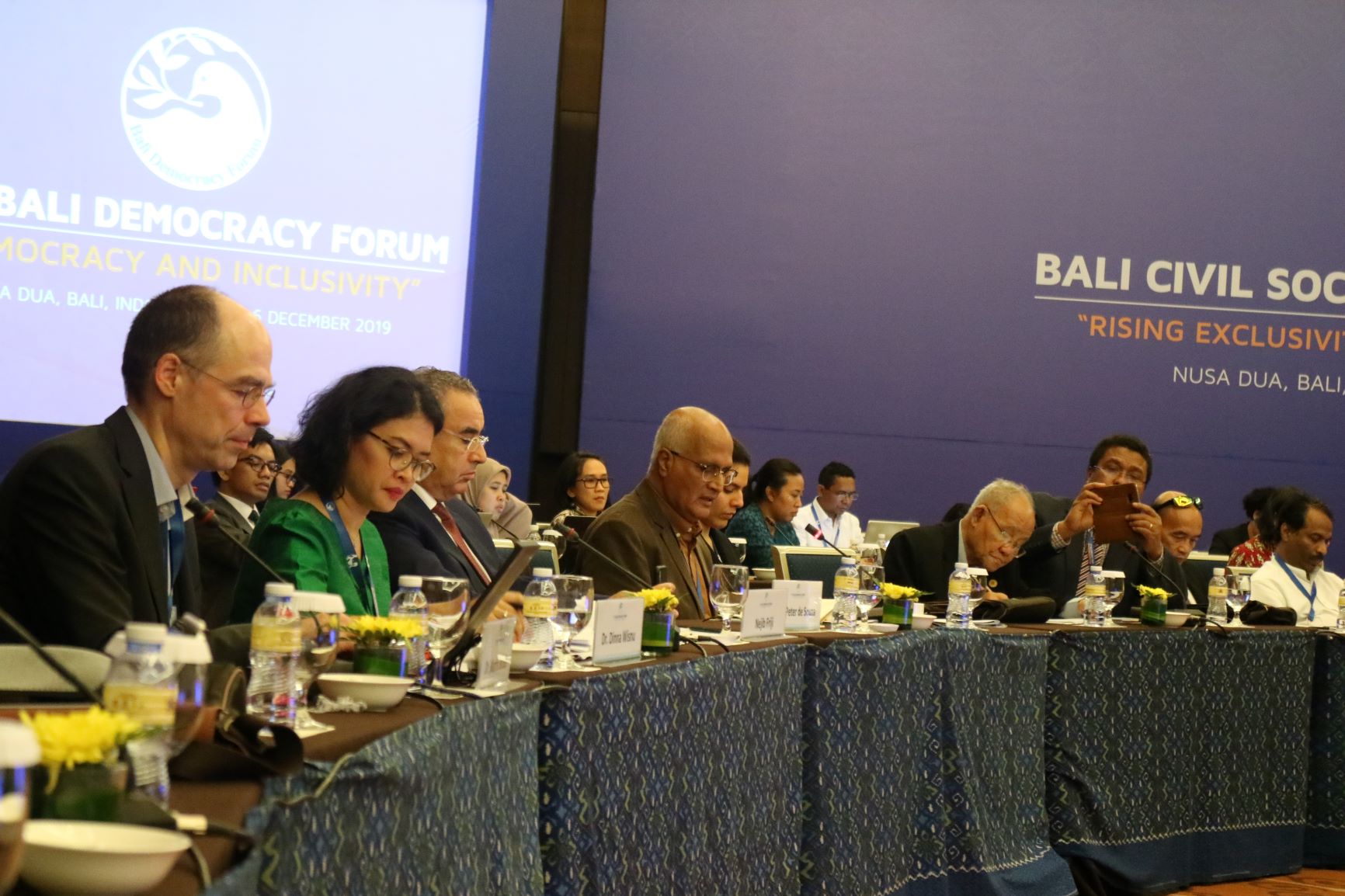 International IDEA's Martin Brusis and Prof Peter deSouza discusses the GSoD at the Bali Civil Society and Media Forum, one of the sessions at the 12th Bali Democracy Forum. Image credit: International IDEA
The 12th Bali Democracy Forum (BDF), organized by the Indonesian Ministry for Foreign Affairs in Nusa Dua, Bali on 5-6 December 2019, brought together hundreds of delegates representing government, civil society, media, students and business sector to discuss democracy and inclusivity in Asia and the Pacific region and beyond. The Forum focused on the intertwined concepts of political and economic inclusivity in view of democracy to thrive.
Political and Economic Inclusivity
The BDF Government Panel sessions shared innovative experiences in advancing political as well as economic inclusivity under challenging circumstances.
Examples of such innovations included language policies, constitutional guarantees of inclusion, electoral system designs in view of inclusion, legal reforms, setting up integrity institutions. New Zealand spoke of its government's welfare budget, recognizing that governments need not only be good stewards of economies and growth, but also "show compassion and love". In practice, these words translate into investing in schools and hospitals, affordable housing, etc. in other words, to education, health and shelter.
Many of the stated challenges related to post conflict situations, high crime rates and violence, or institutions failing to promote security. Also, to demanding conditions of large archipelagos, poor connections, urban-rural divide and so on.
But also, and very critically to persistent corruption. Reference were made to studies, including International IDEA Global State of Democracy report findings that absence of corruption is the only aspect of democracy that has actually deteriorated globally in the past four decades. Corruption is the aspect of democracy that is most highly correlated with basic welfare, and hence critical to human development and to achievement of the 2030 agenda.
New challenges include urgent issue of climate change. Youth are certainly asking the leaders to look beyond the elections to do what is needed to respond to climate crisis. Question is whether democracy is able to respond to something that is inter-generational by nature. That is a big question to ponder when we talk of future of democracy.
Way forward?
One of panelist gave a stark warning: "In the days to come, democracy will be challenged if it fails the test of inclusiveness."
Panel proposed that we need to ensure inclusive representative mechanisms, and institutions, and invest in inclusion of women youth and other historically marginalized groups, including indigenous people. As put by Dr Monika Juma, Cabinet Secretary for Foreign Affairs of the Republic of Kenya regarding importance of gender equality and economic development: "if you put only half of your team on pitch, you cannot except to win the game."
It was also put forward how government should seek ways to protect their citizens against the disruptive effects of economic crises and globalization. This requires policies that enable vulnerable groups within society to adapt to job losses and provide them with equitable access to services, employment, opportunities and resources.
"World also needs to address the disruptive role money is playing in politics and ensure establishment and working of institutions for integrity," said Leena Rikkila Tamang, Regional Director for International IDEA when providing report on behalf of the panels.
The Bali Civil Society and Media forum discussed extensively the role of technology in democracies and various ways civil society and media actors have tried to respond to challenges posed by disinformation, hoaxes, echo chambers, etc., but also of accommodating minorities and the rise of ethno- and religious nationalism in the region.
"Part of the answer to these challenges may well be in more emphasis on deliberative democracy, apart from representative and direct democracy," said Stephen Twigg, Former Minister for Education of the United Kingdom.
The BDF concluded that leaders need to come up with visions and goals. Leaders need to start listening, truly listening, also the dissent and protestors. Social media is playing here an important role, despite all the challenges. "Social media has allowed youth to communicate with leaders directly, by passing the bureaucracy and hierarchies," said Nyeuvo Veronica Amukushu in her report from the student forum.
The BDF conclusions also emphasized that the very promise of democracy needs to translate into benefits which are more inclusive then been the case so far.
Read International IDEA statement at the Panel A, session one from here.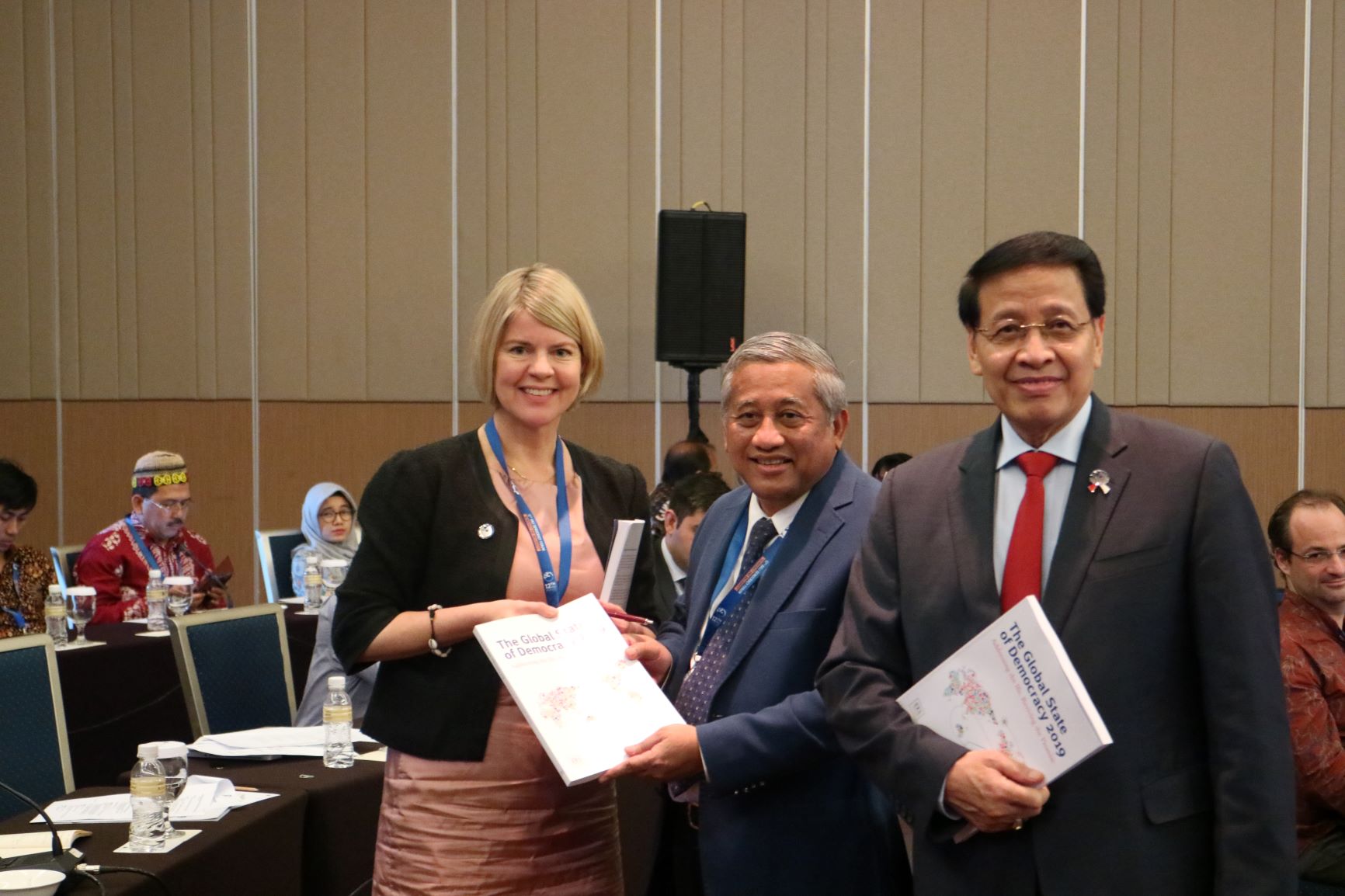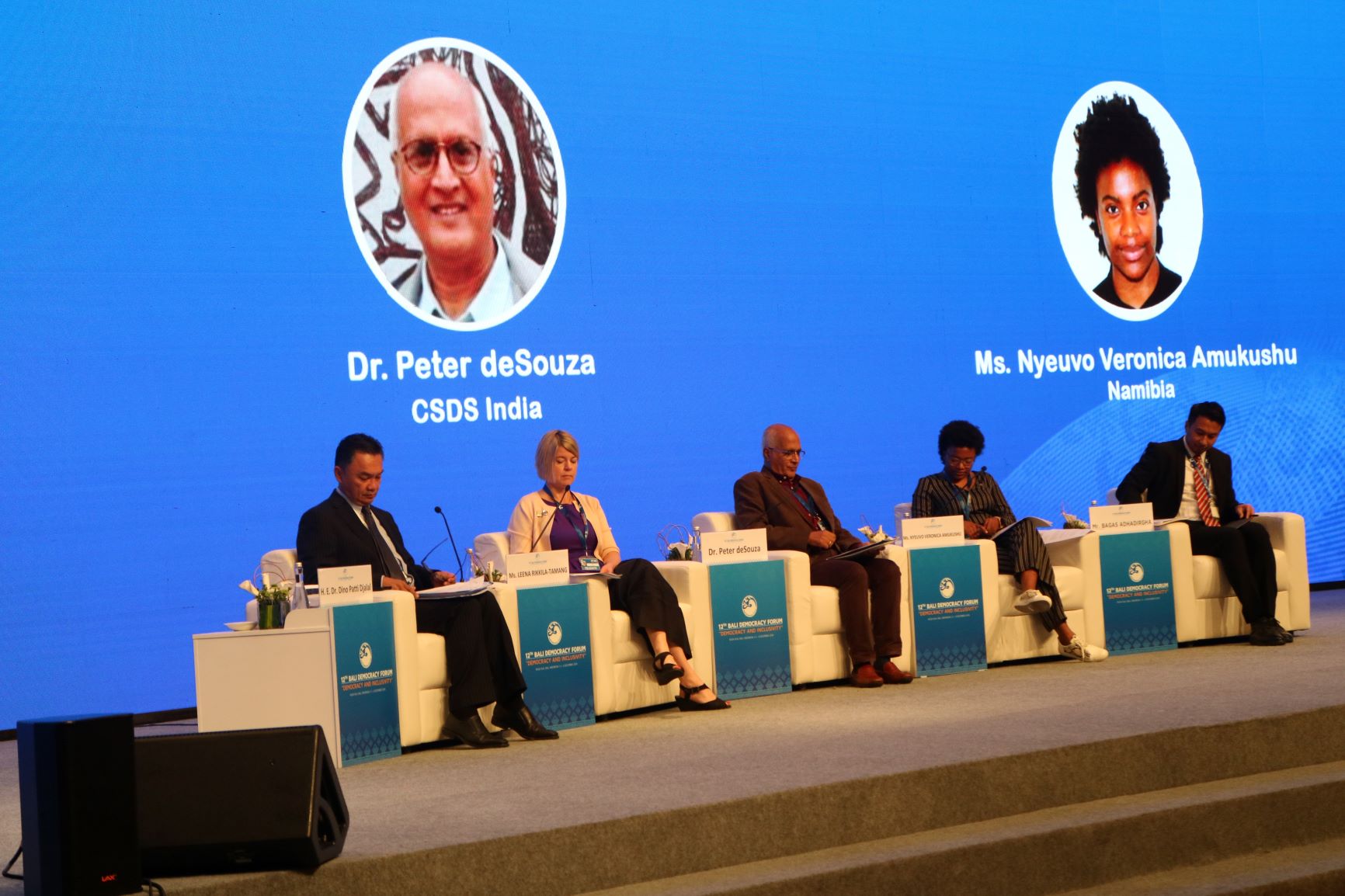 International IDEA Global State of Democracy (GSoD) report was launched as part of Bali Civil Society and Democracy Forum on 5 December 2019. The Report was introduced by Dr Martin Brusis and Leena Rikkila Tamang from International IDEA, commented on by Professor Peter deSouza, and handed over to Hassan Wirajuda, former Foreign Affairs Minister of Indonesia and to Mohammad Nuh, Chairman of the Indonesian Press Council.