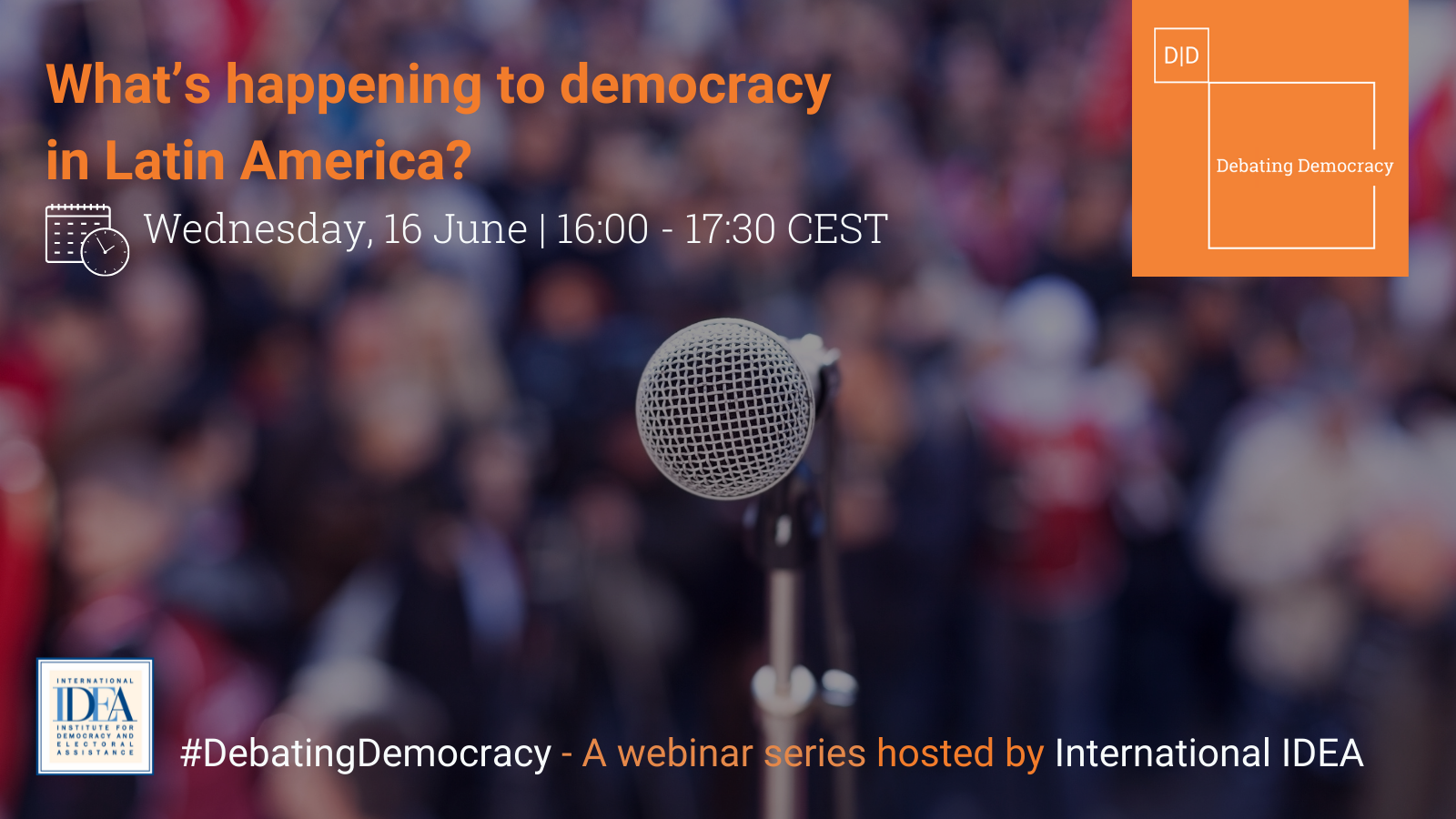 International IDEA invites you to a new Debating Democracy webinar entitled: What's happening to democracy in Latin America? on Wednesday 16 June 2021, at 16:00-17:30 CEST.
Accusations of creeping authoritarianism are levelled against charismatic leaders in Brazil, El Salvador and Mexico. Colombia is rocked by its worst street protests in years. Extraordinary political polarization and age-old social and ethnic divides overshadow Peru's presidential election. Independent candidates win support in Chile's constitutional assembly in a blow to traditional political parties. All this happens while the region reels from one of the world's worst outbreaks of Covid-19 and the most severe economic downturn in a century.
Why does a region that many thought had made great strides towards robust democratic governance and prosperity suddenly appear mired in political uncertainty?
What are the root causes and immediate triggers of the current spike in political tension?
What will be the lasting political impact of the pandemic?
What lessons do political events in Latin America hold about global challenges to democracy?
LOGISTICS
Date: Wednesday, 16 June
Time: 16:00-17:30 CEST
Platform: Webex videoconference
PARTICIPANTS
Sergio Bitar, Former Minister & Senator, Chile, Member of International IDEA's Board of Advisers
Dr Kevin Casas-Zamora, Secretary-General, International IDEA
Laura Chinchilla, Former President of Costa Rica, Vice Chair International IDEA Board of Advisers
Dr Denise Dresser, Professor of political science, the Instituto Tecnológico Autónomo de México
María Emma Mejía Vélez, Former Permanent Representative of Colombia to the United Nations and Former Minister of Foreign Affairs
Moderator: Dr Daniel Zovatto, Director for Latin America and the Caribbean, International IDEA
Useful Links / Information: