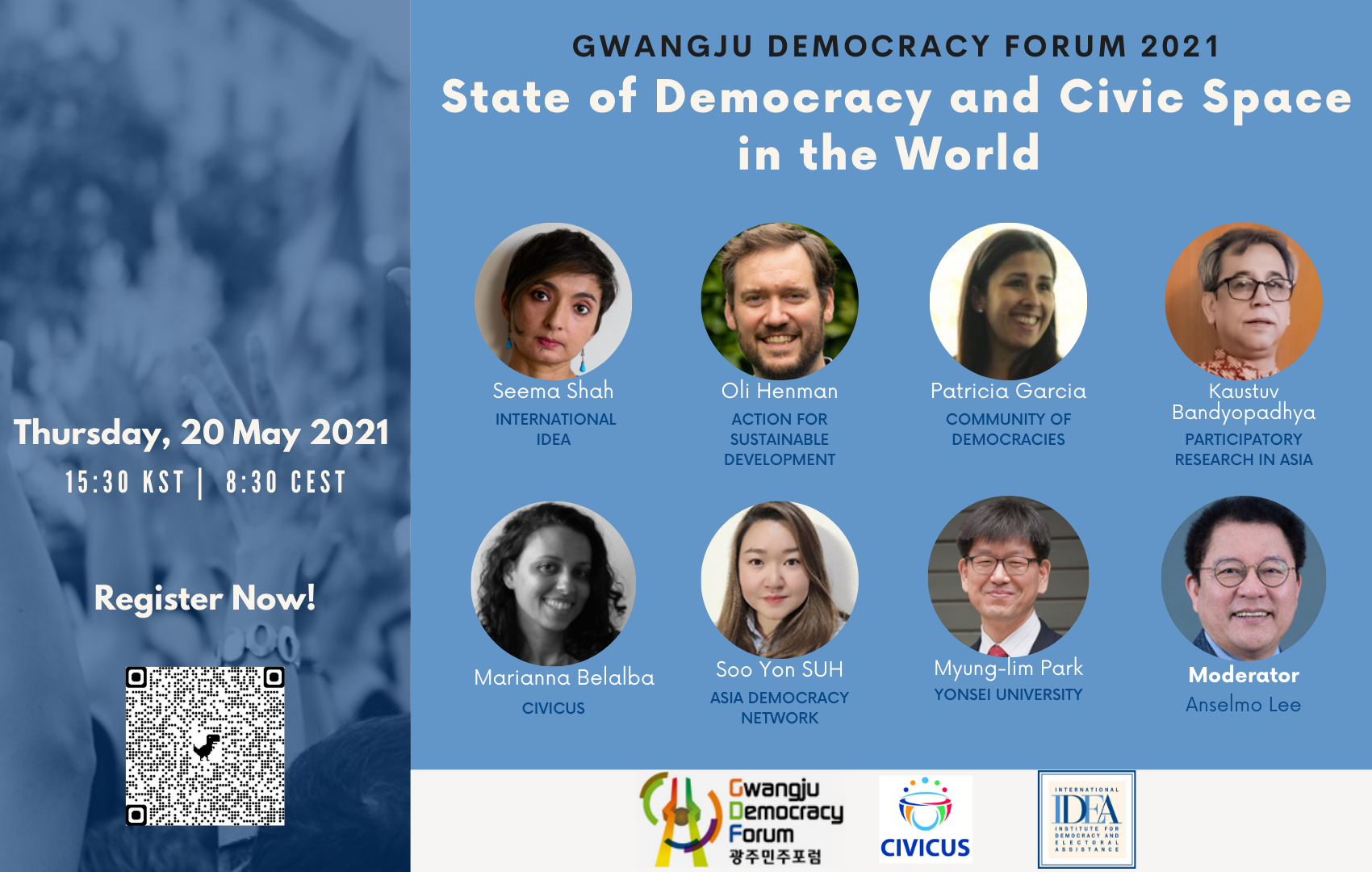 The Gwangju Democracy Forum (GDF) is an annual international meeting that brings together democracy advocates, activists, researchers, and policymakers to discuss and reflect on the state and challenges of democracy at the local, national and global levels as a way to commemorate and practice globally the spirit of May18 Gwangju Democracy movement in1980.
The GDF 2021 is organized by the May 18 Memorial Foundation, in partnership with international and domestic civil society organizations and public institutions in South Korea with support from the Metropolitan City of Gwangju. An international working group was formed with various key partner organizations prior to the GDF in order to develop common agenda and action plans. The conference is taking place between 17-21 May during Gwangju Democracy Week.
As part of the 2021 Gwangju Democracy Forum, this session on 'State of Democracy and Civic Space' aims to contribute to strengthening the international solidarity actions and people's struggle for democracy through common assessment of the state, trends, challenges, and threats to the democratization movement in the world. Providing recommendations and proposals for international solidarity actions.
Main topics and issues to be addressed:
Assessment of the current state of democracy, democratization, and civic space through internationally comparative data such as:
The role of international cooperation/ODA and financing for democracy and human rights Role of the May 18 Foundation to support the democratization movement in the world.
Speakers:
Seema Shah, International IDEA
Marianna Belalba, CIVICUS
Patricia Garcia, Community of Democracies
Oli Henman, Action for Sustainable Development
Kaustuv Bandyopadhya, Participatory Research in Asia
Soo Yon SUH, Asia Democracy Network
Myung-lim Park, Yonsei University
Moderated by Anselmo Lee, Adviser to the May 18 Memorial Foundation.
Partner Organizations/collaborators:
The May 18 Memorial Foundation
Useful Links / Information: