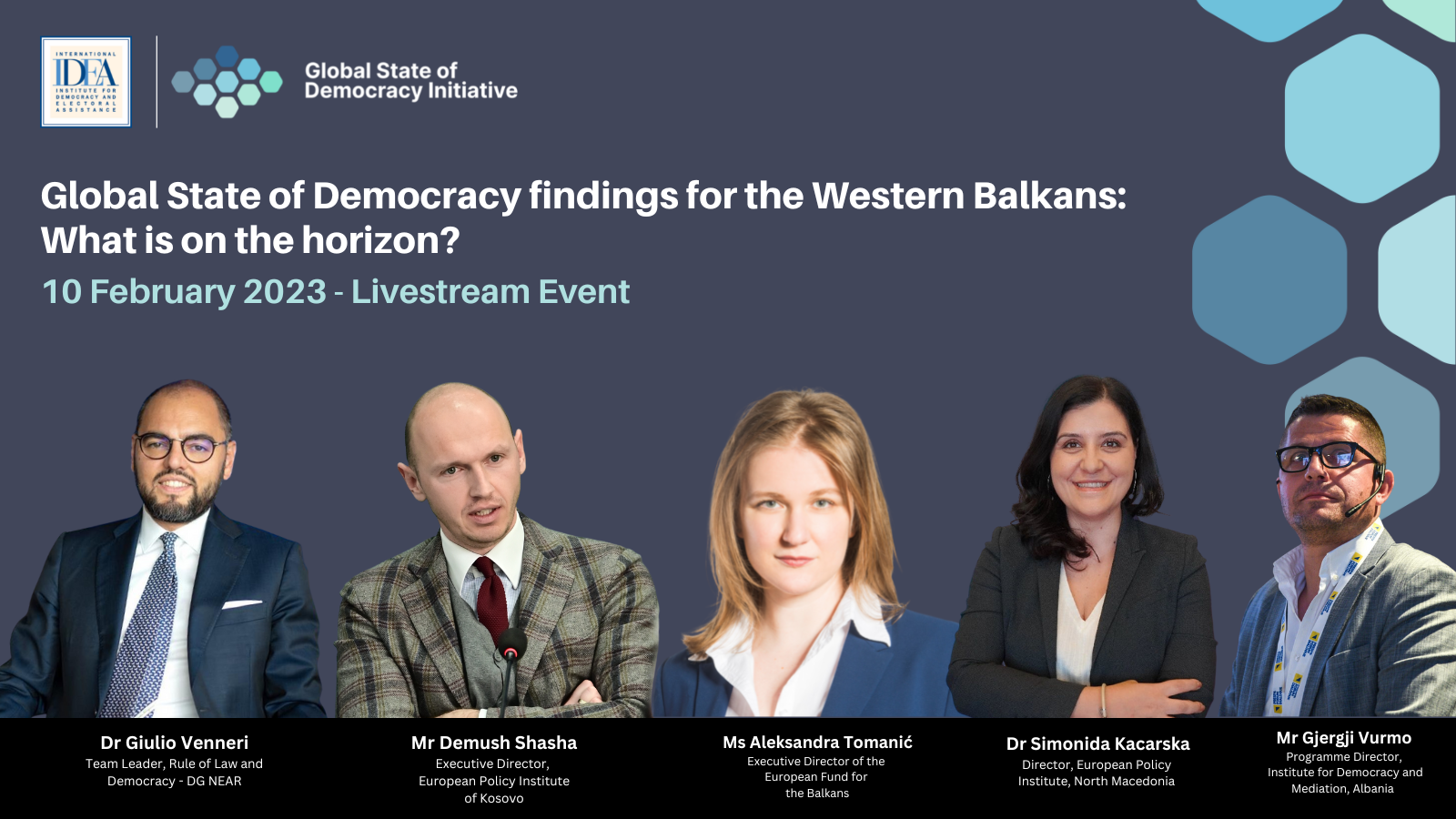 Watch live on Webex by registering at this link. Please make sure you have uploaded Webex beforehand.
International IDEA recognizes the importance of invigorating democracy in the Western Balkans as a strategic and indispensable precondition for consolidated stability, peace and democracy in Europe. Monitoring the state of democracy and assessing whether the region's countries are headed in the right direction are key to gauging the overall picture of EU enlargement as well. Capturing these dynamics is crucial for a holistic view of current and future challenges in Europe, as well as prospects for democratic renewal in the region.
In this context, International IDEA presents a panel discussion on the latest Global State of Democracy (GSoD) Indices findings on the six countries in the Western Balkans (Albania, Bosnia and Herzegovina, Kosovo, North Macedonia, Montenegro and Serbia), focusing on the implications for the future of democracy in the region, lessons learned and potential good examples.
While these findings help shed light on the main attributes of democracy, the data gains more meaning and could be further complemented through the addition of on-the-ground knowledge of relevant civil society experts.
OPENING REMARKS
PRESENTATION
Findings of the Global State of Democracy (GSoD) 2022: Forging social contracts in a time of discontent and introduction of the GSoD Indices and Democracy Tracker
PRESENTATION
Main Global State of Democracy findings for the Western Balkans
PANEL DISCUSSION
Global State of Democracy findings for the Western Balkans: What is on the horizon? 
Moderator: Ms Blerta Hoxha, Programme Officer within International IDEA's Regional Europe Programme. 
DISCUSSION AND QUESTIONS FROM THE AUDIENCE
CLOSING REMARKS AND CONCLUSIONS