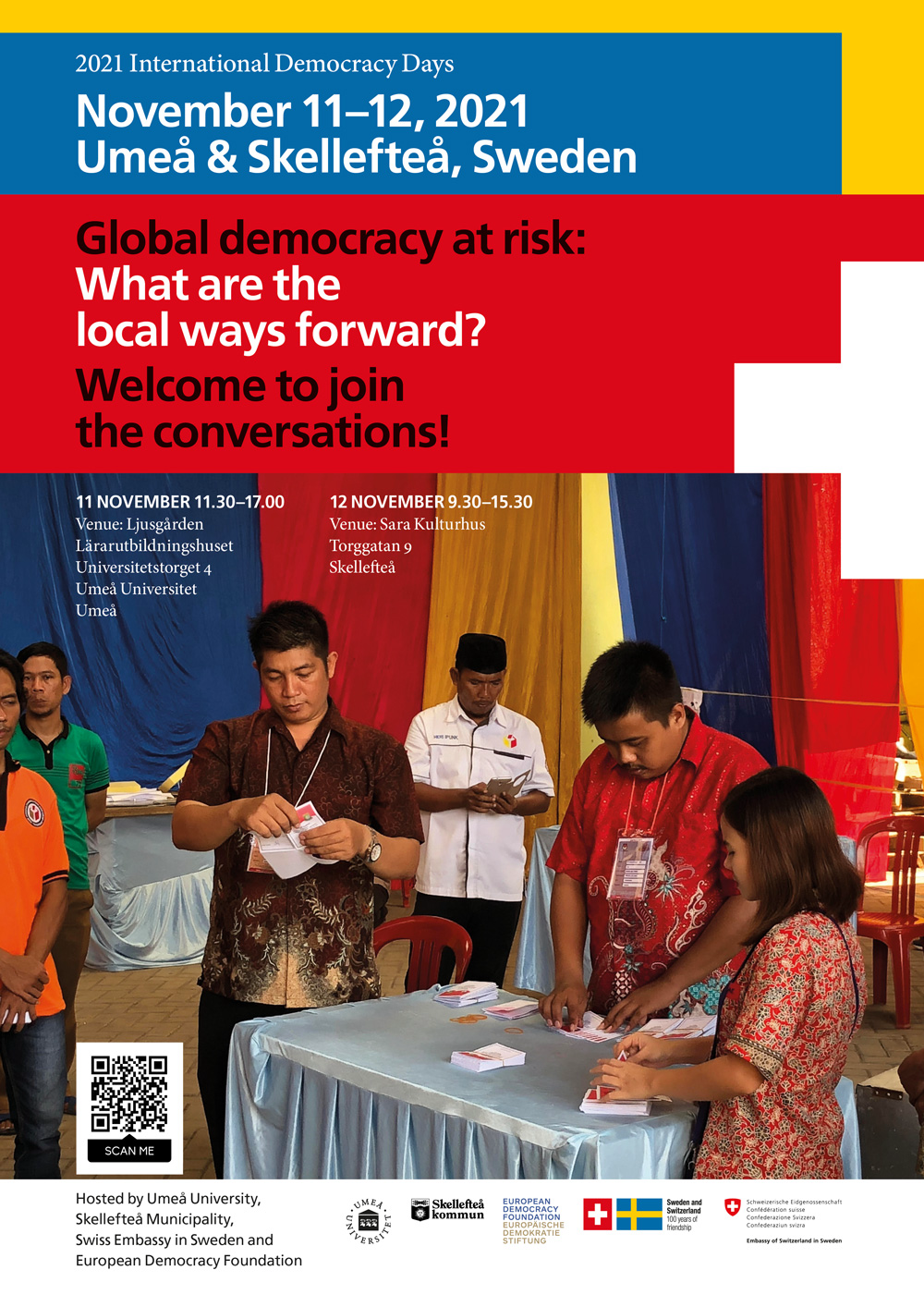 Join keynote and panelist Kevin Casas-Zamora, Secretary-General at International IDEA, for a preview of the assessment report, Global State of Democracy 2021, on 11 November from11:30 and 12:00.
Casas-Zamora will also discuss Global Democracy at Risk at a Lunch Hearing: 'How Do We Meet The Global Challenges To Democracy?' as part of a panel at the 2021 International Democracy Days November 11–12, 2021 Umeå & Skellefteå, Sweden.
12.00–13.00 How Do We Meet The Global Challenges To Democracy?
Hearing hosted by Umeå Associationof International Affairs and Nordpol.
Oliver Björkman from the Umeå University Association of Foreign Affairs (Utrikes - politiska föreningen i Umeå) will moderate this opening panel.
Panelists include:
Kevin Casas-Zamora (International IDEA)
Giada Gianola (University of Bern)
Kelly Morrison (Varieties of Democracy)
Nils Seye-Larsen (Umeå Kommun)
One hundred years ago, universal suffrage had its first major break through in many countries, in clu ding Sweden. Today, people power remains very much con tested, and at risk, from the rise of populists and the enduring power of elitists. What practical steps will help us guard against threats to democracy? What is the true state of democracy today, locally, regionally, nationally and internationally? What innovations are emerging that might demo cra tize, and defend, our democracies?

The 2021 International Democracy Days will assess the Global State of Democracy and how local communities and cities can become engines of democratization worldwide.
The full programme is running in Umeå and Skellefteå for two days and can be seen here: internationaldemocracydays.online
Partner Organizations/collaborators:
Hosted by Umeå University, Skellefteå Municipality, Swiss Embassy in Sweden and European Democracy Foundation. Partners: Umeå University, Municipality of Skellefteå, Swiss Embassy in Sweden, European Democracy Foundation, Campus Skellefteå, Demokra
RSVP/Contacts:
Registration:
The Democracy Days are mainly held in English but it is possible to comment in Swedish, German, French and Italian. For any other information on content please contact Bruno Kaufmann at: bruno.kaufmann@europeandemocracy.foundation.