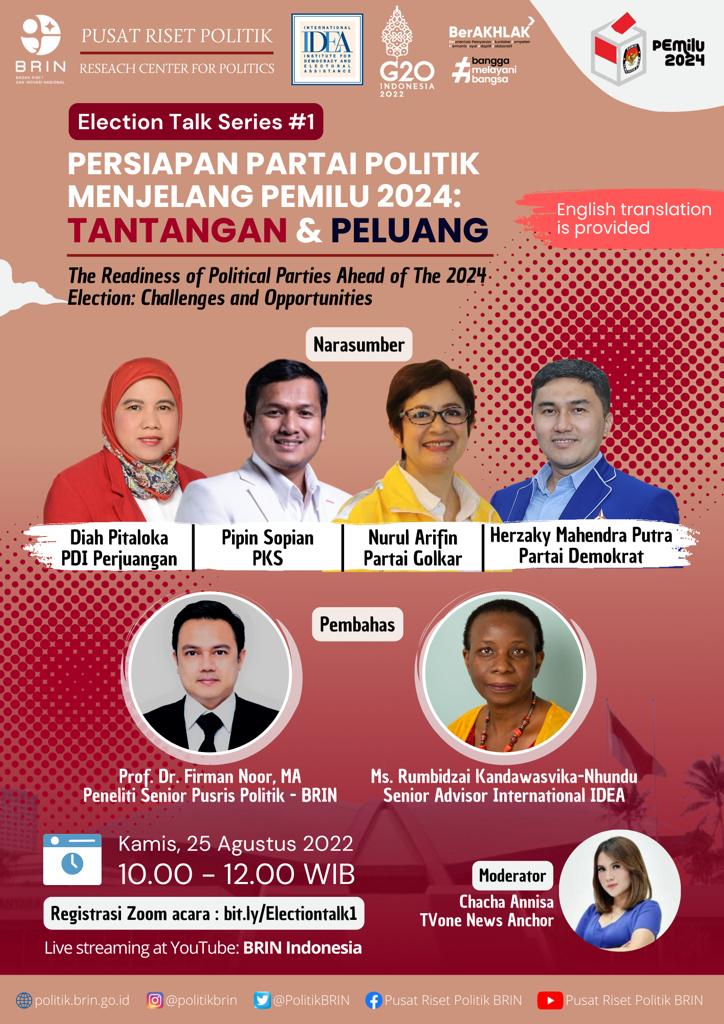 The International Institute for Democracy and Electoral Assistance (International IDEA) and the Research Center for Politics BRIN invite you to an online panel event, "The Readiness of Political Parties Ahead of the 2024 Elections" on Thursday, 25 August 2022, 10:00–12:00 Jakarta time.
Held as part of the Election Talk series, panellists will discuss how political parties are preparing for the 2024 election, including recruitment strategies, party regeneration and coalition mapping.
We welcome the participation of students, academics, political party members, observers and the media, in this online discussion, which will be held in both Bahasa Indonesia and English.
Panellists:
Diah Pitaloka (PDI Perjuangan)
Nurul Arifin (Partai Golkar)
Pipin Sopian (PKS)
Herzaky Mahendra Putra (Partai Demokrat)
Professor Firman Noor (BRIN)
Rumbidzai Kandawasvika-Nhundu (International IDEA)
Broadcast journalist and TVone anchor Chacha Annisa will moderate.
Kindly register for online attendance via Zoom.
For any additional enquiries, please contact Jennifer Sackl <j.sackl@idea.int>
Partner Organizations/collaborators:
Research Center for Politics BRIN