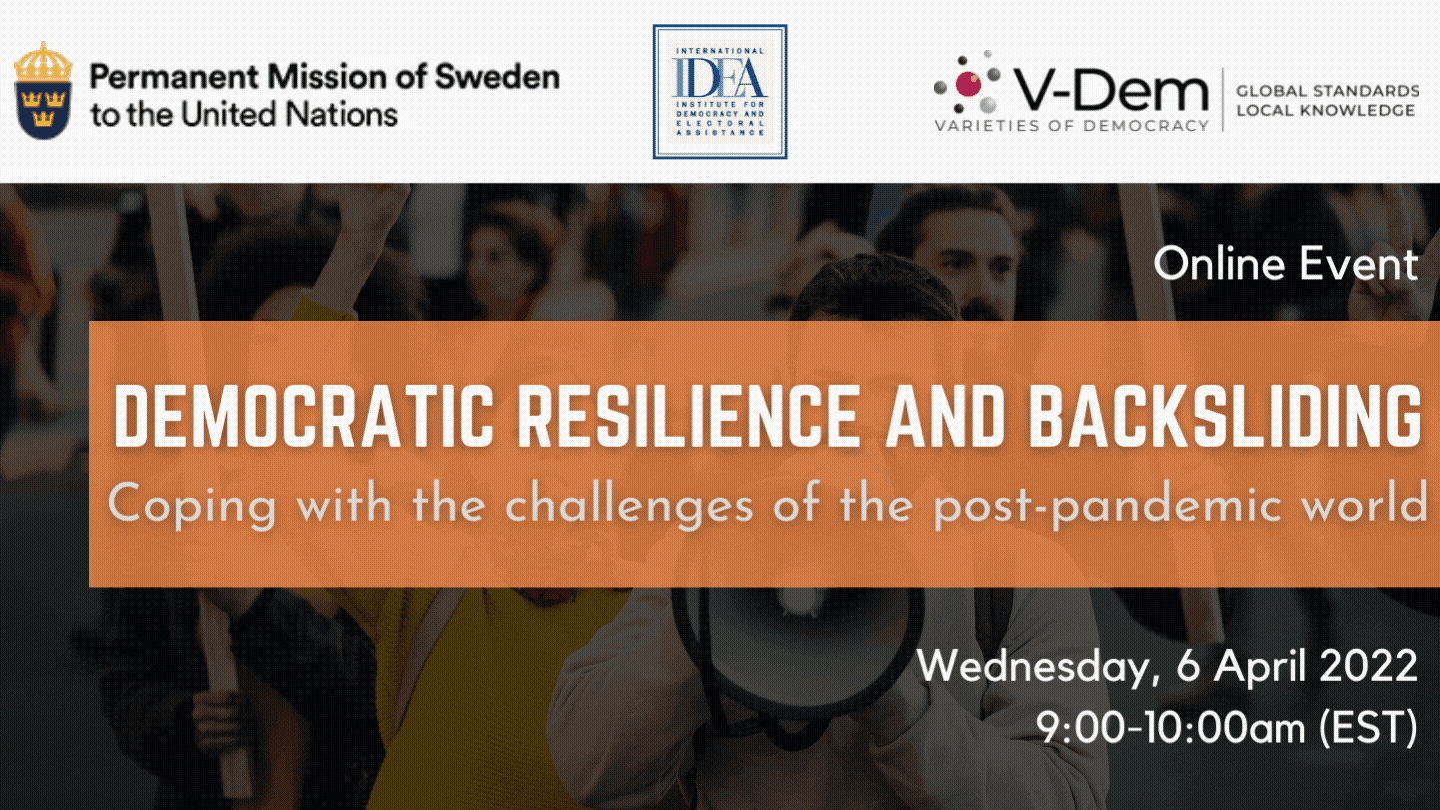 A red thread links the responses to the pandemic crisis and the capacity to address challenges like those posed by the Russia-Ukraine war: the importance of a rules-based international order for both preventing violent conflict and aggression and coping with global crises.
Russia's invasion of Ukraine, a sovereign state and a democracy, in breach of international law and international agreements and the rules-based international order, is an outright rejection of the principles at the core of the UN Charter. Its severity is compounded by the fact that it happens during a pandemic that has rendered evident the need for increased global cooperation to make the world governable and achieve justice for all.
Against this background, join us on 6 April 2022 from 15:00-16:00 CEST for a virtual webinar where International IDEA and the V-Dem Institute will present the results of their analyses on the state of democracy in the world. In a growingly inter-connected and inter-dependent world, no country can afford to deal with crises of such nature without relying on cooperation and mutual understanding; however, enhancing international cooperation requires that there is such a thing as a rules-based international order. And that's precisely what is at stake in Ukraine. A world in which might is right is a world in which global cooperation to solve global challenges is all but impossible.
The panel will be followed by an interactive discussion.
Moderator
Opening Remarks
H.E. Charlotta Schlyter, Ambassador, Economic and Social Affairs, Permanent Mission of Sweden to the UN
Panelists
Discussant
Ulrika Modéer, Assistant Secretary-General and Director of Bureau of External Relations and Advocacy, UNDP
Reports
The V-Dem's Democracy Report 2022: "Autocratization Changing Nature? was just published by the V-Dem Institute along with version 12 of the V-Dem dataset. The report documents several signs that autocratization is changing nature as leaders are becoming bolder and taking more drastic actions. With five military coups and one self-coup, 2021 featured an increase in coups unprecedented over the past two decades. Polarization and government misinformation are also increasing at the hands of emboldened leaders. These trends are interconnected. Polarized publics are more likely to demonize political opponents and distrust information from diverse sources, and mobilization shifts as a result.
International IDEA's Global State of Democracy In Focus: Taking Stock After Two Years of Covid-19 provides an overview of the changing picture of governments' responses to the Covid-19 virus. In the early months of the pandemic, governments everywhere were caught largely unprepared, struggling to respond effectively and efficiently. The report is based on the Global Monitor on Covid-19's Impact on Democracy and Human Rights. It specifically details trends in the use of emergency laws, restrictions on a range of freedoms, the impact on personal security and integrity, effects of the pandemic on women and minorities and access to vaccines. It also offers guidance on what to watch going forward, pointing to lessons learned, model responses and concerning patterns as the world adjusts to a new reality.
Partner Organizations/collaborators:
Permanent Mission of Sweden to the UN, The V-Dem Institute
RSVP/Contacts:
*We will use your email address to send you updates and a post-event survey
Useful Links / Information: