Back to overview
SDG 16 Conference 2021
14:00 - 19:30 (CEST)
Rome, Italy (online streaming)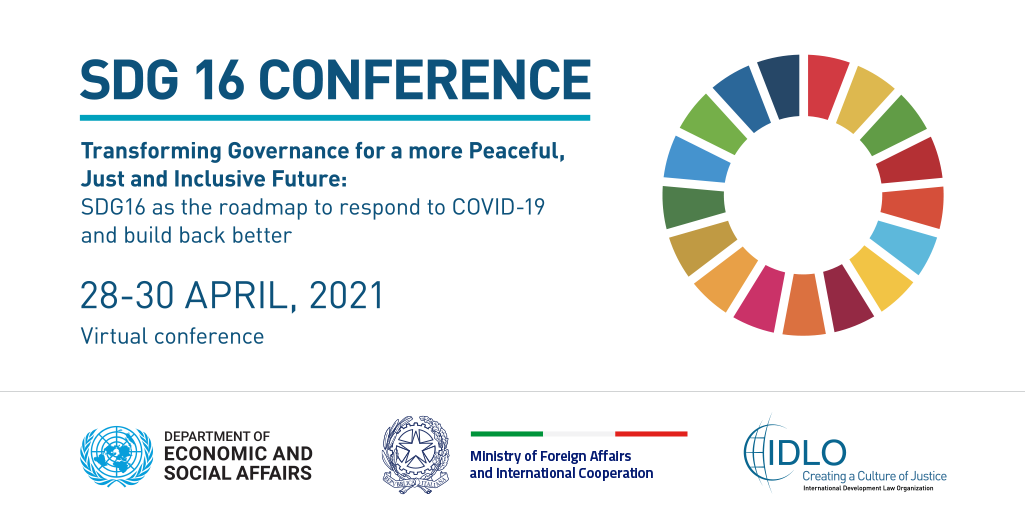 The United Nations Department of Economic and Social Affairs (UNDESA), the International Development Law Organization (IDLO) and the Government of Italy are co-organizing the virtual conference SDG 16 as the roadmap to respond to Covid-19 and build back better, 28-30 April 2021.
Dr. Kevin Casas-Zamora, International IDEA Secretary-General will participate in the plenary session on 29 April, 14:00-15:30 CEST to address the pandemic´s impact on democracy. In general, the conference will consider the impact of the COVID-19 pandemic on SDG 16 as well as the transformative contribution SDG 16 can make in helping to safeguard and accelerate progress on the 2030 Agenda for Sustainable Development.
It will contribute to the deliberations of the 2021 High-level Political Forum on Sustainable Development (HLPF), while aligning itself to the vision for the United Nations System and the wider international system in the years to come as mandated by the Declaration on the 75th Anniversary of the Organization.
The Conference will help to generate a preliminary assessment of how progress towards SDG 16 has been affected by COVID-19 and the pandemic's wider implications for the realization of the 2030 Agenda. It will highlight the importance of policy orientations embodied in SDG 16 to efforts to build resilience to shocks and provide a roadmap for a more just, inclusive and equitable recovery required to sustain peace and development and deliver on Decade of Action to deliver the Global Goals.
The Conference will explore how the principles of equity, equality, non-discrimination and participation at the core of SDG 16 can serve as a guide to renew the social contract and help rebuild the trust between people and government.
In keeping with the "whole of society" approaches required to achieve the 2030 Agenda, the Conference will adopt a multistakeholder format, drawing on insights and experiences from governments, civil society, women and girls, youth and other key stakeholders working at the frontlines of pandemic response and recovery efforts around the world. It will place a particular emphasis on the challenges and perspective of people and groups that have been disproportionately affected and are most at risk of being left behind.
The Conference will also promote exchanges on governance innovations that have emerged during the pandemic. The Conference will share knowledge, success stories and good practices, and identify areas of concern and opportunities for transformation. It will suggest ways forward in terms of policies, partnerships and coordinated actions at all levels as well as recommendations to leverage the interlinkages between SDG 16 and the other Goals during
and after the pandemic.
THEMES
Day 1 - April 28 - Theme 1: Our shared fragility: The impact of COVID-19 on SDG16
Day 2 - April 29 - Theme 2: Renewing the social contract to build trust between people and state
Day 3 - April 30 - Theme 3: Turning challenges into opportunities: rethinking governance with SDG16 at its center