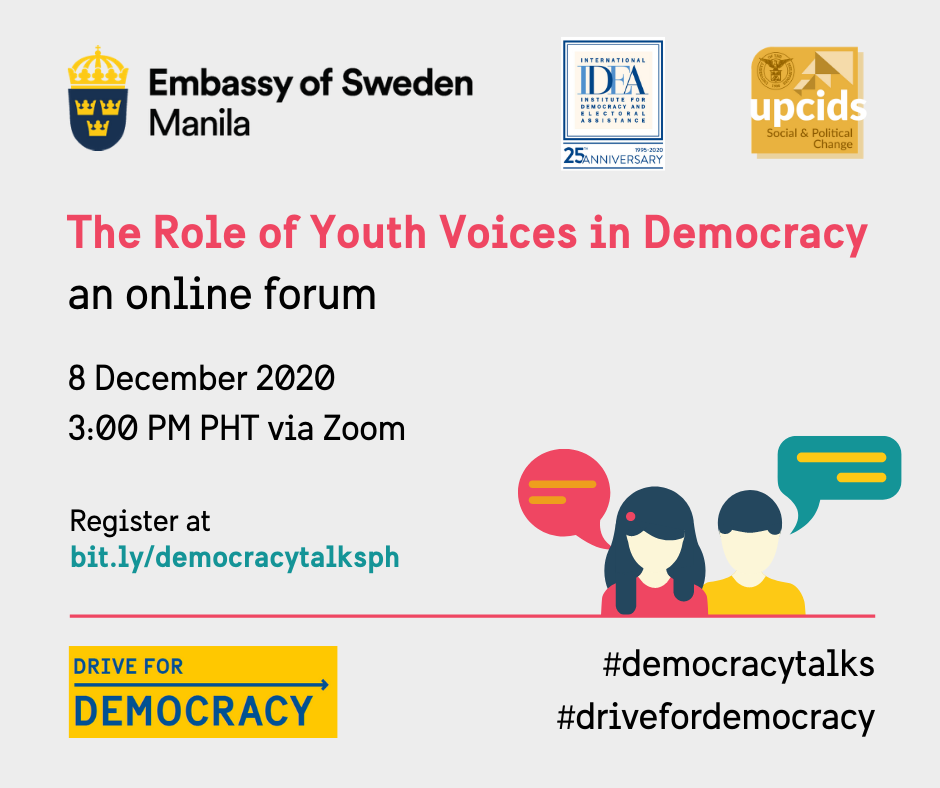 As a part of the Drive for Democracy, Sweden's Ministry for Foreign Affairs and missions abroad have implemented "Democracy Talks" in 2020.
REGISTER NOW: bit.ly/democracytalksph or join YouTube livestream on 8 December.
Background
The background to the Drive for Democracy is a growing concern about the threats and challenges to democracy.
Around the world, authoritarian leaders are gaining ground, democratic principles are being threatened, respect for the rights to freedom of expression, assembly, and association is on the decline, democratic institutions are being weakened and the democratic space, not least for civil society, is shrinking. Today, democracy and its principles need to be actively protected.
Sweden is convinced that democracy is the best foundation for a sustainable society. Research also shows that a democratic, inclusive and equal society provides opportunities for all to achieve their full potential and participate in the development of society in a way that other systems of government are unable to do.
In a strong democracy, equality and everyone's enjoyment of human rights tend to be strong, while the opposite is true in non-democratic societies or in societies where democracy is weak. A strong democracy also creates stability and security, which are prerequisites for growth and economic prosperity.
Overview of Philippine Democracy
The Philippines is Southeast Asia's oldest democracy. The country's resilience from various backsliding episodes and continuing adaptations in face of development and governance challenges characterize Philippines' journey to a democracy after the fall of authoritarian regime in 1986. The 1987 Constitution, a product of the 1986 People Power Uprising that toppled the Marcos dictatorship, enshrined the concepts of representative democracy and separation of powers, established independent constitutional commissions, promoted local autonomy, and restored legislative and judicial powers vis-à-vis the presidency.[1]
While Philippine democracy continues to be resilient and dynamic, some observers note a decline of democracy in recent years. International IDEA's global state of democracy indices indicates the country's decline particularly of its fundamental rights, checks on government, impartial administration and civil society participation.[2] The COVID-19 pandemic has further posed challenges to democratic institutions and processes. Citizens and groups are scrutinizing government actions and responses to the pandemic.
The Filipino Youth's Democratic Participation - International IDEA
According to national data, more than 42% of Filipinos are under 18 years old and poised to become influential participants in Philippines' democracy.[3] However, youths' enthusiasm is frequently met with barriers, as young people are marginalized from political processes, and largely excluded from elected cabinets, parliaments, and public affairs.[4] These barriers pose a challenge to the country's democracy, as youth become discontent with incremental advances and difficulties in influencing government decisions.
Youth in the Philippines[5] have historically been active in informal forms of political participation, such student and street activism, volunteerism, and social media campaigns. However, their inroads to more formal governance structures have remained low or weak. While platforms for youth political engagement exist – including the Sanggunian Kabataan (SK) or youth councils and the Katipunan ng Kabataan (KK) or youth assemblies – the lack of civic education for adolescents and youth to prepare them for effective participation in these platforms is largely non-existent. Youth in the Bangsamoro Autonomous Region in Muslim Mindanao (BARMM) are particularly vulnerable to influence from extremists, because they are frequently excluded from political processes and report high levels of disenfranchisement and the feeling of being marginalized due to faith, economic class and lack of access to social services.[6]
Democracy Talks in Manila Programme
Youth Civil Society Organizations as Discussants
Philippine Anti-Discrimination Alliance of Youth Leaders (PANTAY) - a national network of young Filipinos campaigning for the passage of the SOGIE Equality Bill in Congress and gender equality and non-discrimination in the Philippines.
Website: https://www.facebook.com/PANTAYPilipinas
Amarela PH- A youth-led initiative that advocates for sexual and reproductive healthcare in the Philippines. It also fights for women empowerment and gender inclusivity, and advocates against sexual violence.
Website: https://www.facebook.com/amarelaphilippines
United Youth of the Philippines-Women, Inc. (UNYPhil-Women) - a non-stock and non-profit women-youth organization duly registered to SEC with chapters both in Luzon and Mindanao. The primary goal of UnYPhil-Women is to assist women who are subjected to violence, sexual and physical abuses, trafficking, and other forms of discrimination.
Website: https://unyphilwomen.wordpress.com/about/
Youth Uprising– youth group with the mission is to support youth to create positive change towards a more inclusive, fair, and sustainable community.
Website: https://www.facebook.com/YouthUprisingPH
Provisional Programme

Time (PHT)

Activity

Speakers

3:00 – 3:05 pm

Preliminaries and house rules, introduction of speakers

Nyla Prieto

Program Officer, Asia and the Pacific, International IDEA

3:05 – 3:10 pm

Opening Remarks

Amb. Harald Fries

3:10 - 3:15 pm

Welcome Remarks

Dr Kevin Casas-Zamora, Secretary-General, International IDEA

3:15 – 3:25 pm

Amanda Cats-Baril, Program Manager, MyConstitution Project and Regional Advisor on Constitution-Building Processes,

International IDEA

3:25 - 3:35 pm

Reaction and feedback on the COVID-19 Global Monitor

Share relevant findings of the constitutional performance analysis

Prof. Maria Ela Atienza

Convenor,

Program on Social and Political Change

UP – CIDS

3:35 – 4:05 pm

Facilitated roundtable discussion on youth views of Philippine democracy

International IDEA

Youth Discussants

4:05 – 4:25 pm

Q&A from audience

International IDEA

University of the Philippines

4:25 – 4:30 pm

Synthesis and

Closing remarks

Leena Rikkila Tamang

Regional Director, Asia and the Pacific, International IDEA
Objectives for Democracy Talks in Manila
Engage young people as a priority target group for the Drive for Democracy in general and in the Democracy Talks in particular.
Discuss the current state of democracy and the challenges globally and locally; what democracy means; the role of democracy today; and how we want democracy to develop.
Identify concrete questions and recommendations on how democracy and its building blocks can be strengthened and how we can take on the challenges we are facing. Gather these questions and recommendations for continued dialogue at Stockholm Democracy Talks in Sweden in 2021.
Partner Organizations/collaborators:
International Institute for Democracy and Electoral Assistance (International IDEA), University of the Philippines - Center for Integrative and Development Studies (UP-CIDS)