Back to overview
Parliaments, Climate Change and Intergenerational Justice
06 October 2021
15:00 – 16:30 CEST (Brussels time)
Online Event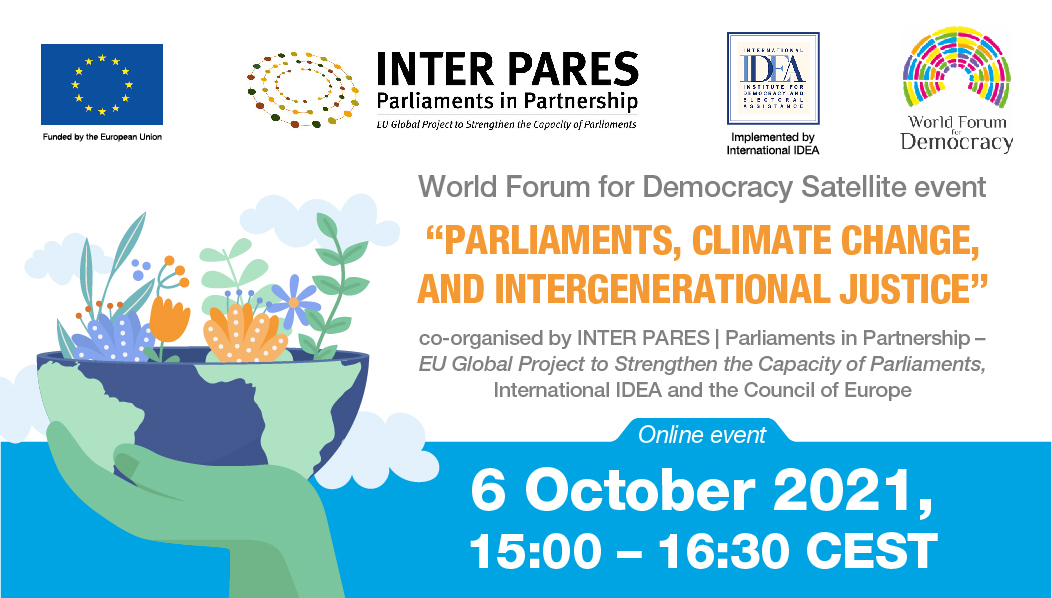 INTER PARES | Parliaments in Partnership – EU Global Project to Strengthen the Capacity of Parliaments invites you to the World Forum for Democracy Satellite Event "Parliaments, Climate Change, and Intergenerational Justice" on 6 October 2021.
In this interactive seminar we will explore the question of Parliaments, Climate Change, and Intergenerational Justice from diverse perspectives. Our focus on parliaments underlines that they are the unique institution that engages citizens in the formal governance process in representative democracy, responsible for legislation, oversight of the executive, and voting the budget. Parliaments are at the heart of strategies to enhance inter-generational democracy.
The seminar will bring together leading activists and experts in the fields of parliaments, climate change, and youth democratic engagement, taking part in a vivid and interactive discussion. The session will be opened to participants to share their perspectives and propose practical solutions.
Concept Note and Programme are available here.
For any questions or queries, please contact interpares@idea.int
Feedback
We advance democracy worldwide, as a universal human aspiration