Back to overview
Democracy and the Challenges of Climate Change
26 October 2021
14.00 – 15.15 (CEST / UTC+2)
Online Event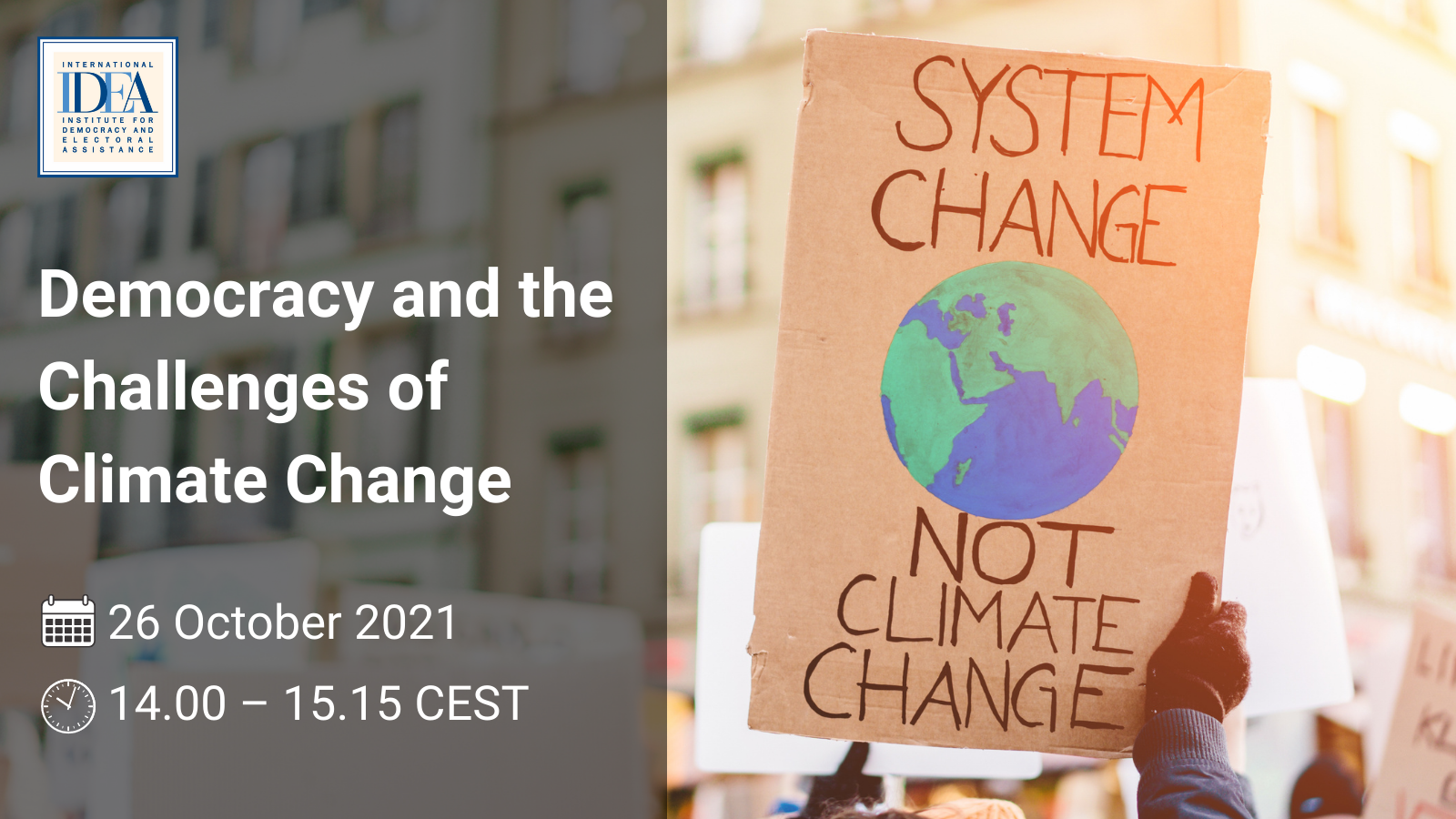 In the run-up to the COP26 Summit in Glasgow, International IDEA is hosting a webinar to launch its discussion paper on Democracy and the Challenges of Climate Change to zoom in on what innovations, policies and actions are available to democracies to successfully tackle climate change. The webinar presents the findings and policy recommendations of the discussion paper and starts exploring a range of tangible solutions and policy recommendations that could enable democracies to accelerate the climate action required to meet their Paris Agreement commitments. 
Climate change is an existential threat for humanity and has become the defining issue of our time. The outcome of the climate crisis will depend on whether democracies can drastically reduce their carbon footprints in the coming years. Climate change already has an impact on democratic governance through its effects on food security, conflicts, water scarcity, migration and natural disasters, among other consequences. Climate change poses a challenging test for democracies' ability to cooperate and confront highly complex global challenges. Democracies need to formulate adequate and ambitious policy responses to climate change for democracy to remain a legitimate and credible political system for young people and future generations.
While some effective climate policies can be implemented within democracy's existing toolbox and institutions, the urgency and sheer scale of the required climate change policy agendas call for democracies to reflect on their own strengths and weaknesses in tackling climate change.
What questions do democratic institutions face in formulating and delivering on climate action in the next five years?
A first question is what tools, innovations and policies are available for democratic institutions and citizens overcome the perceived challenges of short-term bias in decision-making, policy capture or inconsistency, weak accountability mechanisms and the permeability of the policy-making process to interests adverse to fighting climate change through the role of money in politics? Implementing measures to overcome such institutional hurdles will strengthen democratic governance while also equipping democracies to respond better to climate change.
A second questions is how can democracies best leverage and build on the advantages that characterize their democratic decision-making? Such strengths include representative parliaments holding governments to account, widespread civic participation, independent media and a free flow of information, the active engagement by civil society organizations in policymaking and the capacity for institutional learning in the face of complex issues with long-term and global social and political implications. How can democracies channel the determination and engagement of the youth-driven global climate movement into its political institutions and decision-making?
AGENDA
 

Webinar: Democracy and the Challenges of Climate Change

 

 

14.00 – 14.10

 

 

Welcome remarks

 

Dr Kevin Casas-Zamora, Secretary-General, International IDEA

 

 

14.10 – 14.30

 

 

Key findings and policy recommendations

 

Dr Daniel Lindvall, Author of International IDEA's  Discussion Paper on Democracy and the Challenges of Climate Change,  Researcher at the Climate Change Leadership Initiative, Uppsala University.

 

 

14.30 – 15.10

 

 

Panel discussion with policymakers and experts: What innovations or institutional re-thinking would democracies need to pursue in the next five years to become more effective in addressing climate change?

 

The discussion focuses on the forward-looking solutions, innovative forms of cooperation and institutional re-thinking that are available to democracies and their citizens to scale up the climate action needed to meet the current global commitments of the Paris Agreement.

 

Mr Jan Wahlberg, Ambassador for Climate Change, Ministry for Foreign Affairs of Finland 

 

Ms Elizabeth Wathuti, Founder of Green Generation Initiative and sustainability analyst at Sustainable Square, Kenya 

 

Dr Julia Leininger, Chair of Programme Transformation of Political (Dis-)Order: Institutions, Values & Peace, German Development Institute, & Member of International IDEA's Board of Advisers 

 

Dr Daniel Lindvall, Researcher at the Climate Change Leadership Initiative, Uppsala University.

 

Q&A with the audience

 

Moderator: Alistair Scrutton, Head of Communications, International IDEA

 

 

15.10 – 15.15

 

 

Closing remarks

 

Dr Kevin Casas-Zamora, Secretary-General, International IDEA

 
Feedback
We advance democracy worldwide, as a universal human aspiration