Back to overview
Global Virtual Conference 'Catalysing Parliamentary Action to Fight Climate Change'
11 May 2021 - 12 May 2021
Online (via Zoom)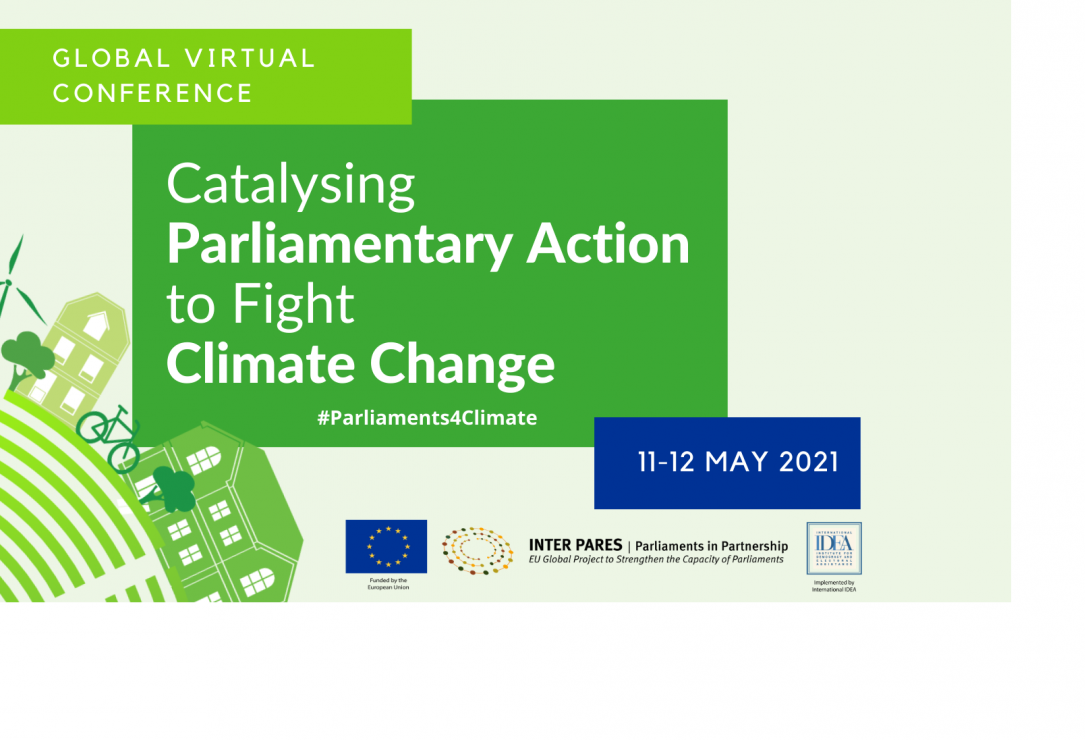 INTER PARES | Parliaments in Partnership – EU Global Project to Strengthen the Capacity of Parliaments invites you to the first of its kind Global Virtual Conference 'Catalysing Parliamentary Action to Fight Climate Change', taking place on 11-12 May 2021.
The 'Catalysing Parliamentary Action to Fight Climate Change' conference will share best European and international practices and lessons learned on parliamentary action on climate change with INTER PARES partners and other parliaments around the world.
The conference will expose participants to a range of parliamentary innovations on climate change, highlighting the key areas of parliamentary responsibility, including, of course, legislation, oversight, representation, and the national budget.
SOME OF THE SPEAKERS
Alina Averchenkova, Head of Governance and Legislation, Grantham Research Institute; 
Katja Biedenkopf, Associate Professor, Sustainable Futures research group, KU Leuven, Faculty of Social Sciences; 
Kirsten Brosbøl, Parliamentarians for the Global Goals (PFGG); 
Kevin Casas-Zamora, Secretary-General of International IDEA; 
Martin Chungong, Secretary-General, Inter-Parliamentary Union; 
Lise Deshautel, Advisor at Convention Citoyenne pour le Climat; 
Satu Hassi, Chair of the Grand Committee, Finnish Parliament; 
Sylvia Kotting-Uhl, Chair of the Committee on Environment, Nature Conservation and Nuclear Safety, German Bundestag; 
Emilie Lemieux, Deputy Director, Open Parliament and Sustainable Development; 
His Excellency Mohamed Nasheed, Speaker of People's Majlis of Maldives; 
Malini Mehra, CEO, Global Legislators Organisation for a Balanced Environment (GLOBE); 
Javier Perez, Director, Parlamento 2030 (PMO); 
Michael Scoullos, Circle of Mediterranean Parliamentarians for Sustainable Development (COMPSUD); 
Diarmuid Torney, Citizen's Assembly, Dublin City University; 
and others, to be confirmed.
PROGRAMME OUTLINE
Tuesday, 11 May, 09:00 – 12:00 CEST
Strengthening the enabling environment through climate legislation
Oversight of the government in the implementation of climate policies and frameworks
Climate and environmental budgeting
 Wednesday, 12 May, 14:00 – 17:20 CEST
European action on climate change
Regional and global parliamentary action
Engaging citizens in decision making on climate
Parliaments and the sustainable development goals
Interpretations in French and Spanish are foreseen.
Feedback
We advance democracy worldwide, as a universal human aspiration