Back to overview
Overcoming electoral challenges in Africa
10:30-12:30 (East African Time)
Hybrid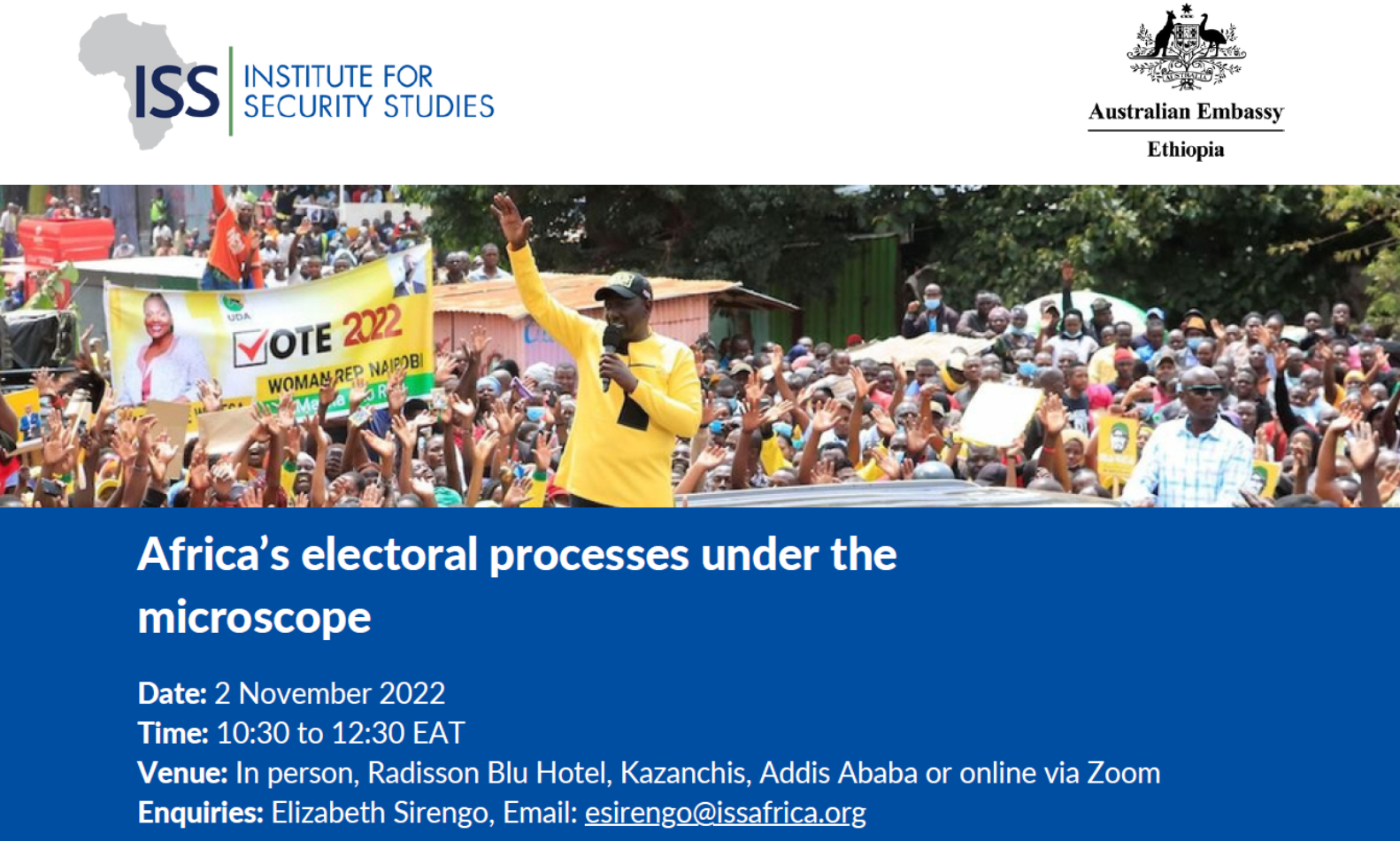 The Institute for Security Studies (ISS), in collaboration with the Government of Australia, is organizing the seminar "Overcoming electoral challenges in Africa", on Wednesday, 02 November 2022 from10:30-12:300 (EAT). This is a hybrid event with the session at Radisson Blu Hotel, Kazanchis, Addis Ababa and online.
The main objective is to interrogate electoral processes and elections in Africa, evaluate the policies and strategies available at the continental and regional levels and provide targeted recommendations as to how best the AU and RECs can support countries to address electoral challenges in the short, medium and long term.
A number of presidential and general elections have been held in Africa this year. Their outcomes were critical not only for the transfer of democratic power but for overall peace and security. Somalia, Kenya, Angola, and Zambia succeeded, to varying degrees, in holding free and fair elections. Other polls have, however, resulted in violence or contested outcomes.
As Africa prepares for a raft of presidential and local elections next year, this seminar will interrogate electoral processes on the continent. It will focus on successes and challenges, how elections are being managed and lessons learnt.
This event is co-hosted by the Institute for Security Studies and the Embassy of Australia in Addis Ababa.
Simultaneous English–French interpretation will be provided at this seminar.
Speakers
Moderator: Dr Andrews Atta-Asamoah, Head, African Peace and Security Governance, ISS Addis Ababa
Panellists:
Fatou Jagne Senghore, former director, ARTICLE 19, West Africa
Mercy Waithira Njoroge, Senior Program Manager, National Democratic Institute, Tanzania
Robert Gerenge, Principal Advisor, Election Management Bodies, African Union Commission, Addis Ababa
Olufunto Akinduro, Senior Programme Officer, Elections, International IDEA
Main questions
Discussions will be centered around the following questions:
What are the main challenges besetting peaceful transfers of power in Africa?
What are the consequences of contested elections on peace and stability in Africa?
How can the continent address these challenges in a sustainable manner?
Are continental and regional policy frameworks adequate to respond to the challenges facing African electoral processes?
What has been the impact of new technology on African elections?
How does external interference affect the outcomes of African elections?