Back to overview
Multi-stakeholder Panel: SDG 16+ Lessons learned in implementation, partnerships and the way forward
15 July 2019
16:30-18:30
Uganda House - 336 E 45th St, New York City, NY, USA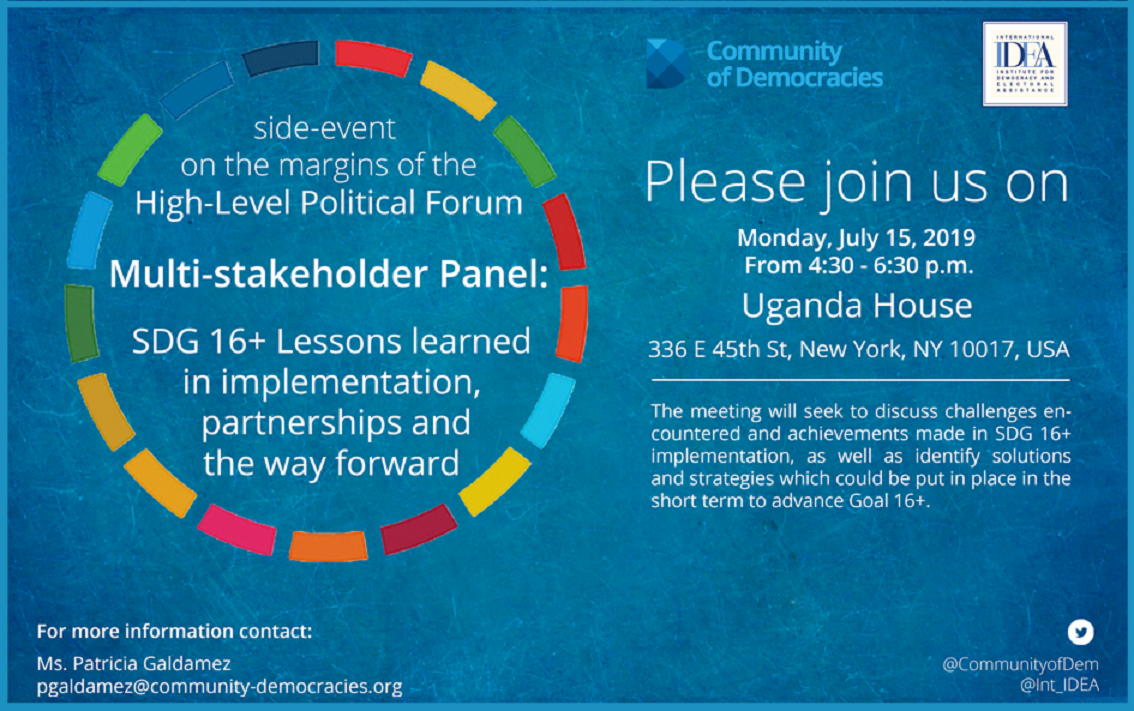 International IDEA and the Community of Democracies are holding a side event under the theme "SDG 16+ Lessons learned in implementation, partnerships and the way forward". This discussion panel will take place on Monday, 15 June 2019, at 16:30, at the Uganda House in New York City, in the framework of the United Nations High-Level Political Forum (HLPF).
The discussion panel will have the purpose of bring together global and regional organizations, as well as multi-stakeholder initiatives, and civil society, working on the advancement of SDG 16+, to discuss challenges encountered and achievements made around SDG 16+ implementation, identifying solutions and strategies which could be put in place in the short term. During this meeting, we will share the outcomes of key gatherings around the overarching theme of SDG 16, including, but not limited to, the Inter-Regional Experts Meeting on Democracy and Peacebuilding in the framework of SDG 16 (Bogota, Colombia - June 2019), the IRDD Workshop (Geneva -March 2018) and High-Level Meeting on SDG 16 (New York City – September 2018), as well as the Democracy Forums organized by the Community of Democracies in Busan (2018) and in Ulaanbaatar, Mongolia (2019). 
This year's HLPF's theme "Empowering people and ensuring inclusiveness and equality", will review for the first time Goal 16. Global and Regional organizations, as well as a significant amount of key stakeholders have been working to support governments, develop knowledge and enable actions for the advancement of SDG 16+, as well as spaces for key stakeholders to openly share their work and efforts. All the support to the 2030 Agenda for Sustainable Development, experiences, best practices and lessons learned will be the basis for the conversation during this side event.
Feedback
We advance democracy worldwide, as a universal human aspiration